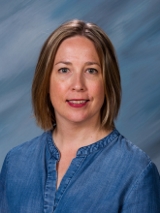 Please see Guidance for more School Counseling information.

Counselor: Grades 6-8, Last names N-Z

kaclayton@madisoncity.k12.al.us

Education

Bachelor of Arts: Psychology University of Alabama, 1995

Master of Arts: Rehabilitation Counseling University of Alabama, 1996

Educational Specialist: School Counseling University of West Alabama, 2011

I have been a counselor for 23 years. After great experiences with the Alabama Department of Rehabilitation Services, and the University of Alabama, I became a school counselor in 2006. While I had years of experience in counseling, I decided an EdS in School Counseling would enable me to provide the best for students, teachers, and parents.

After living in the Tuscaloosa area for more than 20 years, no one was more surprised than me to be living in North Alabama again! I am enjoying living closer to my family, and old friends. I am married to Brian Clayton, who works at James Clemens High School. We have two sons, Battle and Landers. Landers attends James Clemens High School. Battle will be a UAB Blazer Fall 2019.

Every second in a middle school is interesting! I love this age group, and truly enjoy seeing them grow and change. I look forward to working with you and your child.