Return to Headlines
MCS Theme 2022: "Glad to Be Here"
Madison City Schools held its districtwide Institute Day for employees - an all-hands assembly to celebrate top employees and get inspirational takeaways from speakers.

This year's theme for the school year is "Glad to Be Here."
All employees were issued shirts bearing that message to wear on the first day of school Aug. 3.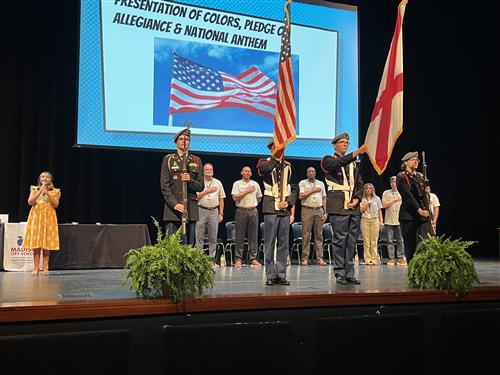 Opening ceremony with Discovery Middle student Ariana DeThomas singing the National Anthem

The Elementary Teacher of the Year is Bonnie Howard at Madison Elementary. The Secondary Teacher of the Year is Command Sgt. Ellis Clark at Bob Jones High School. Staff Member of the Year is Shannon Pease, shop foreman at the Madison City Transportation Department. Each was awarded a $5,000 check from the district. Service awards were also given for employees reaching 5, 10, 15, 20, 25 and 30 years of service.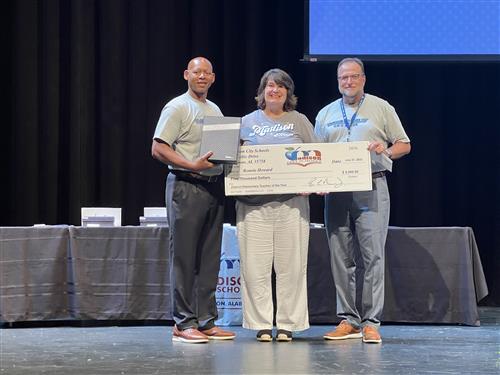 Bonnie Howard, Elementary Teacher of the Year for MCS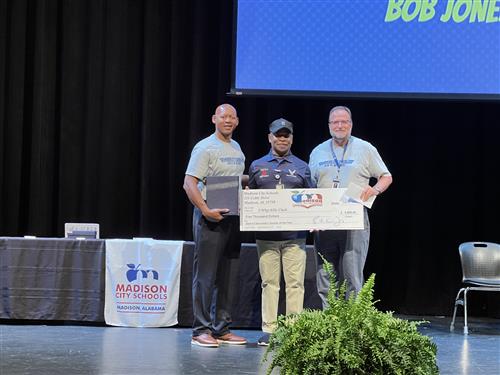 Comm Sgt. Ellis Clark, BJHS, Secondary Teacher of the Year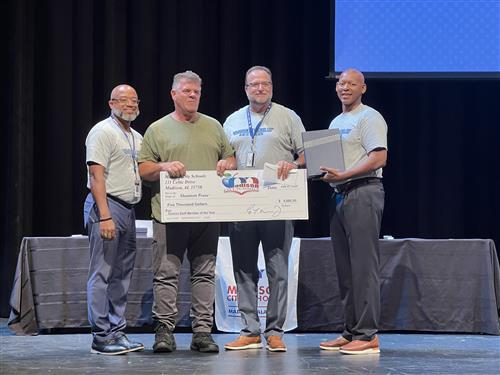 Shannon Pease, shop foreman with MCS Transportation, is District Staff Member of the Year
Superintendent Dr. Ed "Throttle" Nichols and Assistant Superintendent Mr. Eric "Vapor" Terrell livened up the program in the opening roll call of schools by using call signs for each principal.

The monikers were fitting since the keynote speaker was a former lead solo pilot for the elite Blue Angels flying team of the U.S. Navy.

John "Gucci" Foley wowed the audience with descriptions of the type of precision flying Blue Angels aviators had to do and the tremendous trust they each placed in one another to conduct maneuvers flawlessly.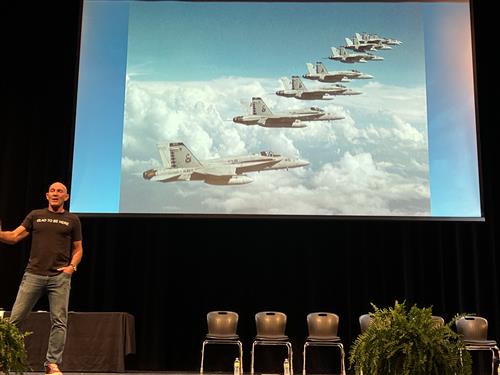 John "Gucci" Foley, former lead solo pilot for the Blue Angels.

He likened the teamwork to the commitment it takes from all sectors of education to invest in and inspire students to do their best. His talk included video clips of fast action flying and a debriefing where pilots scrutinized their flight maneuvers - owning up to any mistakes and always striving to do better.

Foley said the Glad to Be theme sends a powerful message of gratitude, which he said is important in self esteem and confidence. He reminded teachers that they may be the one person that influences a students' life direction more than anything simply by believing in them and inspiring them to learn the subject areas they are most passionate about.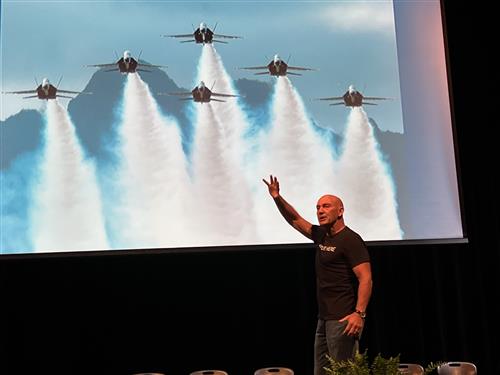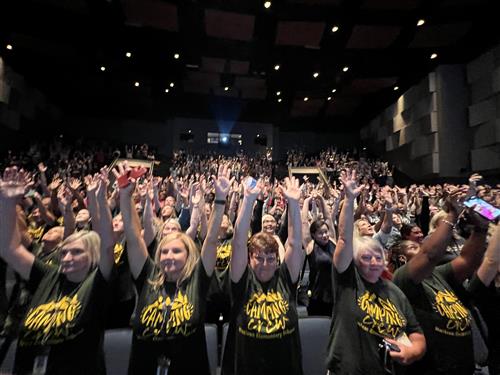 Former Navy Blue Angels pilot John Foley had audience members stand with arms outstretched to demonstrate the approximate 18 inches separating jets flying over 500 mph.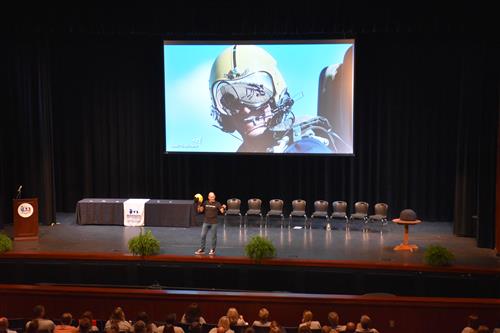 John Foley holds up helmet he used with the Blue Angels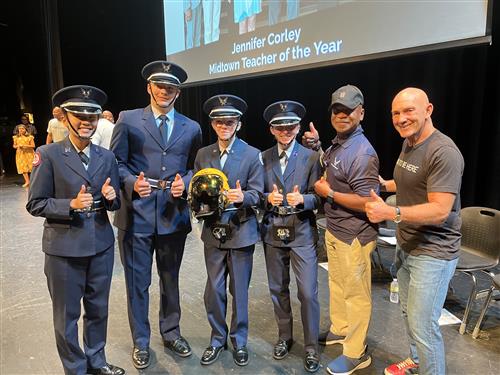 Foley posing with ROTC students/potential future military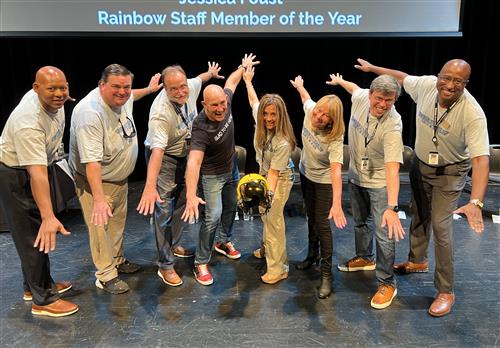 MCS BOE members, Supt. Nichols and Mr. Terrell, and Madison Councilwoman Karen Denzine hamming it up with former Blue Angels pilot John Foley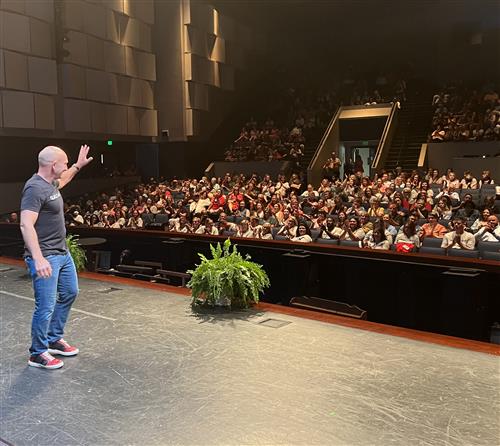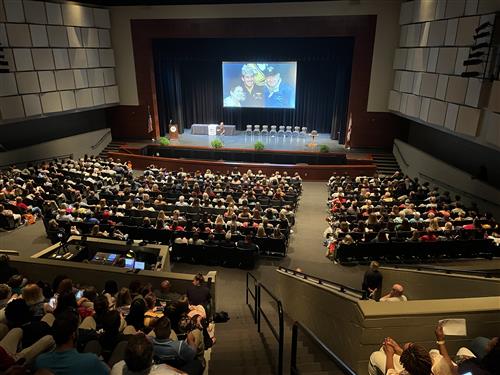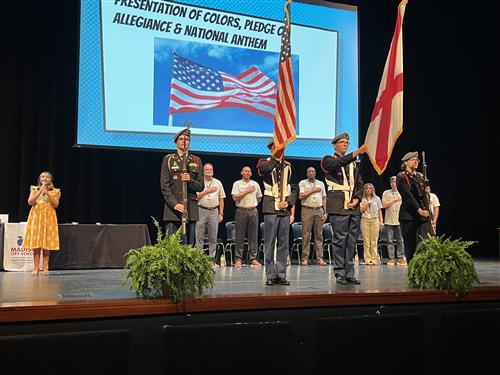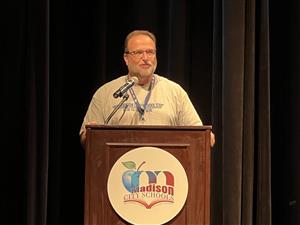 MCS Superintendent Dr. Ed Nichols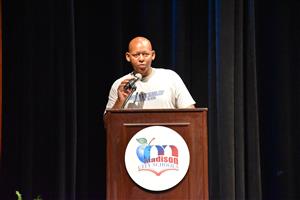 Assistant Supt. Mr. Eric Terrell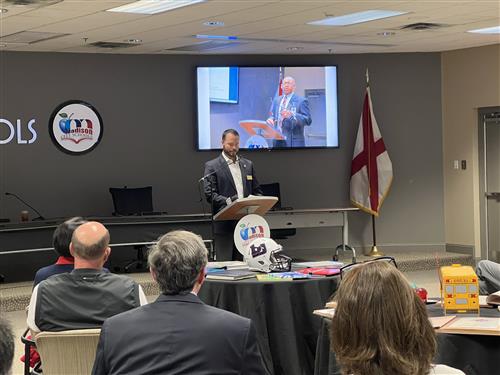 BOE President Tim Holtcamp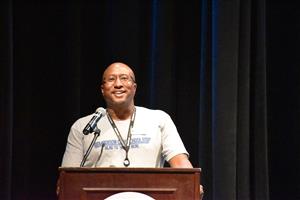 BOE VP Travis Cummings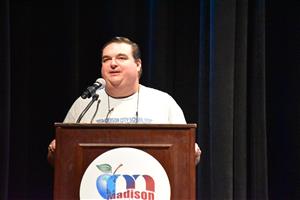 Board Member Greg Hulsey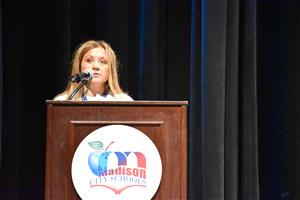 Board Member Alice Lessmann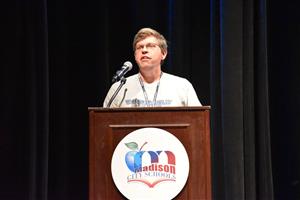 Board Member Scott Newberry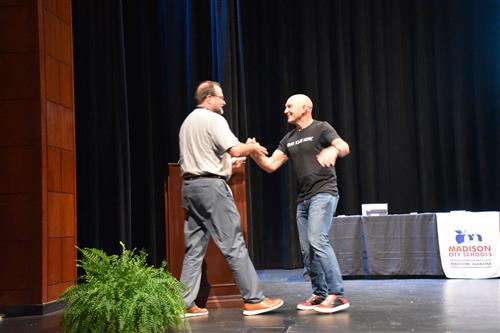 Dr. Nichols welcoming motivational speaker John Foley off the stage, both in "Glad to Be Here" shirts.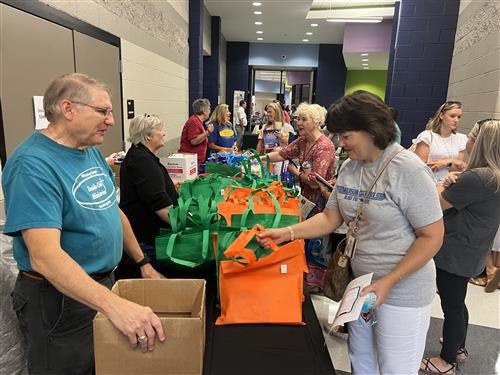 Sponsors and school support organizations outside the auditorium greeting teachers and support employees