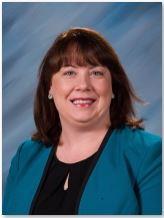 Phone: (256) 837 - 3735
Email:
Degrees and Certifications:
University of Alabama Huntsville - Bachelor of Science, Mathematics University of West Alabama - Master of Education, Instructional Leadership University of West Alabama - Education Specialist, Instructional Leadership Samford University - Doctorate in Instructional Leadership
Dr.

Kate Wade

Assistant Principal

Education

Dr. Wade attended the University of Alabama in Huntsville, AL and earned a bachelors degree in Mathematics. Additionally, she earned her Masters of Education in Instructional Leadership and an Educational Specialist Degree in Instructional Leadership from the University of West Alabama. Dr. Wade earned a Doctorate in Instructional Leadership from Samford University in Birmingham, Alabama.

Experience

Dr. Wade has 8 years of experience as a successful classroom teacher and coach. She began her teaching career at Discovery Middle School in January of 2007. She taught regular 8th grade math and Honors Algebra. Mrs. Wade also served as the assistant coach of Bob Jones Swimming and Diving. She then transitioned to head coach of James Clemens Swimming and Diving when the team was founded. Dr. Wade transferred to James Clemens High School in August of 2013. While at James Clemens, she taught Algebra and Algebraic Connections. In January of 2015, Dr. Wade transferred to the district level to serve as the Secondary Math Specialist for Madison City Schools.

Dr. Wade began her career in administration as an Assistant Principal of Discovery Middle School in July of 2018.

Biography

Dr. Wade is a native of Utah, but has has been a resident of Alabama since her teenage years. She is married and the proud mother of three children. She enjoys traveling and spending time with her family.