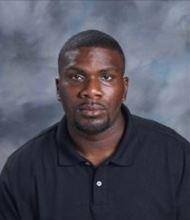 Phone: 256-837-3735
Email:
Degrees and Certifications:
M. Ed. in Secondary Education; University of Phoenix Bachelor in Business Administration; Midwestern State University
Mr.

Cedric Jackson

Career Prep

Head Football Coach

Education

Mr. Jackson attended Midwestern State University in Wichita Falls, Texas from 2000-2003 and earned his bachelor's degree in Business Administration. Additionally, he earned his Master's Degree in Secondary Education from the University of Phoenix in 2010.

Experience

Mr. Jackson has 9+ years of experience as a classroom teacher and 15 years of experience as an football and basketball coach. He began his teaching career at Giles County High School in Pulaski, Tennessee in 2008 as an Secondary Business Education Teacher. Mr. Jackson taught Business Education at Bob Jones High School from 2010-2012 before going to Hazel Green High School from 2012-2014. Mr. Jackson became a Business Education Teacher and Head Football Coach at Butler High School in Huntsvlille City School's before it closed in 2015. In 2015 Mr. Jackson took the Career Prep teaching position at Huntsville Jr. High School before coming back to Madison City School's as the Career Prep teacher and Head Foottball Coach at Discovery Middle School in 20016-2020.

Biography

Mr. Jackson is a native of Huntsville, AL. He has been a resident of Madsion County for 37 years. He is a proud husband of Mrs. Shameka Ford Jackson, and proud father of 2 boys. Both of Mr. Jackson kids are part of the Madison City School's family and thrive in the classroom and on the sports field at Bob Jones High School. Mr. Jackson spends his off time engaging in more coaching and traveling with his family to various sporting events they may be engaged in. Mr. Jackson loves to see his students achieve what they think is impossible. Mr. Jackson doesn't think the sky is the limit, because there is too much evidence that proves you can go further. Dream Big, but Live Bigger.