Return to Headlines
Journey Middle School Groundbreaking
Madison City Schools celebrated the groundbreaking today of its new Journey Middle School.
With construction actively under way in the background, Schools Superintendent Dr. Ed Nichols and Board of Education members heralded the new school as a reflection the community's unwavering support for education.
(video link here: https://youtu.be/iS1J9X91U0k)




Ceremonial shovel-turning at the Journey Middle School construction site
Dr. Nichols invoked the Journey namesake and past superintendents Dr. Henry Clark, Dr. Dee Fowler and Mr. Robby Parker, in declaring that the journey forward will require continued strong community/school partnerships.

"In almost 23 yrs as a district. two things have remained constant: growth and community support," said MCS Board President Tim Holtcamp.
Madison Mayor Paul Finley and Triana Mayor Mary Caudle echoed the strong community support for schools as reflected in voter approval of property tax referendums, including the 12-mil tax in 2019 that passed by over 70 percent.
"We will continue to keep education in the community at the forefront and as strong as any of us can imagine," Mayor Finley said.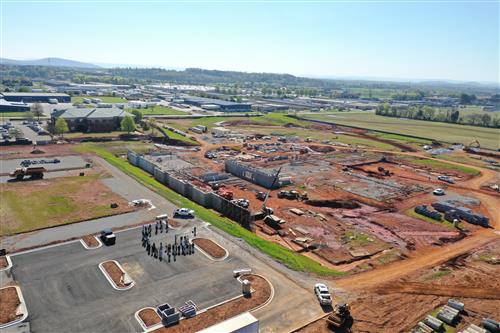 View looking southeast beyond the MCS Central Office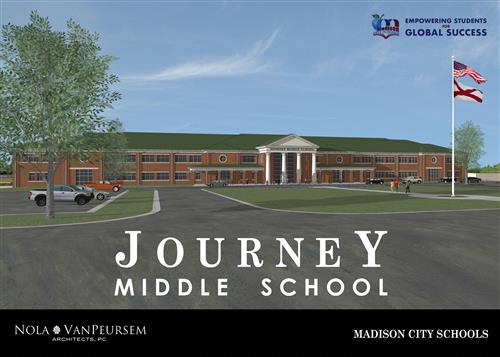 Architect's rendering of the new middle school

"I know we are here for the groundbreaking, but I see two communities joined together in investing in the lives of our children and their future," Mayor Caudle said.

The 170,000 square foot Journey Middle is being built on school property behind the MCS Central Office. The $51 million facility (includes site prep, construction, furnishings) will house approximately 1,200 students and is on track for completion in June 2022.

Meanwhile, the Midtown Elementary under construction off Wall Triana near Browns Ferry Road is scheduled for opening this fall.
WZDX-54 link: https://bit.ly/3ftUwvL
WAFF-48 link: https://bit.ly/31Bpyda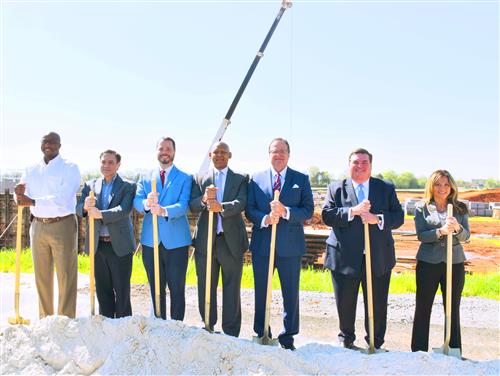 (L-R) BOE members Travis Cummings, Luis Ferrer, Tim Holtcamp, Assistant Supt. Eric Terrell, Supt. Dr. Ed Nichols, BOE members Greg Hulsey and Alice Lessmann.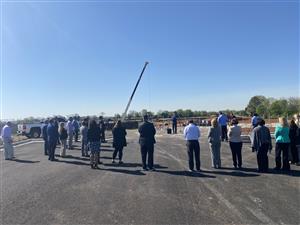 School admins, board members and leaders from Triana, Madison City and Madison County at the groundbreaking ceremony
Dr. Nichols addressing area media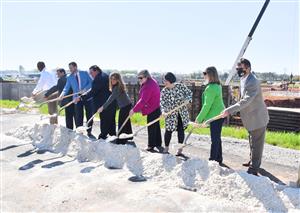 Current BOE members (L-R): Travis Cummings, Luis Ferrer, Tim Holtcamp, Greg Hulsey, Alice Lessmann: former BOE members Connie Spears, Ranae Bartlett, Terri Johnson, David Hergenroeder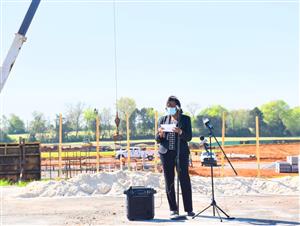 Triana Mayor Mary Caudle