Return to Headlines
MCS Lauded for Handle With Care
Madison City Schools - in partnership with the National Children's Advocacy Center and city first responders - is piloting a program that provides sensitivity-tailored care to students who may have experienced or been exposed to a traumatic event.
The Handle With Care initiative was announced today (Nov. 13, 2023) in a news conference outside Journey Middle School.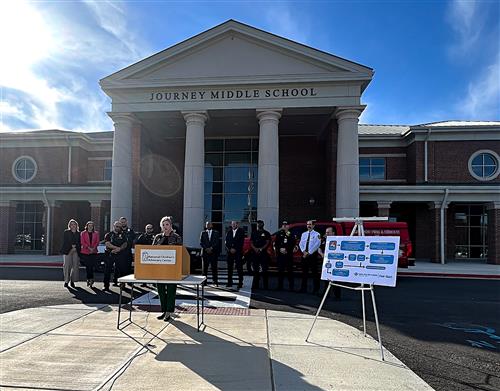 School leaders for MCS, Madison first responders and National Childrens' Advocacy Center officials

Handle With Care was first launched in West Virginia in 2013 and is now used in 40 states.
Madison City Schools and Madison 1st responders did a soft launch of HWC that has already yielded good results in schools that encounter students distressed by a traumatic experience or event.

The HWC program operates on a simple premise. When first responders like fire or police encounter a child during a potentially traumatic event or crisis, they notify the child's school with a confidential statement, Handle With Care.

This discreet notification lets educators know, without being given specific details, that the child may need additional support. By doing so, schools can create an environment attuned to the child's needs, offering appropriate resources and assistance. The goal of Handle with Care is to reduce disciplinary issues in schools while increasing student success and graduation rates.

"As educators, we know that traumatic experiences can impact student learning from lack of sleep, difficulty concentrating, changes in behavior or being unprepared for class," said Schools Superintendent Dr. Ed Nichols in a prepared statement. "Through the HWC initiative, schools are better able to address the needs of these students by offering extra care to help them succeed."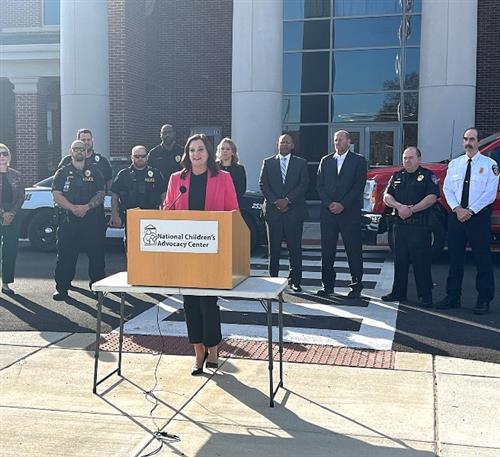 Stephanie Allen, Mental Health Services Coordinator for MCS

Any HWC notice does not imply that the child or child's family was directly involved in the potentially traumatic event, and all parties are instructed not to discuss any HWC with the child - only to observe and provide support if the child needs extra care.
Also, any HWC notice is not placed in the child's permanent records.

The goal of HWC is to reduce disciplinary issues in schools while increasing student success and graduation rates.
Mr. Eric Terrell, Assistant Superintendent for Madison City Schools, opened the news conference today.
Also participating were MCS Mental Health Services Coordinator Stephanie Allen, Madison Police Chief Johnny Gandy, Madison Fire Chief David Bailey, Mayor Paul Finley, and Ashley Moore, NCAC Therapist/Handle With Care Coordinator.
Holly McCarty with the Women's Philanthropy Society also spoke.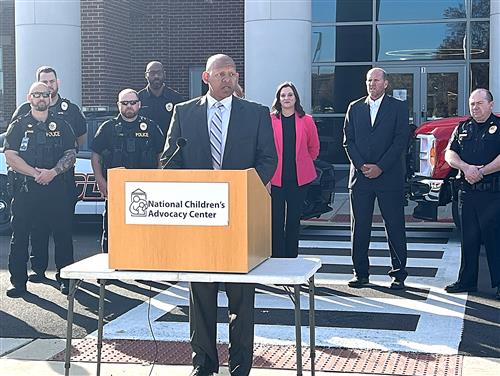 MCS Assistant Superintendent Mr. Eric Terrell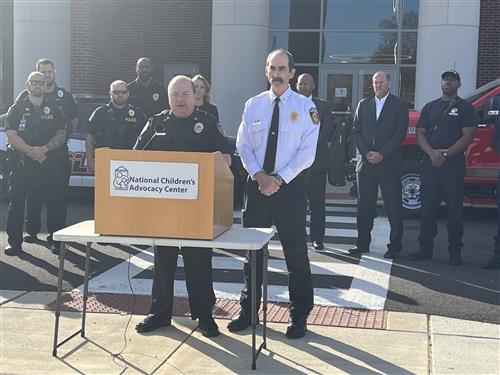 Madison Police Chief Johnny Gandy and Fire Chief David Bailey