Return to Headlines
Ministry Pays Entire MCS Meal Debt
A Madison faith-based group is paying the debt on all outstanding meal balances in the Madison City Schools system.
The $21,000 payment by Inside-Out Ministries covers the accumulated debt of all unpaid meals in the district's Child Nutrition Program. CNP officials say the donation helps families of more than 1,300 students.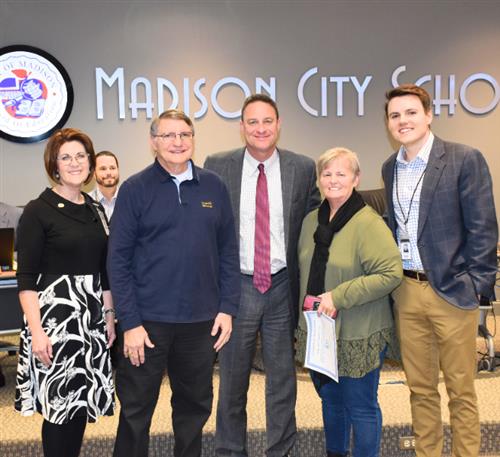 CNP Coordinator Marty Tatara and CNP Supervisor Cameron Clark flank
Larry and Deborah Ward of Inside-Out Ministries and Supt. Robby Parker.

"Inside-Out Ministries is excited to fund this $21,000.16 payoff of outstanding lunch accounts to allow the students and the schools to move forward in 2020 without concern," said Deborah Ward, director of Operations of Inside-Out Ministries. "It is a gift of love from our Board of Directors to Madison City students. With the news of Superintendent Robby Parker's retirement coming as we were processing this donation, we felt it fitting to remember his caring service for the students by making this donation to honor his love for Madison City Schools, which we know is also motivated by God's love for him. Mr. Parker has been welcoming and supportive of Inside-Out Ministries efforts to meet the needs (food, clothing, shelter and more) of students and families within the school system and we are grateful for the positive relationship over the years."
Marty Tatara, CNP Coordinator for Madison City Schools, said the program is overwhelmed and grateful for the donation. "It is by far the largest we have received since MCS was founded in 1998. We have always been committed to feeding all children a full meal, whether they have money or not when they come through the lunch line. Despite the financial burden, we do this because nutrition is essential for learning."
The ministry handed over the check at the Jan. 23 Board of Education meeting. Ms. Ward expressed hope the donation will help raise awareness of those in our own community who struggle meeting life's essentials.
Superintendent Parker was humbled by the gift in his honor and said the school district's CNP program has always made sure students don't go hungry if they don't have the money to pay for a meal.
Deborah and Larry Ward said the Inside-Out Ministries Board is happy to "clean out" the program's debt balance.
"God has blessed and provided for Inside-Out Ministries and has given us direction to give in his name to bless those around us. Providing food as one of life's basic needs meets our 12-year mission objective. Supporting Madison City Schools' efforts to feed students, without question, is one way we continue to reach out to our community. No matter a city's income level, there are needs and we hope this donation brings an awareness and many offers of help. Most of us can look in our wallets and find more than $16, and this amount per student can make a difference in keeping our Madison City children fed."