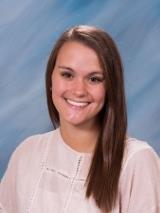 Phone: (256) 430-2751
Email:
Degrees and Certifications:
University of North Alabama- Bachelors of Science in Early Childhood Education
Mrs.

Christina Miller

My name is Christina Miller and I am thrilled to welcome your Kindergartener to Columbia Elementary School! This is my 5th year teaching Kindergarten at CES. My husband Matthew and I have been married for one year. I am originally from New Market, Alabama and graduated from Hazel Green High School in 2013. After graduation, I attended the University of North Alabama and completed my degree in Early Childhood Education. ROAR LIONS! I enjoy golfing, spending time with family, going to the beach, camping, and Auburn football. I am excited to see what this year has in store!
Summer Assessments, Open House, School Supplies

Kindergarten Summer Assessments are July 21 and 22. Click here to sign-up.

Open House - Kindergarten 101 is Monday, August 1st at 4:00 in the cafeteria.

School Supply List for Kindergarten:

1 pack 8 count classic color crayons (skinny)
1 pack 16 count classic color crayons (skinny)
2 packs 24 count classic color crayons (skinny)
6 large glue sticks
24 #2 pre-sharpened pencils
1 supply box (about 6x9x2)
2 solid colored heavy duty plastic folders with pockets & prongs - blue & green
1 one-inch three-ring binder with plastic sleeve on front
1 Primary composition notebook (3-lined paper with blank space at top)
1 8-pack watercolor set (please only 8, not 16)
1 pair of scissors (blunt tip)
1 pack of Post-it Notes
1 pair of headphones in a labeled plastic bag – No ear buds
1 cloth rest mat – No sleeping bags, exercise mats or beach towels
1 backpack large enough to hold the folders and binder
Please consider donating Clorox or Lysol wipes