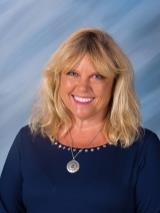 Phone: 256-430-2751
Email:
Degrees and Certifications:
MSED
Mrs.

Cindy Perry

I am married to Steve Perry who is a Battalion Chief at Madison Fire and Rescue as the City Emergency Management Manager. He is a Colonel in the Army Guard. I have two children a daughter graduate of UNA, Jennifer, and she is a Pre-K teacher at Florence City Schools. I have one son, Adam, who is a junior at the University of Alabama majoring in Hospitality and Hotel Management. I have been a school counselor for 17 years. I am also a private therapist for Yellow Brick Road, LLC after school. I taught kindergarten for fifteen years in Huntsville City and in Madison City Schools. In my spare time I enjoy reading, playing tennis and spending time with family and friends.

Who is an Elementary School Counselor?

An Elementary School Counselor is a certified professional who works within a child's total environment to assist him/her in addressing his/her academic, behavioral, emotional and social needs.

A School Counselor helps to empower children to feel good about themselves and aids them in the process of making positive decisions that lead to healthy and meaningful lives.

An Elementary School Counselor serves children and their families, teachers, administrators and the community.

What does the Elementary School Counselor do?
Serves as a "friendly helper" for ALL students and works with students on an individual basis and in small groups

Facilitates classroom guidance and counseling sessions, helps identify student needs, and assists in assessment of students with special needs

Coordinates the Response to Intervetnion Team (RTI2) a group of professionals that reviews, develops and helps to implement appropriate interventions for at-risk students

Consults with parents, teachers, administrators, and community agencies and aids in coordinating referrals to outside agencies
With what types of things can a Counselor help?
The School Counselor can provide support services to address a number of issues, including (though certainly not limited to) the following:


* Anger Management* Coping Skills* Parenting Skills* Anxiety* Divorce/Changing Families* Self-Esteem* Behavior Modification* Friendship Skills* Social Skills* Conflict Resolution* Grief and Loss* Stress Management
How does a student see the Counselor?
Students can see the Elementary Counselor via a self-referral, parental request, and/or teacher or administrative referral.

Sessions may be held on a regular, ongoing basis or simply as needed.