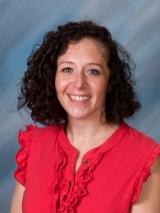 Phone: (256) 430-2751
Email:
Degrees and Certifications:
University of Alabama - Bachelors in Elementary Education
Miss

Alisha Courtney

I was born and raised in Madison. I graduated from Bob Jones in 2003. I then spent the next four years in Tuscaloosa while attending the University of Alabama. Roll Tide! I graduated in May of 2007 with my Bachelor's degree in Elementary Education. I taught first grade for six years. I have been in kindergarten ever since. My favorite season is football season! I am a huge Alabama football fan. I try to make it to Tuscaloosa for every home football game and if I am lucky a few away games. I am very involved at Church of the Highlands. I serve in the nursery at church.

I feel very fortunate to have the opportunity to teach your child. I truly love school and learning, and I hope to pass that along to your child. I am very proud of the accomplishments my students make inside and outside the classroom. I would love to come and cheer for your child. If you send me a schedule of their sport activities I will try my best to come watch.
Thank you so much for coming to Parent Night! I truly appreciate you taking the time out of your evening, I know schedules are very busy. I hope I shared what you found to be important information and answered your questions. Thank you for hanging in there with me last night, I know it was a lot of information to cover. I truly want this year to be a wonderful experience for your child that will foster a love for school and learning. I look forward to the school year ahead as we work together.

It seems, no matter how much preparation goes into Parent Night and how many times I go over the presentation, I always seem to leave some things out. T Kindergarten Parent Night 2019 Presentation

Also, this is something else I forgot to talk about last night that I wanted everyone to understand: we are on the same team. I want what is best for your child, just like you do. I want your child to succeed in Kindergarten, just like you do. I want your child to feel safe, comfortable and loved in my classroom, just like you do. We are a team working together with the same focus -- your child.

If you missed Parent Night, click on the link to see the presentation. Please know this is only a very small glimpse of what was discussed last night. Please let me know if you have any questions or if there is something you need from me. I you were unable to attend, I will send the handouts in your child's folder tomorrow. Please complete the classroom directory slip and return it. Please keep the handwriting sheet to use when helping your child write letters with correct formation.

One thing we discussed last night was a very ambitious but attainable goal. I hope for all students to be able to identify all 26 capital and lowercase letters when we finish our "Letter Expert" study on September 5th. I want to pass along a few ideas if you find your child is struggling with identifying letters- flash cards, Starfall.com, write the letters with chalk on the sidewalk and have your child jump on them and say the letter name. Another tool I have found to be very helpful is The Leap Frog- Letter Factory DVD. I have two copies for our class that will begin coming home on a rotating basis. When your child brings this DVD home, please allow them to watch it multiple times during the time frame they will have the DVD. The DVD will come home inside a Ziploc bag with a direction note for when to return, please return the note and DVD in the bag. Thank you!

On the math activity sheet this week, the students practiced writing numbers 1, 2 3, 4, and 5. A lot of the students needed help to write 2 and 3 with correct formation. Handwriting is an easy skill to practice one on one with your child at home. Thank you for your support!