Return to Headlines
Story of Hope, Breakout Talks, Lead MCS Mental Health Fair
Mental Health
matters
.
That is why Madison City Schools is increasingly putting emphasis on it, including the addition of staff and arming families with resources to help them through mental health issues.
MCS recently held its 3rd Mental Health Summit for the district.
The
Mental Health Matters: Diving Deeper
summit had resource tables from mental health support agencies and offered breakout sessions for attendees to "dive deeper" on mental health topics that are more relevant to them.
The workshop also featured a keynote speaker. Dustin Haraway, a Bob Jones graduate and now working professional who rose through mental health struggles, delivered a message of hope. Below is his story.
A full video of his talk is in this link:
https://www.youtube.com/watch?v=2c48MtT6xsc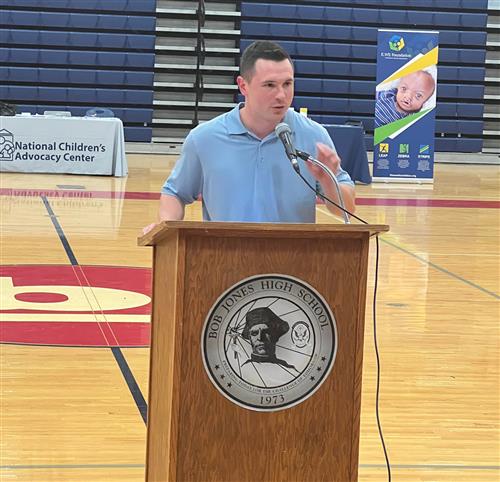 Dustin Haraway Gives Story of Hope at MCS Mental Health Summit April 4 at BJHS.
Dustin Haraway was the quintessential model of the American dream: loving family, scholarship athlete, an abundance of friends, good fitness, a budding professional career.

Yet there was something nagging at this Madison native and Bob Jones graduate shortly after graduating from Kentucky's Georgetown College and settling in Louisville for a career in the financial sector.
Taking the job just days after receiving his college diploma in December 2017, he faced the harsh reality of a major "lifestyle shift" free from the routines of classes, football, friendships and a disciplined diet/workout regimen.

The financial sales job was not a great fit for Dustin, He faced a lot of rejection in sales calls. Louisville put him far away from family and the familiarity of college life. The sudden change of Dustin's football career ending, not living with his best friends anymore and loss of motivation for working out pitched him into depression. "Everything began to spiral down," he said.
By January 2018 and succeeding months, he had all the signs of depression: no sleep, withdrawn, moodiness, racing thoughts about his worth and purpose in life, thoughts of suicide.
"I was in a pit of despair."
"I would look in the mirror and didn't know who I was."
"I didn't want to live."
"I had suicidal thoughts."


One night, his brain was really "spinning" with depressive thoughts, The feelings of depression had reached an extreme level. He struggled to even physically function at this point. Those vibes were picked up on in a call home. "My parents sensed my despair and I immediately returned home to seek care and treatment."
Leaving his career and living back home with his parents unemployed and on disability was extra tough, he said.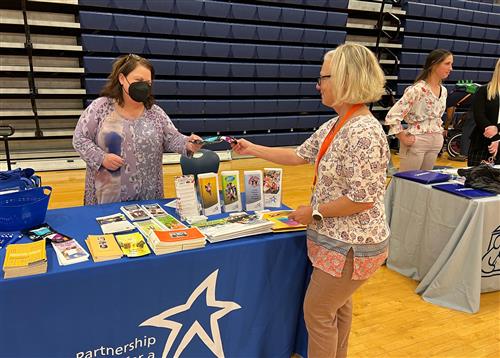 Information tables of mental health partners
Haraway shared that he got mental health counseling and medications and slowly began to climb out of his depression. He pressed the importance of recognizing the physiological changes in the brain with some mental health issues that can be corrected with medications and counseling.
"The important thing is don't give up. A breakthrough is coming. There is hope."
By January 2019, he was finally getting himself back together. He is now working again in the financial sector and eager to share his story.
Haraway left the audience with what he calls his 5 Pillars for maintaining strong mental health:
1: Belief in God. Being a Christ follower.
2: Strong social connections. Staying in community with other humans.
3. Be physically active. Exercise is key to good mental wellness.
4: Proper Diet and Sleep.
5. Finding your purpose.

Written by John Peck, MCS Public Relations 4/04/22.
.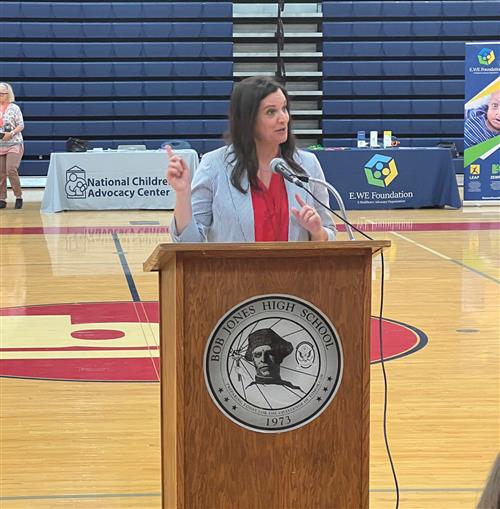 MCS Mental Health Services Coordinator Stephanie Allen
The mental health summit at Bob Jones High School April 4, 2022, is the third such summit since 2020. This year's event continued resource tables and offered breakout sessions from mental health providers on topics such as Building Self Esteem, Communication Skills, Trauma and the Teen Brain, Dealing with Anxiety, Depression in Youth, Supporting Youth Through Loss.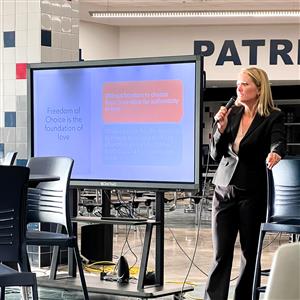 Breakout session on healthy communication skills with children

Madison City Schools was blanketed earlier this year with hundreds of magnet-backed placards featuring a QR code that links to resources on the MCS website.

The QR code provides convenient info for students who may be struggling with anxiety, depression, and/or other challenges.
The magnetic-backed placards are being prominently displayed in classrooms and common spaces of Madison City middle schools and high schools.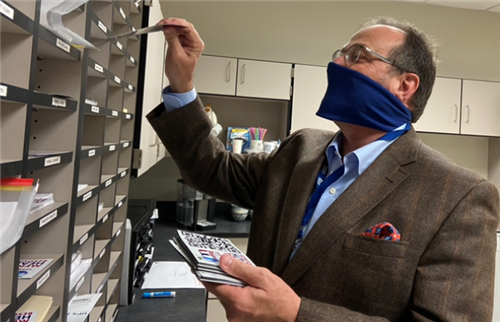 Dr. Nichols lends a hand putting placards in teacher mailboxes
The Madison City Schools PTA Council partnered with the school district on the Mental Health Summit and on the initiative to make the resource placards available.

"Part of what Madison City Schools is doing is helping to bring awareness to and putting resources in the hands of those who need them," said Stephanie Allen, Mental Health Coordinator for MCS. "Last fall, our push was primarily for parent awareness. This push is more for students."

PTA reps joined school administrators earlier this year delivering 1,000 of the 4X7 placards to schools, where they were placed in classrooms, common spaces, and teacher inboxes.

The QR Code is an easy and discreet way for students to find help if they, a friend, or family member may need direction for something they are struggling with.

The magnetic placards serve the dual purpose of giving students/faculty instant mental health resources through the QR code and a way to communicate upcoming events like the Mental Health summits including the March 30 one at BJHS.

The summits are a resource fair where help organizations staff tables to answer questions and hand out resource materials. Breakout sessions are also offered. A similar summit at James Clemens High School last year drew a large turnout with agencies such as the Enrichment Center, MCS social workers, Caring House, Madison Police/SROs (School Resource Officers). National Alliance for the Mentally Ill, Crisis Services of North Alabama, Partnership for a Drug Free America, and many more.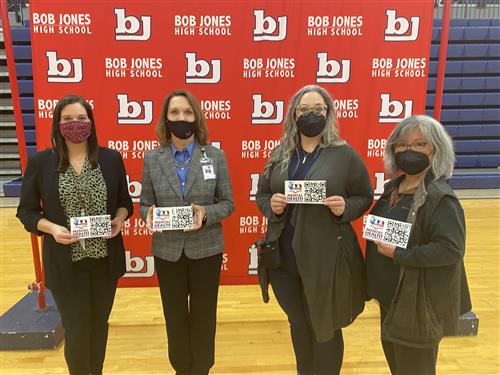 Bob Jones High School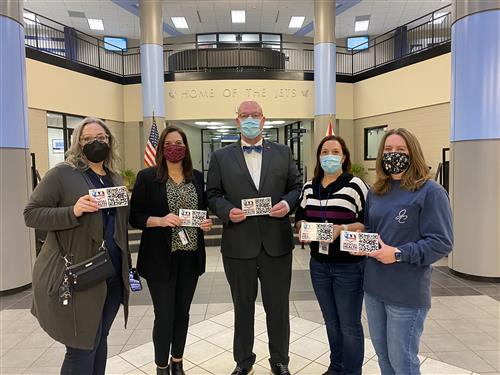 James Clemens High School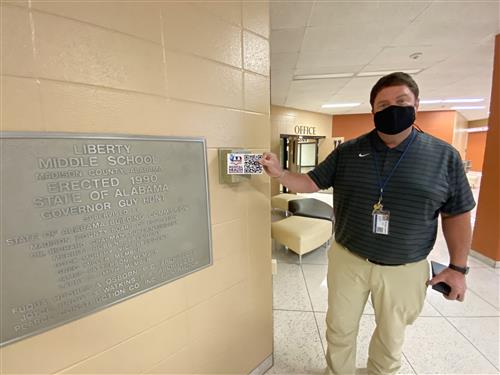 Liberty Middle School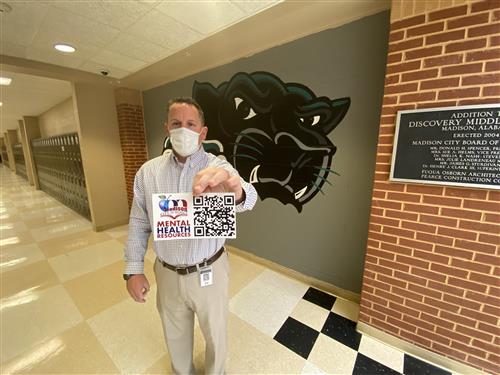 Discovery Middle School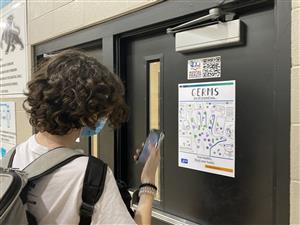 Student checking out QR Code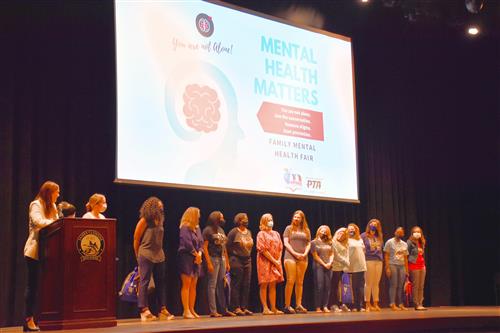 School counselors at the 2021 Mental Health Summit