Click here to register for upcoming mental health workshop!

Mental Health Matters workshop #5 on Technology, Youth, & Mental Health is Wednesday, March 29 from 12:00-1:00pm. This session will be held at the Madison Public Library - 142 Plaza Blvd.

Technology and protecting our kids is one topic that is important to all parents. You will learn how technology affects our youth's mental health in both positive and negative ways and what we can do to safeguard against the dangers. Tips and resources will be given and discussed, including a phone contract, safety recommendations, and helpful parental monitoring apps.

Presented by Holly Walker, LPC, NCC from The Balanced Life, LLC, Madison, AL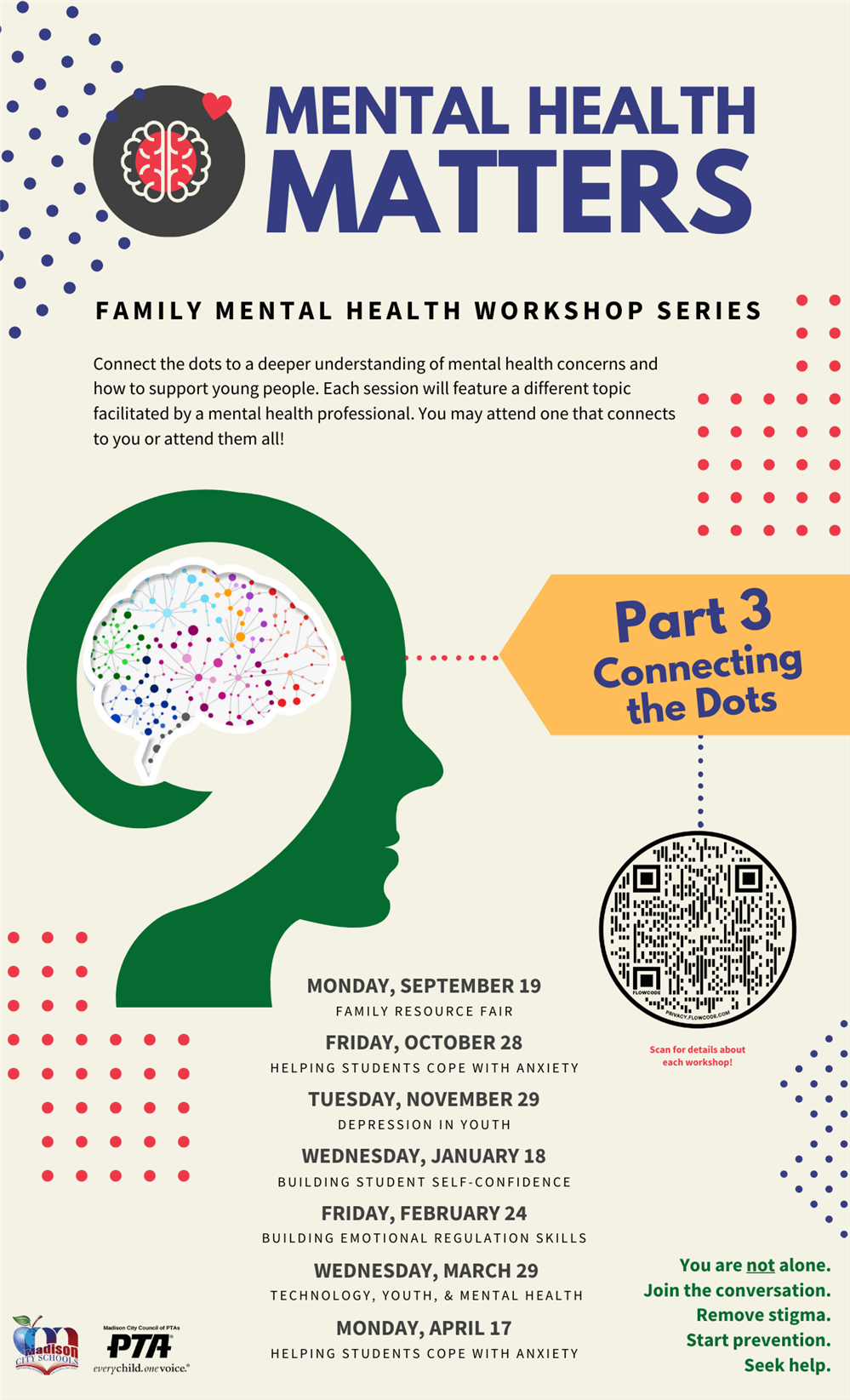 Scan the QR code above or click here to find more information about each workshop session and register. All workshops are free and led by area mental health professionals. These workshop sessions are provided to bring deeper understanding on how to support the mental health of young people. Please join us for one or as many as you choose.
On September 19, MCS hosted a district wide Family Mental Health Fair at Midtown Elementary School. This event featured an interactive expo with hands-on activities for students and adults to support mental wellness provided by The Enrichment Center. Information was available from professionals at community agencies, including the Mental Health Center, Military Child Coalition, The Caring House, Autism Network, National Children's Advocacy Center, Crisis Services, Madison PD, and more. The student art showcase was a great success! See pictures below.

Mental Health Matters: Connecting the Dots is brought to you by Madison City Schools and Madison City Councils of PTAs.
Madison City Students grades 6-12 submitted art work expressing mental health for a Mental Health Art Showcase at the Mental Health Fair:
What can you do if you are concerned with your child's mental health?
Consult with your child's doctor or pediatrician. Describe what concerns you and ask for recommendations. They may provide a referral for a Mental Health Professional.

Contact key people at your child's school. Who should you reach out to? The School Counselor is a great resource to start if you aren't sure. Teachers can also provide insight such as changes or concerns in your child's behavior. Ask: Are they noticing similar concerns?

Crisis help lines are available:

If you or your child are in immediate danger, please call 911.

Remember: You are not alone! Reach out for help.

Have a safety concern for a student or school? Text to Protect is a confidential way for students to report concerns that may affect our students or schools via text or email. 256-604-2345 or texttoprotect@madisonal.gov
Mental Health Resources Online