MCS Approach to Mental Health Awareness
MCS Vision for Mental Health: The students and stakeholders of Madison City Schools are aware of the importance of mental health and have the needed resources to achieve mental wellness.

MCS Mental Health Awareness and Response Team includes a

Safety Coordinator

and

Mental Health Services Coordinator

who assess, develop, and monitor mental health services and initiatives available to our students and their families.

District Social Workers

provide resources and services to empower and ensure that the needs of students and their families are met.

School Counselors provide classroom lessons on social-emotional learning, character education, peer relationships, and health coping skills. They also provide small group and individual counseling and referrals to other services when needed.

School Based Mental Health Therapists through The Enrichment Center provide therapy services to students on school grounds during the school day. For information about referring a student to school-based mental health services, contact your school counselor.

MCS

Community partnerships

include: The Enrichment Center school-based therapy program, The Caring House grief support, The National Children's Advocacy Center SCAN program, and Crisis Services of North Alabama suicide prevention education.

MCS requires

Suicide Prevention Training

for all MCS employees. Suicide Prevention classes are taught in middle and high school.

MCS offers

Youth Mental Health First Aid Training

to employees and parents.

MCS utilizes

proactive technology tools

for digital student safety.

Partnership with MPD provides

School Resource Officers (SROs)

in Madison City Schools to build positive relationships and a safe school environment.

Text to Protect is a confidential way for students to report concerns that may affect our students or schools via text or email.
Madison City Schools and Madison City Council of PTAs are proud to bring Mental Health Matters events and resources to our community. Here you will find information, videos, and resources from previous Mental Health Matters events: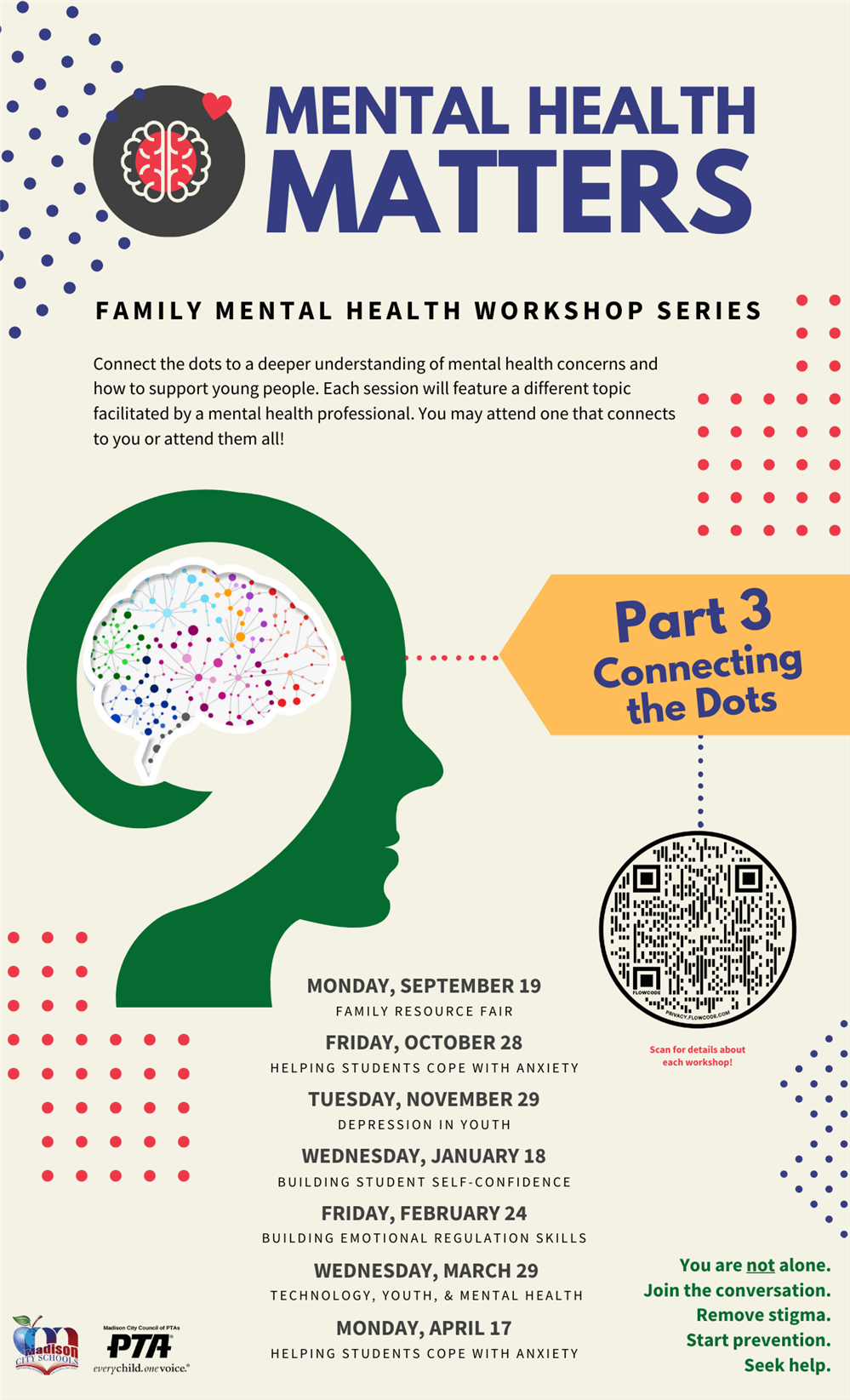 On September 19, 2022, MCS hosted a district wide Family Mental Health Fair at Midtown Elementary School. This event featured an interactive expo with hands-on activities for students and adults to support mental wellness provided by The Enrichment Center. Information was available from professionals at community agencies, including the Mental Health Center, Military Child Coalition, The Caring House, Autism Network, National Children's Advocacy Center, Crisis Services, Madison PD, and more. The student art showcase was a great success! See pictures below.

Mental Health Matters: Connecting the Dots is brought to you by Madison City Schools and Madison City Councils of PTAs.