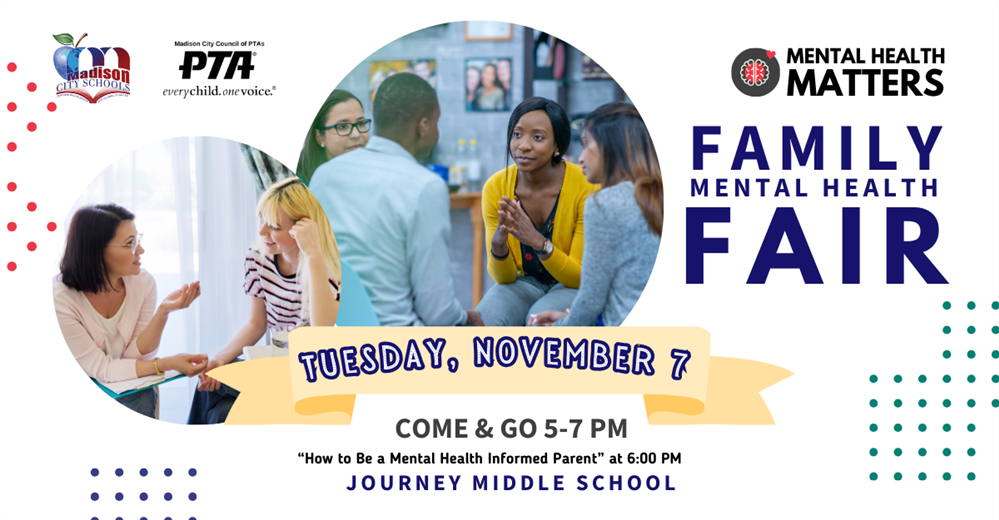 Join us on Tuesday, November 7 from 5:00-7:00pm for Madison City Schools' annual district-wide Mental Health Fair at Journey Middle School.

Stop by to browse community resource tables, talk to mental health experts, view the student art showcase, and participate in family games and activities. We will have food trucks and door prizes. School-based therapists from The Enrichment Center will lead a session at 6:00pm titled "The Mental Health Informed Parent." Join us and learn about strategies to support mental wellness and recognize signs of a mental health struggle in youth.

Click here to join the Facebook Event: https://fb.me/e/1rNdhOwoJ
Need help in a crisis? Call 988 for free 24/7 support.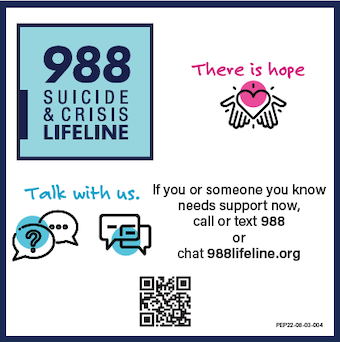 What can you do if you are concerned with your child's mental health?
Consult with your child's doctor

or pediatrician. Describe what concerns you and ask for recommendations. They may provide a

referral for a Mental Health Professional.

Contact key people at your child's school.

Who should you reach out to? The

School Counselor

is a great resource to start if you aren't sure.

Click here for the Madison City School Counselors Contact List.

Teachers

can also provide insight such as changes or concerns in your child's behavior. Ask: Are they noticing similar concerns?

Crisis help lines

are available:

Crisis Text Line - A free, 24/7 text line for people in crisis. Text HOME to 741741

If you or your child are in immediate danger, please call 911.

Remember: You are not alone! Reach out for help.

Have a safety concern for a student or school? Text to Protect is a confidential way for students to report concerns that may affect our students or schools via text or email. 256-604-2345 or texttoprotect@madisonal.gov
Mental Health Resources Online