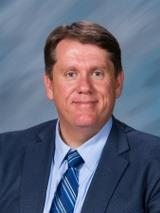 Phone: 256-772-9255
Email:
Degrees and Certifications:
Mr.

Jamie Golliver

It is an honor and a privilege to begin my fifth year of service as principal of Madison Elementary School. This school year also marks the beginning of my twenty seventh year overall as an educator with Madison City Schools. Before coming to MES, I spent four years as a teacher at Bob Jones High School, twelve years as a teacher at Liberty Middle School, and six years as an assistant principal at LMS.

My wife Diana and I have two daughters, Jocelyn and Anna Belle. Our family consists of multiple educators as Diana teaches second grade at Goldsmith-Schiffman Elementary School in Huntsville, Anna Belle teaches seventh grade social science at Deshler Middle School in Tuscumbia, and my son-in-law Seth, Jocelyn's husband, teachers eighth grade math at Florence Middle School in Florence. My other son-in-law Colton, Anna Belle's husband, is a rocket mechanic with United Launch Alliance. Jocelyn and Seth have a daughter, Annie-Jo, who is currently our only grandchild.

I believe that the foundation of our school's success is built upon positive relationships and clear, honest, and transparent communication. I look forward to working with our students, parents, faculty, staff, and community partners to ensure that all of our students learn, grow and thrive. Let us all plan to have the best year ever and Go Hornets!!