Return to Headlines
Madison City Schools has a new school board member.
Tommy Overcash, former longtime Madison City Councilman, took the oath of office tonight. He replaces Mr. Greg Hulsey, who resigned due to a job relocation to Birmingham.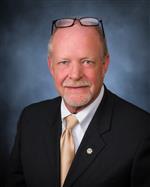 "I'm proud and excited to be here. I'm looking forward to it," Mr. Overcash said.
School board members serve staggered five-year terms with one board member's term expiring each year. Mr. Overcash will be free to seek re-appointment when the remaining two years of his term are up.
Overcash has a history with Madison City Schools since its inception. He and his wife, Debbie, were involved in the early citizen movement to separate from Madison County Schools and form an independent city school system. Overcash briefly mentioned those early beginnings during board member closing comments. "It was very controversial. Half of the citizens were afraid to do it and the other half were excited."
Board President Tim Holtcamp, Superintendent Dr. Ed Nichols and fellow board members welcomed him to the board,
Mr. Overcash has a deep working knowledge of the city from four terms serving on the Madison City Council - half as council president - before deciding not to seek re-election in 2020. He served on both the planning and zoning committees and is currently on the North Alabama Gas District Board, Madison Police Foundation, the Madison On Track 2045 Advisory Committee and numerous other civic, community and leadership organizations.

He and his wife, Debbie, moved to Madison in 1985 and raised their three children here. They have three sons and two daughters in law, all of whom graduated from Madison City Schools.
A native of Starkville, Miss., Mr. Overcash holds a bachelor's degree from Mississippi State University in Electrical Engineering and a master's in Business Administration in Engineering Management from the Florida Institute of Technology. He is a senior software systems engineer with Willbrook Solutions working with NASA on the SLS Program.

He also has a long track record in volunteer capacities at church, schools, scouts, sports, PTA and others.