Return to Headlines
CEO Program Grooms Young Biz Startups
Lauren Chambers heard too many stories of aquarium owners flushing their fish away when moving. It sparked an idea by the James Clemens senior to start a fish rescue service called Pacifish Aquatics. (
https://pacifishaq.wixsite.com/pacifishaq
)

Pacifish Aquatics focuses on "rehoming" fish and fish rescue, and also helps with aquarium setups. Her interest in fish and aquatic life was inspired by a marine biology class she took at JCHS.

Lauren's novel business idea is just what officials with the Madison CEO program hoped for when it launched last year in Madison City Schools. Students learn from area business leaders all about entrepreneurship, marketing, customer service, etc. and put their skills to work forming their own business.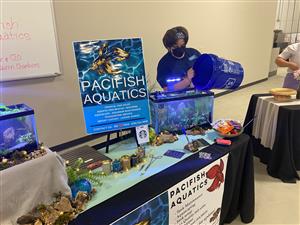 Lauren Chambers and her fish rescue/aquarium service
Friday was a culmination of all that at the Madison CEO Trade Show, held in a sprawling production room of local defense company Signalink.
Students from Bob Jones and James Clemens high schools manned booths with posters, product examples and swag and explained their startup with anyone who stopped by. St. John Paul II Catholic HS is also participating in the Madison CEO program.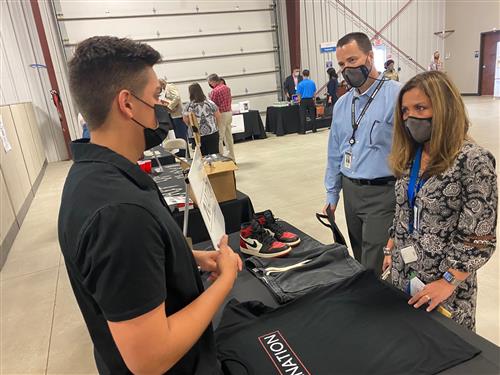 Student Micah Burrows with BOE members Tim Holtcamp, Alice Lessmann

The ideas were as varied as the crowd spilling across the trade show floor.
Micah Burrows, a junior at James Clemens High School, was there to pitch his apparel company,
www.1nationapparel.com
Bob Jones junior Leah Lessmann promoted her Leah's Virtual Cheer Camp
www.littlecheercamp.com
where participants can take training sessions via zoom for only $39.95 a month.
Fellow BJHS student Ian Finney explained his SanzStick device that cleans and sanitizes sports equipment.
Alaina Burnham of James Clemens High School pitched her Spread Light products and apparel business that helps fund child cancer awareness and research (
www.spreadlightapparel.com.

There was a "Burly Bites" snack item business, a tailor made pottery business, an "Out of the Box Events" planning service, a "Tidy Up Madison" clutter organizing business, and many more.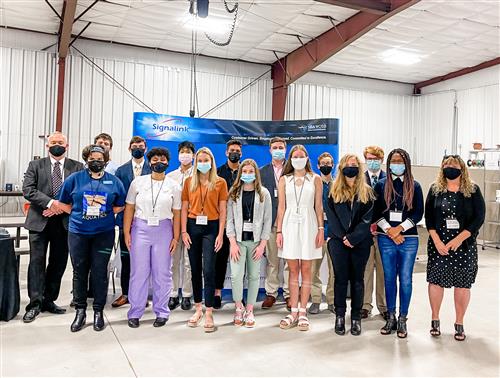 Students with business mentors at the Madison CEO Trade Show at Signalink

Many of the parents were in attendance, as well as local local business people and chamber of commerce representatives. Mayor Paul Finley dropped by, as did Superintendent Dr. Ed Nichols, BOE President Tim Holtcamp, BOE members Travis Cummings and Alice Lessmann, MCS Chief Academic Officer Dr. Heather Donaldson, and others.
What an outstanding group of students. Led by a wonderful support network of education and business mentors.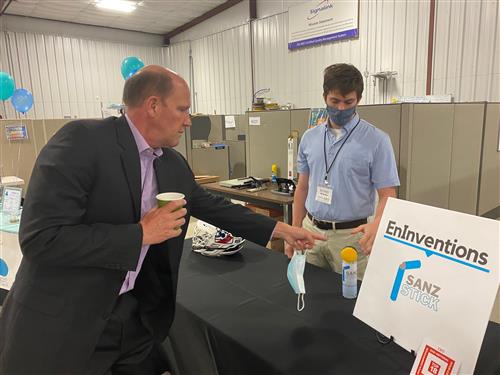 Mayor Paul Finley with student Ian Finney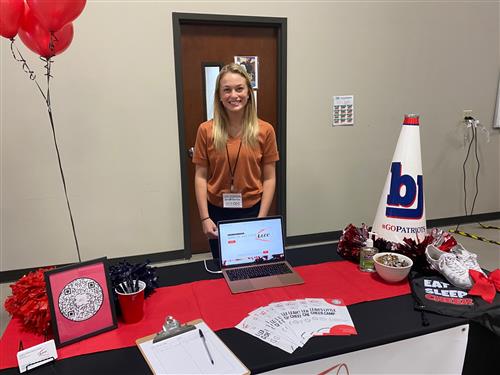 Leah Lessmann promoting her virtual cheerleading training business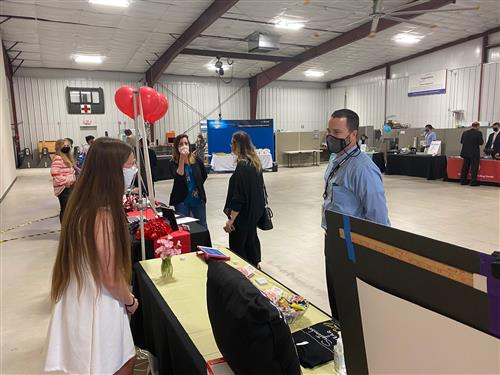 Student Alaina Burnham with BOE President Tim Holtcamp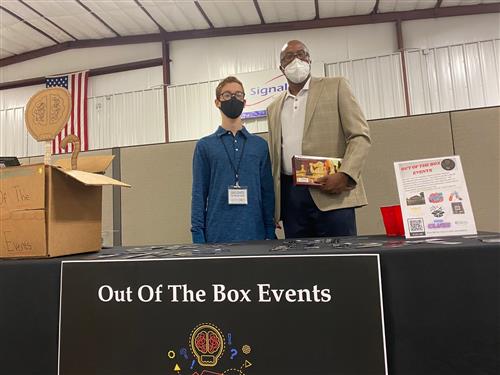 BOE member Travis Cummings with student Samuel Uchitel