Return to Headlines
Robby Parker Earns Top Superintendent Award
Former Madison City Schools Superintendent Robby Parker was presented the 2019-2020 Outstanding Superintendent Award by the Alabama Parent Teacher Association. Discovery Middle and Columbia Elementary won two other state PTA awards.

The Outstanding Superintendent Award was given the visiting Mr. Parker at the Sept. 17 Madison City Board of Education meeting before a smiling MCS staff, many of whom Parker had hired and worked with for years.
"This award recognizes one school superintendent in the state of Alabama as an outstanding educator and/or administrator in their support of PTA, effective advocacy, civic and community contributions and family involvement," the award states.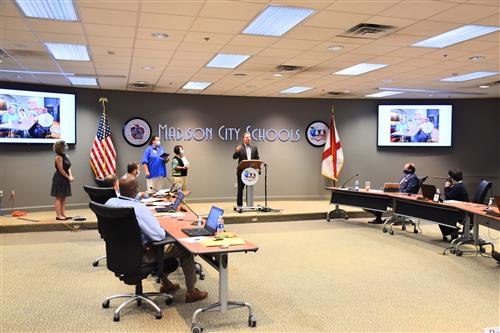 The award recognized Mr. Parker's frequent interaction with PTAs and his activism throughout the community in promoting the 12-mil property tax. That measure was ultimately approved by more than 70 percent of the vote, positioning the school system to build desperately needed schools to accommodate growth.
"He fielded countless questions with patience and thoughtfulness, held several town hall style meetings to get community input and made himself available to the students, parents, staff, and other stakeholders to hear their concerns and ideas. Because of his leadership, the success of this campaign overall was undeniable."

Liz Boykin, vice president of programs for the Alabama PTA; and Deb Stern, treasurer, presented the award along with P.J. Bactchelor, president of the Madison City Council of PTAs and Rebecca Franz with the Horizon Elementary PTA who lead the nomination effort for Parker.
"The dedication to students citywide in Madison has always been Superintendent Parker's No. 1 priority during his time at Madison City Schools. He is respected and admired by staff and students alike, and his last give to the community of Madison is a product of the trust he built over years of his service."

Mr. Parker thanked the board and community for the 31-years he served Madison City Schools before retiring in February and accepting a job as principal at Whitesburg Christian Academy.
"I'm a Madison guy to the core until the day I die," he said. "Madison City Schools is the best public school system in Alabama. We've got the best kids, the best teachers, the best moms and dads, board of education and superintendent right on down the line. I'm very proud of you all for all the things you've got going on right here."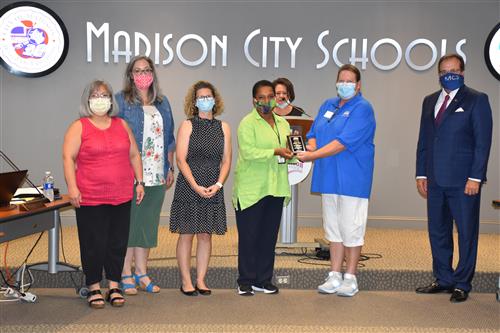 Discovery Middle won the Gold Leaf Award for the largest division, recognizing the PTAs creativity and efforts to increase membership the highest of any school based on a percentage of enrollment.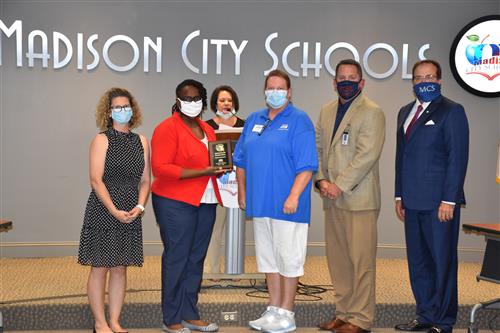 Columbia Elementary won the PTA Family School Partnerships award in the "Speaking Up for Every Child (elementary) category. This award is based on welcoming families into the community, communicating effectively, supporting student success, sharing power, community collaboration and speaking up for every child.