Return to Headlines
Search Is On For The New Schools Superintendent
When Madison City Schools Superintendent Robby Parker retired Feb. 28, Assistant Superintendent Eric Terrell took on the role of Interim Superintendent until a permanent replacement is named.
The law firm assisting in the search for Parker's replacement held stakeholder meetings at Columbia Elementary, Triana Town Hall, the Madison Public Library and Central Office.
The timetable for finding Parker's successor sets a March 23 application deadline, (access application form here), the field of applicants to be narrowed by April 7, finalists announced April 9, interviews conducted April 20-22 and then April 28 if needed, and a permanent superintendent to be named by April 30.
Board members agreed that Mr. Terrell, who has been assistant superintendent for Mr. Parker's three-year as superintendent is best quailified to be interim. "I can't think of a better selection to ensure continuity and trust in this building and across the district," said BOE Vice President Tim Holtcamp.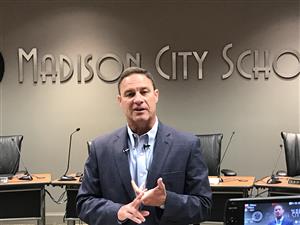 Mr. Parker announced his retirement at the Jan. 9 Board of Education meeting.
The Board requested BOE attorney Woody Sanderson to assist them in the search for a new superintendent.
Here is Mr. Parker's final messenger to the public:


I never thought about what my last words to all of you would be.
What can I say to the family that I have been a part of since I was 24 years old?
I am not sad because I have another mission to accomplish, but I will certainly miss seeing the kids and staff every day. I do not worry about the quality of instruction, the world class education or any other part of the experience our kids get. However, I do worry about something. I will get to that later.
Bear with me on this next part: I love post-apocalyptic movies. Three of my favorites are Omega Man (remade as I AM LEGEND), The Book of Eli (my favorite) and Mad Max Beyond Thunderdome.
My wife hates them and gets a "stomach ache" every time one of them comes on. I can name a number of scenes that resonate with me, but the one that struck me most was the final scene in Mad Max Beyond Thunderdome. After all the battles were over and the remaining survivors are together some years later, Savannah, the leader of the survivors, speaks to the group. In her broken English/Australian/fake movie accent, she tells the history of her people. She implores them to keep telling the story. She tells how they are the lucky ones and that others lead the way, but they knew that what they had now was even beyond what they had dreamed.
So here is our story.
Madison City Schools (YOUR KIDS) are:
-Ranked #2 out of 137 school districts in Alabama
-Ranked 44th best district in America.
-Every elementary school is ranked in the top 14 of 713 schools in Alabama
-Every elementary school in Madison is ranked in the top 1% of elementary schools in America
-Both middle schools are in the top 4 of 355 middle schools in Alabama
-Both high schools are in the Top 6 of 383 high schools in Alabama (and one of the schools in front is a magnet school, so both are top 5.
-Every secondary school in Madison is ranked in the top 2.5% of secondary schools in America including magnet schools
-59% of the graduates last year walked across the stage with a scholarship averaging $37,551 accepted
I could talk about the Arts, Athletics, ROTC etc… programs all day, but you already know they are great and compete nationally.
Back to my worry….I do worry that you won't tell the story of how great Madison City Schools are and will continue to be. You must continue to tell our story. We have the best kids, teachers, parents, staff and Board in America.
KEEP TELLING OUR STORY!
I love every one of you. I am keeping the same cell number, so call if you need me. Your kids will always be mine and you will always be family.
Robby Parker

Mr. Parker informing principals of retirement plans

Mr. Parker's departure ends more than three decades of service to Madison City Schools in which he ascended from teacher, to teacher-coach, assistant principal, principal, assistant superintendent and superintendent (WHNT-19 report). Madison County Record story.)
His school leadership assignments included Discovery and Liberty Middle, and Bob Jones High School where he spent 10 years as principal. He also played a key role in the planning for James Clemens High School.
Mr. Parker moved into district administration in July 2015 when then-Superintendent Dr. Dee Fowler tapped him as assistant superintendent. He became superintendent in February 2017 after a Board search unanimously chose him from the finalists.

Board President Ranae Bartlett said, "The Board of Education extends its gratitude to Mr. Parker for his service, dedication and loyalty to Madison City Schools. He is one of the most popular administrators we have ever had, and he will be missed. We wish him the best in his future endeavors, and will focus on finding the best person to continue to lead Madison City Schools."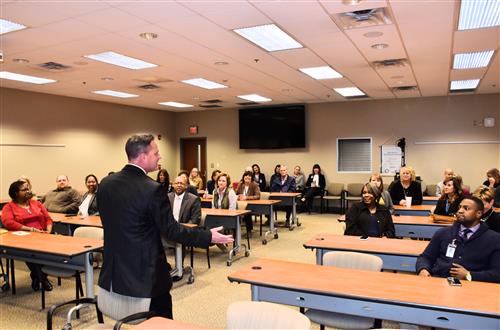 Mr. Parker announcing retirement plans to staff

Mr. Parker will be handing over a school system with a strong foundation both academically and financially.
Under his superintendent leadership, rezonings and major school renovations have helped manage record enrollment gains, 6th graders were moved from elementary schools into the middle schools; special education, foreign language and STEM programs were strengthened; SROs were added; and for the 3rd consecutive year, every single school earned an A on the state report card.
Mr. Parker also led the communitywide campaign for a 12-mil property tax increase to build new schools and strengthen school safety and security.