Return to Headlines
Madison Teacher Wins National Top Teacher Award
Discovery Middle math teacher Kelsey Cooper was awarded a prestigious national educator award today. State Superintendent of Education Dr. Eric Mackey joined Milken Educator Awards VP Dr. Jane Foley in a surprise, spirited announcement before a packed gym of students, faculty, and top teachers from across the state.
Hailed as the "Oscars of Teaching," the Milken Educator Awards celebrate, elevate and activate the American teaching profession and serve to inspire young, dedicated people to join it. The award carries with it an unrestricted $25,000 check and lifetime honor in the elite class of Milken winners. Only 60 educators nationwide will be awarded Milkens during this 2021-2022 school year.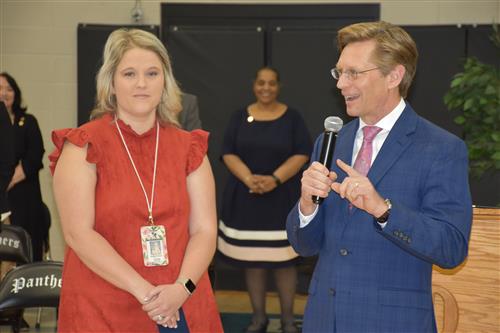 Discovery Math Teacher Kelsey Cooper with State Schools Supt. Dr. Eric Mackey

Ms. Cooper seemed humbled by the award, saying it represents every fellow teacher in her school. "It was very unexpected," she told reporters. "I'm thinking in my mind of all the great teachers - even just on my hall - that are phenomenal, and for me to receive this? I'm very humbled."
Asked about the challenges of teaching, she got teary eyed explaining her passion that every child have a strong advocate in their schools. "Our kids come from so many different backgrounds. You want them to know that even if they don't have that person home that roots for them, once they step in that classroom, they have somebody for life. I don't ever want to have a kid not have somebody who believes in them."

Attendees at the assembly thought Dr. Mackey was visiting to honor Discovery as the state's top middle school, which it happens to be in 2022 NICHE rankings of 390 middle schools across Alabama. But when Milken VP Jane Foley called Ms. Cooper out as the Milken winner, raucous cheers erupted throughout the school gymnasium.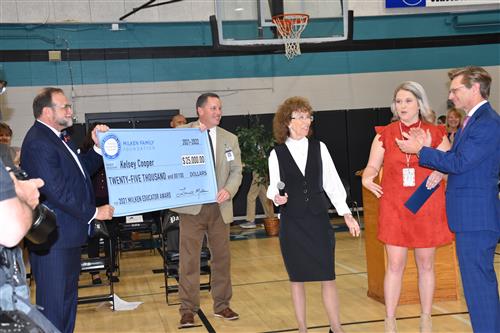 Dr. Nichols and DMS Principal Jamie Hill with Milken VP Jane Foley, Ms. Cooper and Dr. Mackey

Ms. Cooper is the third Madison City Schools educator to receive a Milken since Madison City Schools became a school system in 1998. The others were Horizon 6th grade teacher Amara Alexander in 2016 and Bob Jones engineering teacher Jeremy Raper in 2011. She is a National Board Certified Teacher and in 2021 earned a Masters in Instructional Leadership from the University of West Alabama. More here in her bio.
Since its inception in 1985, the Milken Family Foundation has presented awards to over 2,600 teachers nationwide, averaging about 30-40 per year. Candidates are confidentially recommended to the Foundation by a blue-ribbon panel appointed by each state's department of education and selected for exemplary educational accomplishments beyond the classroom.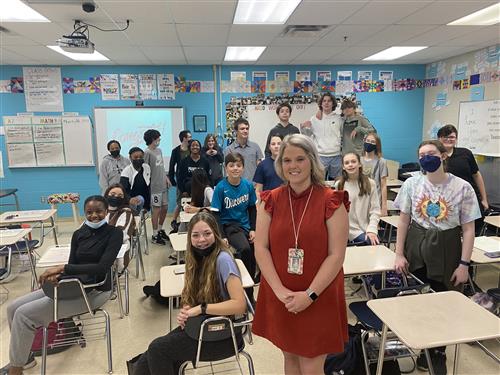 Kelsey Cooper with math students at Discovery Middle

Alabama joined the Milken Educator Awards program in 1998, starting with 6 award recipients. Ms. Cooper is the 37th Milken Award recipient in Alabama and the third from Madison City Schools so far.
Selection committees solicit nomination letters that include a checklist of characteristics about the nominee that qualifies them for a Milken. Areas covered include things like innovative teaching practices, student performance, personal engagement, student achievement gains, professional/leadership accomplishments both in and outside the classroom, inspiration for student/parent/community involvement and more.
Said one MCS instruction administrator in a nomination letter, "Mrs. Cooper differentiates teaching in her classroom in a manner that meets students at every level while maintaining high expectations and dignity for each student. She uses various strategies to meet students who love and excel at math as well as those who struggle to master basic math concepts. One of her most noticeable strengths is an ability to build relationships with her students, notably, those facing hardships."
Here are other characteristics about Ms. Cooper that drew the attention of the Milken Educator Awards team.

Innovation: Cooper's classroom is like Grand Central Station: a beehive of productive activity where learning goals are evident and students buzz with enthusiasm and confidence. Cooper covers her walls with real-world math activities and problems ready for solving. Students cluster in small learning groups with peers, learning to work as a team, and present evidence to support their ideas in an environment that supports questioning and promotes risk-taking. They create blueprints for water parks when learning about linear equations and the Pythagorean Theorem, design city maps to demonstrate understanding of parallel lines cut by a transversal, and write stories whose characters represent shifts in quadratic equations.
Communication: During the pandemic, Cooper's ease with technology and devotion to the well-being of both students and colleagues made her invaluable. She helped the math department with instructional pacing, creating a seamless transition for students who had to quarantine and used virtual breakout rooms to maintain student collaboration. She joined daily one-on-one online visits with students, for both math assistance and social-emotional check-ins. Cooper reached out to parents daily during the pandemic to make sure families were up to date on their students' work. The relationships Cooper builds with pupils and families are genuine and long-standing. When students leave her classroom, she gives each a handwritten letter with a return address, so they can always reach her if they need her.
Leadership: Cooper, who started at Discovery as a student teacher, has led the school's math department for three years and is highly respected by her colleagues. She became a National Board Certified Teacher in 2019 and now mentors colleagues going through the certification process. Cooper takes a team approach to professional learning, looking for and supporting her colleagues' strengths. In addition to her work in the classroom, she coaches softball, sponsors several clubs and works with student teachers.
Education: Cooper earned a bachelor's in 2015 from Athens State University and is currently pursuing a master's in instructional leadership from University of West Alabama.
More information about Cooper, plus links to photos and video from today's assembly, can be found on the Milken Educator Awards website at: https://www.milkeneducatorawards.org/educators/view/kelsey-cooper.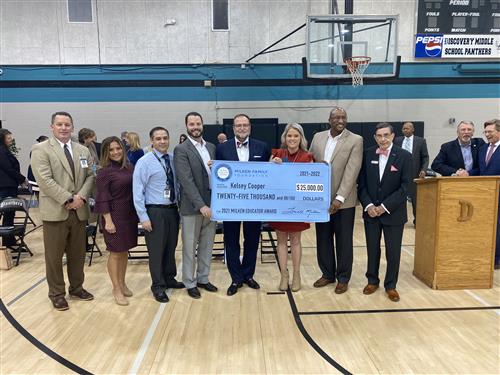 "We extend our state's sincere congratulations to Madison City School System teacher Kelsey Cooper for being named a national Milken Educator," said State Superintendent Dr. Mackey. "Providing students with both real-world and group-oriented learning experiences has been shown to be an effective classroom tool. Milken Educator Kelsey Cooper has developed a dynamic learning environment within her local school system, which promotes K-12 mathematics knowledge, independent student thinking, and advanced problem solving. Her commitment to furthering student achievement using innovative technology and best practice classroom instruction is truly an outstanding example of educational leadership. With the consistent support from her local school system, parents, and wonderful colleagues, Mrs. Cooper has been able to inspire students to thrive academically at even greater levels of achievement. The state of Alabama is truly thankful to the Milken Family Foundation for this wonderful opportunity it has created for highly qualified educators to be recognized nationally, for their classroom and teaching success. Milken Educator Kelsey Cooper is an outstanding example of K-12 excellence."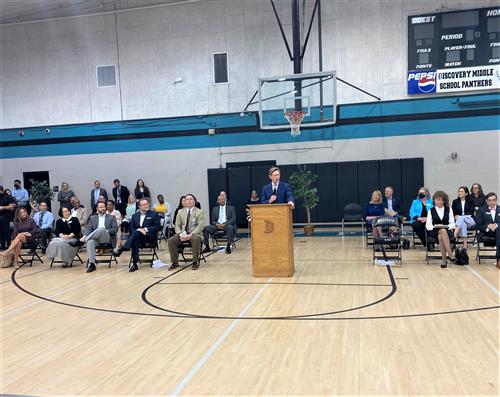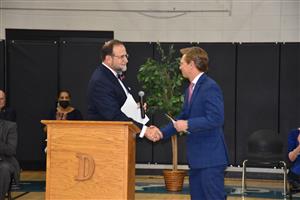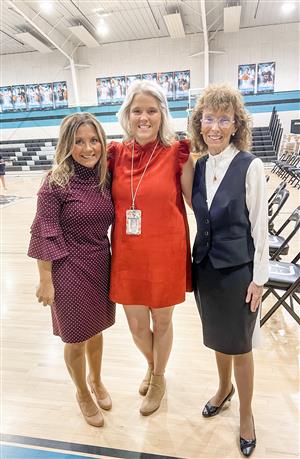 MCS Board member Alice Lessmann, DMS teacher Kelsey Cooper, Milken VP Jane Foley