Return to Headlines
MCS Backs Military As Purple Star School District
Madison City Schools recently achieved the distinction of having every single school qualify as a "Purple Star" school district under a new state program that affirms support for military students and families.

This is the first full school year for campuses to put that support into action through student-led support groups.

The Alabama Purple Star Schools Program was created by a legislative act to help ease the social and sometimes academic burden of frequent moves.
The program sets certain criteria that school systems and individual schools must meet to earn "Purple Star" status.
Criteria includes such things as having a point of contact at each school for military students and families, maintaining a dedicated Purple Star page on its website featuring resources for military families, maintaining a student-led program for peer support for newly enrolled and transitioning students, and other actions.
Qualifying schools receive a Purple Star emblem to display on site.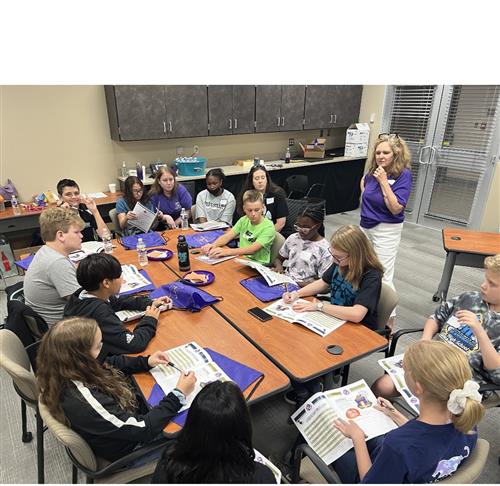 Student-2-Student group discussing ways to make schools more welcoming to new students

"I am proud to report that every single school in our district attained Purple Star status," said Madison City Schools Superintendent Dr. Ed Nichols. "This classification affirms on paper what we have tried to do all along for our military families. Make their transition and school experience as smooth as possible, so service to our country is less of a burden on the homefront."

One of the hallmarks of the Purple Star Schools Program is for each school and/or the school district to have a student peer group led by a faculty-advisor that welcomes and orients new students to schools.
Every school across MCS has so-called S2S (student-to-student) peer groups that do this. These chapters raise awareness of the needs of all transitioning students, both military-connected and civilian. They do this through socials, special efforts to join newcomers at lunch and at school functions, orienting them to the community, and other forms of outreach.

S2S groups, through their faculty sponsors and representatives of MCEC (Military Child Education Coalition) undergo training for guidance in welcoming and supporting newcomers,
Purple is the official color of the military child focus of the Military Child Education Coalition. It is the color derived from combining Air Force (blue), Army (green), Navy (blue), Marine (Red), Coast Guard (blue).
More information this release from the Alabama Department of Education,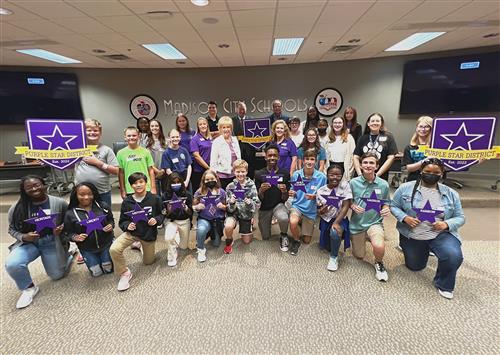 Bob Jones and Discovery Middle S2S groups during a break from a training session. Joining them are Schools Superintendent Dr. Ed Nichols, MCEC trainers and Sen. Tom Butler, sponsor of the Purple Star legislation.