Return to Headlines
UAH Partnership To Boost MCS EL Programs
Madison and the Huntsville metro region are fast becoming more diverse in their populations.
To better serve students with English as their second language, school systems in Madison City, Huntsville and Madison County are partnering with UAH in a new teacher training program through the UAH College of Education.
Madison City Schools Superintendent Dr. Ed Nichols joined Huntsville and Madison County superintendents Jan. 23 in a ceremonial grant signing with UAH President Dr. Charles Karr and his team.
Here is a post on the UAH website: https://www.uah.edu/news/items/college-of-education-receives-2-8m-npd-grant-to-support-teachers-of-english-learners-through-esol-degree-and-project-dial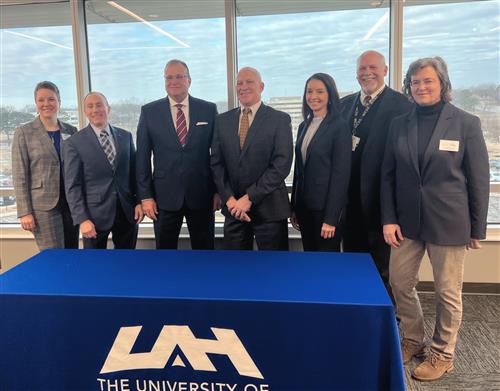 The five-year, $2.8 million federal grant, is under a program called DIAL (Designing Instruction for Academic Literacies). The money will build on UAH efforts to better prepare educators to deliver instruction for students who are non-native speakers of English and for whom learning includes not only core content but also the English language itself.
The grant will provide tuition support for teacher training programs, on-demand professional training opportunities, summer training and teacher coaching assistance, and other instructional and certification help.
Dr. Natalia Dooley, federal programs coordinator for Madison City Schools, said Madison City's EL student population is about 5 percent of its enrollment, with students coming from 51 countries other than the U.S. The district has 19 EL teachers districtwide who deliver quality, focused instruction designed to build language and cultural skills and other specialized teaching.
As of late December, Madison City had 67 languages spoken by students (including English) with Spanish, Chinese, Japanese, Vietnamese and Arabic the most common.
Dr. Andrea Word-Allbritton, clinical assistant professor in the UAH College of Education's Department of Curriculum and Instruction, said the EL boost comes at a critical time when the metro area's population becomes increasingly more diverse. Local school leaders say EL students across the three systems have grown 180 percent since 2018.
The new partnership "really gives us hope that we will be able to bring support to educators at a time it is sorely needed and also to be able to support these multi-lingual leaners who have funds of knowledge and skills that are remarkable assets for our communities," Word-Allbritton said.