Return to Headlines
Public Invited to March 3, 5, "Stakeholder" Meetings on the Superintendent Search
When Madison City Schools Superintendent Robby Parker retires Feb. 28, Assistant Superintendent Eric Terrell will take the helm until a permanent replacement is named.
The Board will be holding two stakeholder meetings for public input on what citizens want in a new superintendent.
March 3rd, 6:30-8 p.m., PTA Forum at Columbia Elementary School lunchroom/auditorium.
March 5th, 11:300-12:30 p.m., Brown Bag Lunch Meeting at the Madison Public Library.
The Board adopted the process and timetable for finding Parker's successor. It essentially sets a March 23 application deadline, (access application form here)
the field of applicants to be narrowed by April 7, finalists announced April 9, interviews conducted April 20-22 and then April 28 if needed, and a permanent superintendent to be named by April 30.
Board members and Mr. Parker said Mr. Terrell, who has been assistant superintendent for Mr. Parker's 3 years at the helm, is best quailified to be interim. "I can't think of a better selection to ensure continuity and trust in this building and across the district," said BOE Vice President Tim Holtcamp.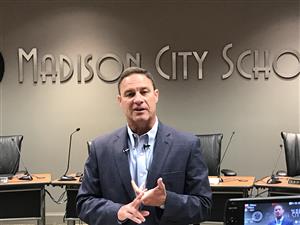 Mr. Parker announced his retirement at the Jan. 9 Board of Education meeting.
The Board requested BOE attorney Woody Sanderson to assist them in the search for a new superintendent.
Here is Mr. Parker's retirement Messenger to the public:

Everyone,

Tonight, I announced my plans to retire from Madison City Schools after 31 years.
My heart is heavy because I will not see our kids every day, but it has been heavy for that reason for the last 4 ½ years.
In 2015, I knew The Lord was calling me away from the school to the Central Office. Very frankly, I didn't want to leave the kids and school, but I knew the Central Office was where I was supposed to be.
I believe The Lord placed me here to help lead our town through a tremendous growth and transition period.
Even though being around the kids less has weighed on me every day since July 2015, I know I made the right decision.

I did not always want to be a teacher. I did love school, but I wanted to be an athlete - not a coach and teacher. In 1984, The Lord called me to be a teacher. I was never so sure of anything in my life, but I didn't think I could do it. I was a restless student and the thought of me being the teacher would be hilarious to all of my friends. I fought it for a year, but decided I would do it. Nobody laughed like I thought they would and it was the best professional decision of my life. I loved every second of the 27 years I was at Liberty, Discovery and Bob Jones.
Rest assured, our district WILL NOT just be OK with me leaving. It WILL BE BETTER! Each one of our elementary, middle and high schools are ranked in the top 2% of schools in America. Our district is ranked in the top 50 school districts in America. Our system is outstanding and will get even better with the great students, teachers, staff, board and parents we have.

In 1984, The Lord called me to teach. I was never so sure of anything in my life. Now, The Lord is leading me away from the Superintendent role. I am equally as sure of that. I do not know what I will do next, but I will always love all of the thousands of kids that have shared their lives with me for 31 years. I will be forever thankful for the trust and love all of you have given me. I am also thankful to this Board, former Boards and former Superintendents for the confidence they have shown in me.
In closing, I am thankful to The Lord for the strength and enthusiasm He has given me the last 31 years. For any good I have done, I thank The Lord. For all the mistakes I have made, I am sorry. I promise that I was hustling and made the best, prayerful decisions I could make. I will work through the end of February and will always be Madison City Schools greatest advocate. Please make sure you and all of my kids have my cell number in case you ever need me.

Robby Parker
256-797-4912



Mr. Parker informing principals of retirement plans

Mr. Parker's departure will end more than three decades of service to Madison City Schools in which he ascended from teacher, to teacher-coach, assistant principal, principal, assistant superintendent and superintendent (WHNT-19 report). Madison County Record story.)
His school leadership assignments included Discovery and Liberty Middle, and Bob Jones High School where he spent 10 years as principal. He also played a key role in the planning for James Clemens High School.
Mr. Parker moved into district administration in July 2015 when then-Superintendent Dr. Dee Fowler tapped him as assistant superintendent. He became superintendent in February 2017 after a Board search unanimously chose him from the finalists.

Board President Ranae Bartlett said, "The Board of Education extends its gratitude to Mr. Parker for his service, dedication and loyalty to Madison City Schools. He is one of the most popular administrators we have ever had, and he will be missed. We wish him the best in his future endeavors, and will focus on finding the best person to continue to lead Madison City Schools."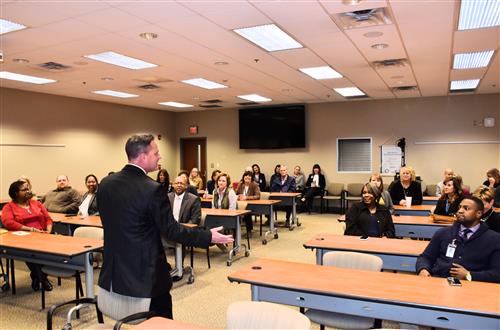 Mr. Parker announcing retirement plans to staff

Mr. Parker will be handing over a school system with a strong foundation both academically and financially.
Under his superintendent leadership, rezonings and major school renovations have helped manage record enrollment gains, 6th graders were moved from elementary schools into the middle schools; special education, foreign language and STEM programs were strengthened; SROs were added; and for the 3rd consecutive year, every single school earned an A on the state report card.
Mr. Parker also led the communitywide campaign for a 12-mil property tax increase to build new schools and strengthen school safety and security.