Return to Headlines
The Madison City Board of Education today approved principals for three schools to replace three who are retiring. All of the replacements are in leadership from within the district and will simply be transferring schools.

The new principals and schools are: Jamie Hill, Discovery Middle School; Demetria Freeman, Horizon Elementary; Nathan Wilson, Mill Creek Elementary.
Mr. Hill is currently principal at Columbia Elementary and is replacing Mrs. Kim Stewart who served as DMS principal since 2017.
Mrs. Freeman has been assistant principal at Madison Elementary since 2018. She replaces Rodney Richardson, who has been principal at Horizon for over 10 years.
Mr. Wilson is currently assistant principal at Heritage Elementary and had served at Mill Creek as a MAAP (Madison City Aspiring Administrative Program) from July 2017 to July 2019. He replaces Mrs. Carmen Taylor-Tubb who has been Mill Creek principal since 2015.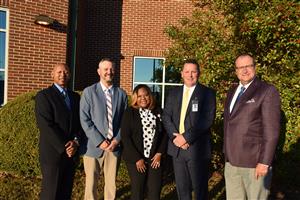 New principals flanked by Assistant Supt. Eric Terrell (L) and Supt. Dr. Ed Nichols
Madison City Schools Superintendent Dr. Ed Nichols congratulated the new principals and assured them they will be surrounded by great faculties and staffs at their schools. "I am excited for these new leaders and certainly appreciate the dedication of those who are leaving," he said.
Here is a little more background on the new principals of their time with Madison City Schools.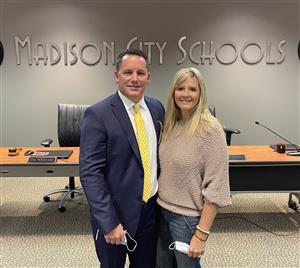 Jamie Hill with wife, Denise. Sons Cole & Cam are in college and did not attend.
Mr. Jamie Hill has 20 years with Madison City Schools. His tenure with MCS includes three years as a collaborative teacher at Bob Jones High School, assistant principal BJHS from 2007-2011 and Special Education Coordinator for the District from 2011-2014 before being named principal at Columbia Elementary in 2014.
Mr. Hill said becoming principal at DMS "completes the circle" of his desire for leadership at the elementary, middle and high school levels.


Demetria Freeman with husband, Henry; sons Jordan & Jacob
Mrs. Freeman came to MCS in 2005 as a special education teacher at Heritage. She became a reading coach/instructional partner at Heritage in 2009 and served as school counselor at Heritage from 2014-2017. She served a short term as assistant principal at Rainbow Elementary before being named assistant principal at Madison Elementary in 2018.
Mrs. Freeman thanked MES Principal Jamie Golliver for mentoring her and vowed she is "excited to embark on this journey to serve as principal at Horizon.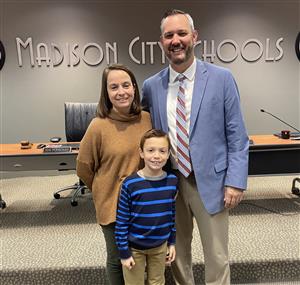 Nathan Wilson with wife, Randi, and son, Cooper. Not pictured: toddler son, Rhett.
Mr. Wilson came to Madison City Schools in August 2016 as a teacher at Mill Creek Elementary. He served two years in leadership there in the Madison City Aspiring Administrative Program (MAAP) before being named Assistant Principal at Heritage Elementary in July 2019. He served eight years in the Madison County Schools District.
Mr. Wilson said he "fell in love with Mill Creek and community" when he first served there and "prayed often I would get the opportunity to make his way back to Mill Creek. "To me, leadership is a s ervice. It's not a position. I'm excited I wll get to go back to serve students, staff and faculty to build on its success."

Board members afterwards joined Dr. Nichols in congratulating the principal promotions and thanking outgoing principals for their years of service to their schools and to the school system.
"This district is blessed to have this kind of talent to follow these leaders," said Board President Tim Holtcamp.
"You all bnng a great track record of success. I'm looking forward to what you will be bringing to your schools." said Board member Greg Hulsey.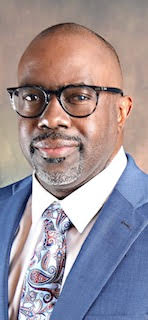 Retiring Horizon Principal Rodney Richardson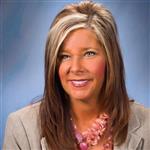 Retiring Mill Creek Principal Carmen Taylor-Tubb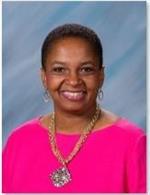 Retired Discovery Principal Kim Stewart