Return to Headlines
Honors/Budget Top 9-9 BOE Meet
The Madison City Board of Education honored students from Boys and Girls State assemblies this year, recognized school PTAs for their vital school support, and accepted an award from United Way for being a top contributor with $22,177 in employee donations.
Other actions included passage of the budget, a brief report on anti-vaping efforts by the Partnership for a Drug Free Community, and a transportation system study showing strengths and areas of improvement.

Larry Vannoy of the local American Legion briefed the BOE on the role of Boys and Girls State in Alabama which has been held since 1935.

Participants learn about leadership, team building, respecting the flag, state, federal and local government and more. Juniors from both Bob Jones and James Clemens high schools attended.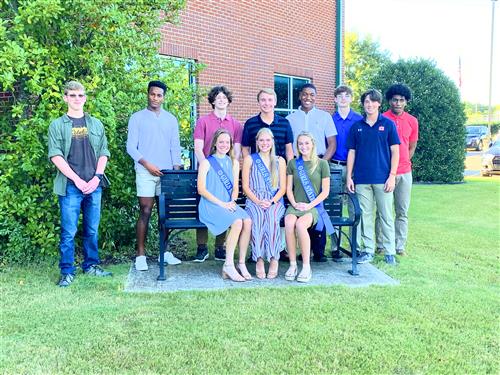 They are (front L-R) Sarah Bierbauer and Alana Sperling of JC and Leah Lessmann of Bob Jones.
Back row (L-R) Caleb Johnson, Sebastian Davis, Aaron McNair, Jack Bell, Cameron Cummings, Roland Matthews, Camden Grant, Christian Rice. Not pictured are Jillian Pennell, Samuel Glover.
One student, Cameron Cummings, participated in the national Boys Nation assembly in Washington and was elected vice president.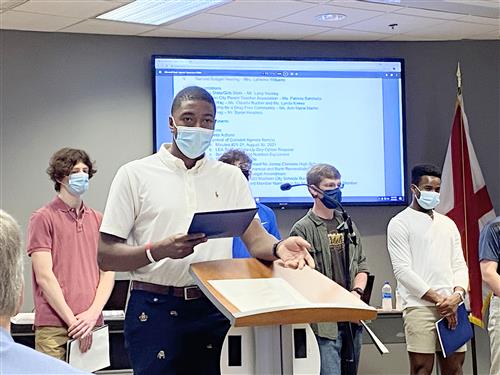 Cameron Cummings, senior at Bob Jones HS, was elected vice president of the national Boys Nation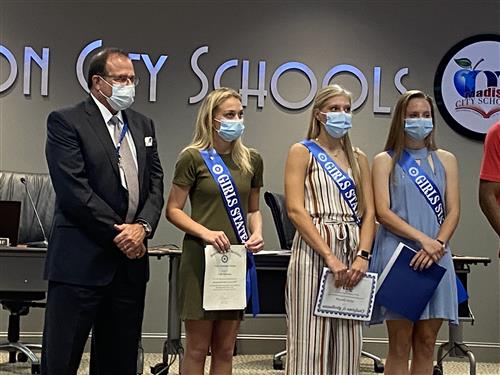 Superintendent Dr. Ed Nichols with girls state reps (L-R) Leah Lessmann, Alana Sperling and Sarah Bierbauer

Liberty Middle student Pierre Carter gave a presentation about the dangers of vaping on behalf of the Partnership for a Drug Free Community organization after Ms. Patricia Batchelor, president of the Madison City PTA Council, gave an overview of each school PTA and introduced officers.


The budget presentation included rankings that place MCS 81st out of 140 Alabama Public School districts in per pupil revenues of $12,092 per student versus the state average of $12,326. The report placed MCS 102nd of 140 school districts in per pupil expenditures of $9,798 per student compared to the $10,155 state average.
The most recent enrollment is listed at 12,254 - up 451 students from last year. The budget summary chronicles the rapid growth of MCS requiring mulitple new schools, building expansions and renovations over a relatively short period. That places the school's debt load higher than many other school systems because of all of the capital expenditures.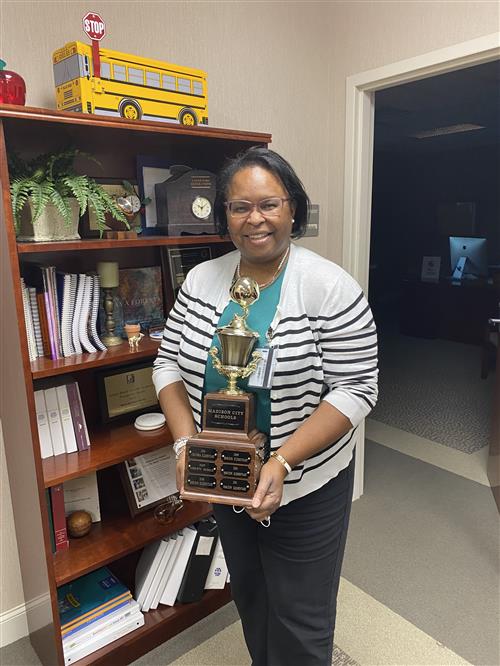 Ms. LaTisha King, executive secretary to the BOE and superintendent, with a trophy from United Way for the school district's fund raising efforts for United Way.