Return to Headlines
Discovery, Rainbow, Win Attorney General "Safe Schools" Award
Alabama Attorney General Steve Marshall visited Discovery Middle School today to present it with a state "Safe Schools Award."
Discovery was recognized for building a culture for school safety by embracing technology, mentoring programs and other methods.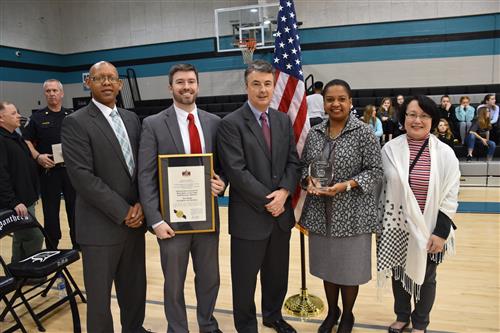 Mr. Terrell, Mr. Givens, AG Steve Marshall, Ms. Stewart, Ms. Bartlett

During the program before a packed gymnasium of students. Discovery SRO Sam Scott got the biggest ovation of all. That gesture underscores the school district's and police department's view of how trust and mentoring relationships with students is so important to school safety.

Discovery was one of only nine schools statewide to receive the award.
Rainbow Elementary won a separate "Certificate of Building a Culture for School Safety."
A panel of judges reviewed submissions from 124 schools and chose the top scoring school for the eight state school districts. Discovery received the honor for District 8 encompassing the northern part of the state. Judging was on preparation and training, SRO programs, collaboration with local emergency response agencies, technology, mentoring and law-related education such as cyberspace, bullying and drug avoidance.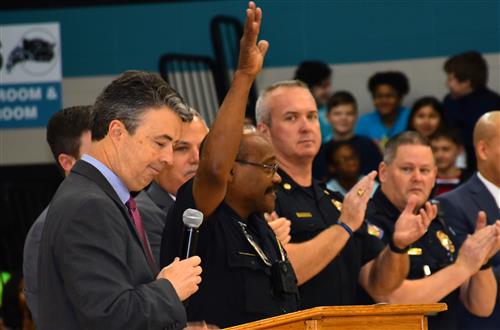 SRO Sam Scott Waves as Alabama Attorney General Steve Marshall Introduces

Rainbow was one of only 11 schools across the North Alabama region winning the Certificate of Building a Culture for School Safety.
Discovery Principal Kim Stewart and Rainbow Principal Brian Givens were on hand to accept the attorney general's award. In his remarks, Marshall commended teachers and staff for their acceptance of drills, mentoring programs, technology tools etc. used in school safety in addition to all their other responsibilities.

Attorney General Marshall said, "Each day that parents leave their children at school, they are entrusting what they hold most precious into the care of school teachers, principals and other staff.
"These schools have developed innovative programs and taken practical, effective steps to combat the threat of violence that has become a terrible part of our modern society. Their dedication and resolve to provide a safe haven for learning is an inspiration to us all."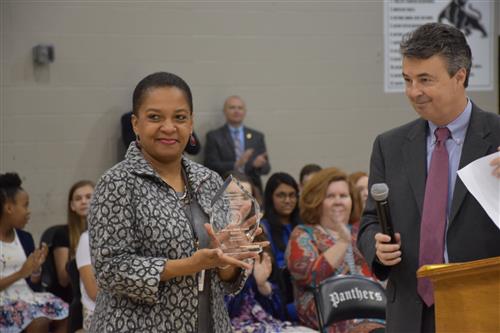 DMS Principal Kim Stewart With Safe Schools Award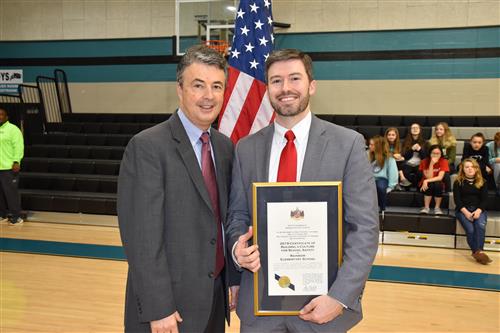 Rainbow Principal Brian Givens with Attorney General Steve Marshall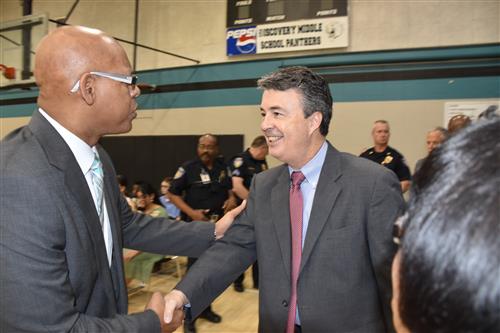 MCS Interim Supt. Eric Terrell Greeting AG Steve Marshall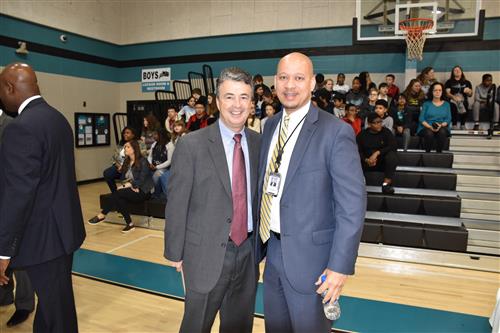 MCS Safety and Security Coordinator Dr. David West with Attorney General Steve Marshall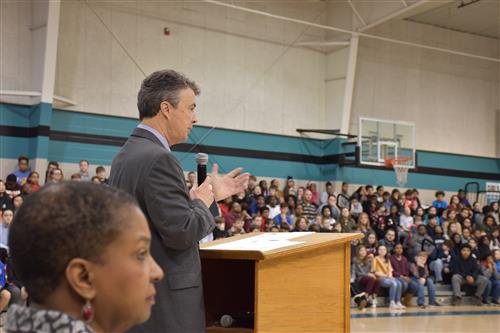 AG Steve Marshall at Safe Schools Award presentation to Discovery Middle. DMS Principal Kim Stewart in foreground.