Return to Headlines
Superintendent Addresses Growth/Capacity Issues
Madison City Schools Superintendent Robby Parker led a news conference July 30th to press the importance of registering and re-enrolling students now and not wait until the school start.
"We have a lot of growth. I think everybody knows that. For us to staff the schools the way they need to be staffed, we need everybody to enroll or re-enroll. We welcome everybody whenever you come. But if you come the first day and we have 200 or 300 or 400 new students the first day, it really will make it tough on us to staff the way that we need to staff."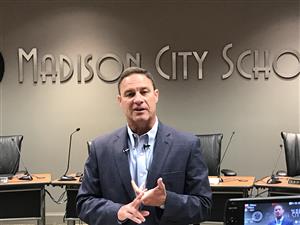 Photo credit: Redstone Rocket

Mr. Parker's comments come amid early growth numbers suggesting another large increase in students. More than 1,000 "new" students have registered so far, not counting PreK and Kindergarten students who obviously would be new to MCS rolls. These are students who have moved into the MCS District or otherwise coming from private schools or homeschools. Offsetting the 1,000 are withdrawals that come in on students who move out of district or dis-enroll for some other purpose.
"We have 1,000 new children enrolled, not counting PreK and Kindergarten. Those 1,000 new children is one way for us to gauge growth. They are new to Madison or Triana who did not go to Madison City Schools or PreK."
Mr. Parker projects a net growth of 225-250 students starting out the school year Aug. 7 and growing 600 to 700 or even more by the end of the school year.
For the 2018-19 school year, MCS started with 103 students more than it ended with three months earlier. "Throughout the year, we grew by 592. This year we believe we'll start with 225 to 250 more in August than we finished with in May" and grow throughout the school year.
Mr. Parker said the real concern is finding space to put all the new students. "The thing I want to emphasize is if we do grow again at 600 or more, we're already at 95 percent capacity in our schools so 600 more would put us really close at 100 percent."
He said he and the school board work closely with the city and have a plan to deal with the growth. That plan calls for a new elementary and middle school, expansion of both high schools and conversion of West Madison Elementary into a PreK Center.