Return to Headlines
Impact Aid Brings More $$ For Schools
Redstone Arsenal Garrison Commander Col. Brian Cozine joined school superintendents from Madison, Huntsville, and Madison County today in the annual Impact Aid kickoff campaign, hosted this year by Huntsville City Schools.

The program was held at Grissom High School. Parents are urged to fill out Impact Aid forms that are now available and return immediately to their child's school(s) to qualify their respective school system extra federal funding. The traditional hard copy requirement now allows an online form, accessible through PowerSchool, which is much quicker to fill out.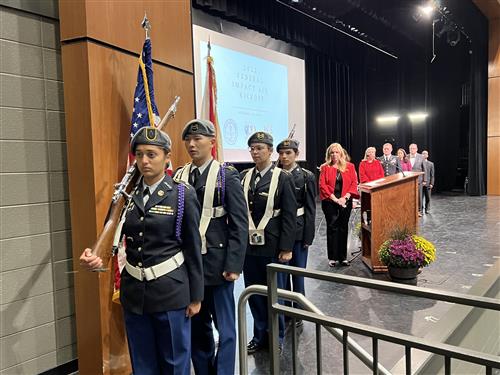 Madison City Schools Superintendent Dr. Ed Nichols explains Impact Aid and the importance of signing up through the PowerSchool parent portal in this in this video.

What is Impact Aid?
It is federal money for local school districts to offset taxes that don't come in from tax-exempt operations.
Appropriations are based on the number of parents/guardians who work on federal property and/or families who live on federal property such as base housing or public housing.

NASA, the Army, FBI, defense contractors, FAA, federal courthouse, VA, and U.S. Postal Service are examples of employment that qualify school districts for this money if the parent/guardian work site is on federal property.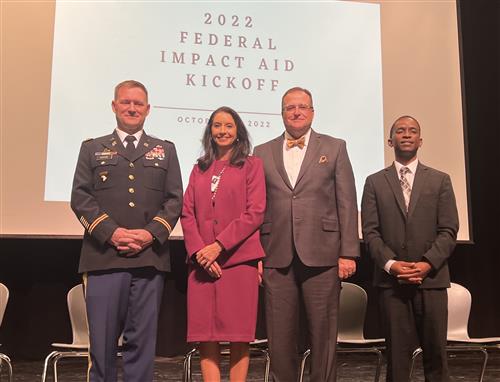 Redstone Garrison Commander Col. Brian Cozine, Hsv Schools Supt. Christie Finley, Madison City Supt. Dr. Ed Nichols, Madison County Schools Supt. Allen Perkins
In today's Impact Aid kickoff, Dr. Nichols, Madison County Superintendent Allen Perkins and Huntsville CIty Schools Superintendent Christie Finley talked briefly about learning additions and enhancements they've been able to offer from Impact Aid dollars.
Madison City Schools has received $4.6 million in direct Impact Aid and nearly $13 million in related Department of Defense Education Activity grants since 2,000. The District got $344,000 in direct Impact Aid last year. Dr. Nichols stressed the importance of parents filling out the forms promptly.
"Your participation in filling out this form will IMPACT children across this district," he said.Not only is the Impact Aid link in the PowerSchool Parent Portal this year, it also provides parents access to grades and other important forms.