Return to Headlines
FAQs on The School Construction And Funding Plan
Q&As On The Schools/Property Tax Plan For Madison City Schools
Updated: 08/09/2019
What does Mr. Parker's Strategic Plan call for including cost?
Elementary school ($34 million), middle school ($49 million), high school additions ($18-$20 million), $3.5 million for additional operational support (SROs, counselors, teachers, utilities). Proceeds will also be used to repurpose West Madison Elementary into a districtwide PreK Center, safety enhancements, address numerous deferred maintenance projects, and for innovative instructional initiatives.


How will this be paid for?
Residents are being asked to support a 12-mil ad valorem increase to build the schools and support the instruction, safety and security of those schools. Madison and Triana voters will decide on this investment in schools in a Sept. 10 special eleection at one of eight polling locations, depending on whose City Council district one lives in. District 1, Maura Wroblewski; 2, Steve Smith; 3 Teddy Powell, 4, Greg Shaw; 5, Tommy Overcash; 6, Gerald Clark; 7, John Seifert. More about the election including polling locations and absentee ballot deadlines. Note that Districts 2 (Smith) and 4 (Shaw) have split districts which means some voters will vote in Limestone County and others in Madison County. Note: polling locations for municipal elections such as this one may not be the same as your polling location for state and federal elections. So know where you vote in a city election before heading to the polls.

How much will 12-mils add in property tax on my home?
It is the equivalent of approximately $120 more annually per $100,000 value of home, or $10 per month. So a $200,000 home would see a $240 per yr. (or $20 monthly) increase and so forth. The charts in this link give a simple breakdown. The ballot language says 12 mils adds $1.20 on each $100 of assessed value of taxable property. It is important to remember that "assessed" value in the case of a personal home is 10 percent of appraised (or actual) value that is assigned by county tax assessor's office.

Here is another slide that breaks down the cost per individual homeowner.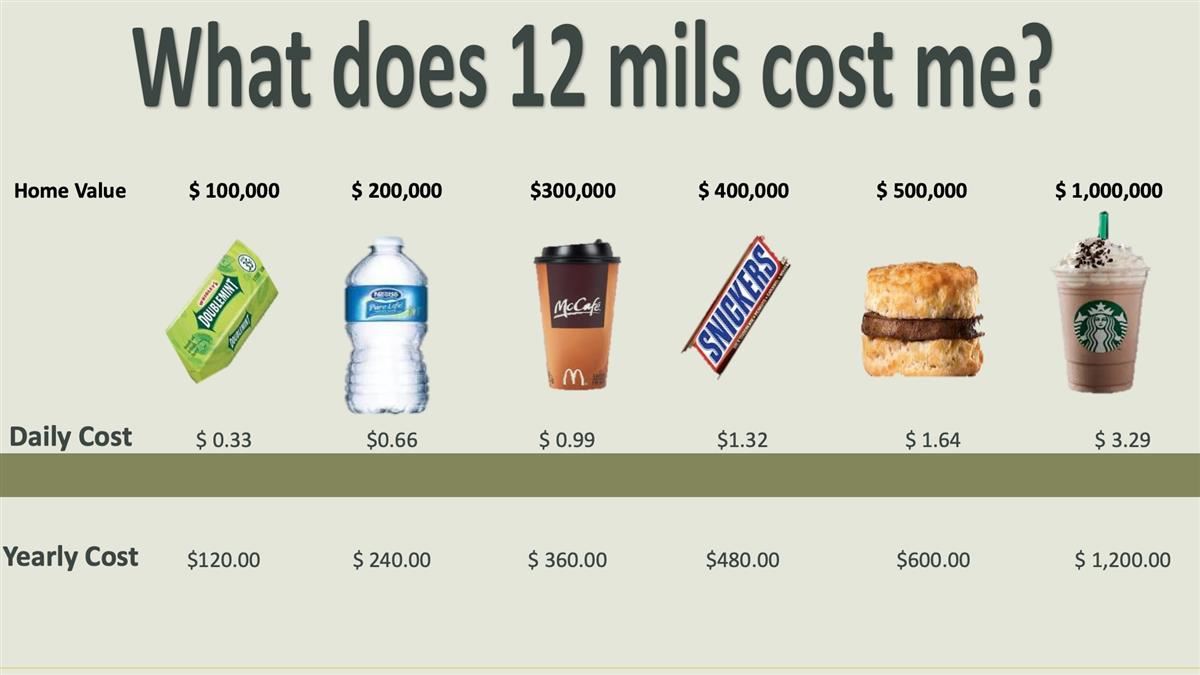 What is the status of your enrollment? We know there's been continuous growth but keep hearing different numbers?
We use a number of growth metrics to gauge what our enrollment will be. A scrolling count that ran on our website this summer rose to just over 1,000 students "new" to Madison City Schools.
That's a count of all the "new" students who had registered (not counting Kindergarten and PreK), not a net gain. The total count changes as re-enrollments, registrations and withdrawals continue to come in. Last year MCS had a net gain of approximately 600 students throughout the school year.and we expect the growth will be above that this year.
We have been more aggressive at communicating and enforcing our address verification requirements. That will likely keep the surge of new students down. At the current rate, however, schools will be at about 95 percent capacity this year and possibly 100 percent capacity next year.
The Board held a work session July 15 at which Superintendent Parker arranged a bus tour through major subdivision developments.


What are the consequence if the tax vote fails?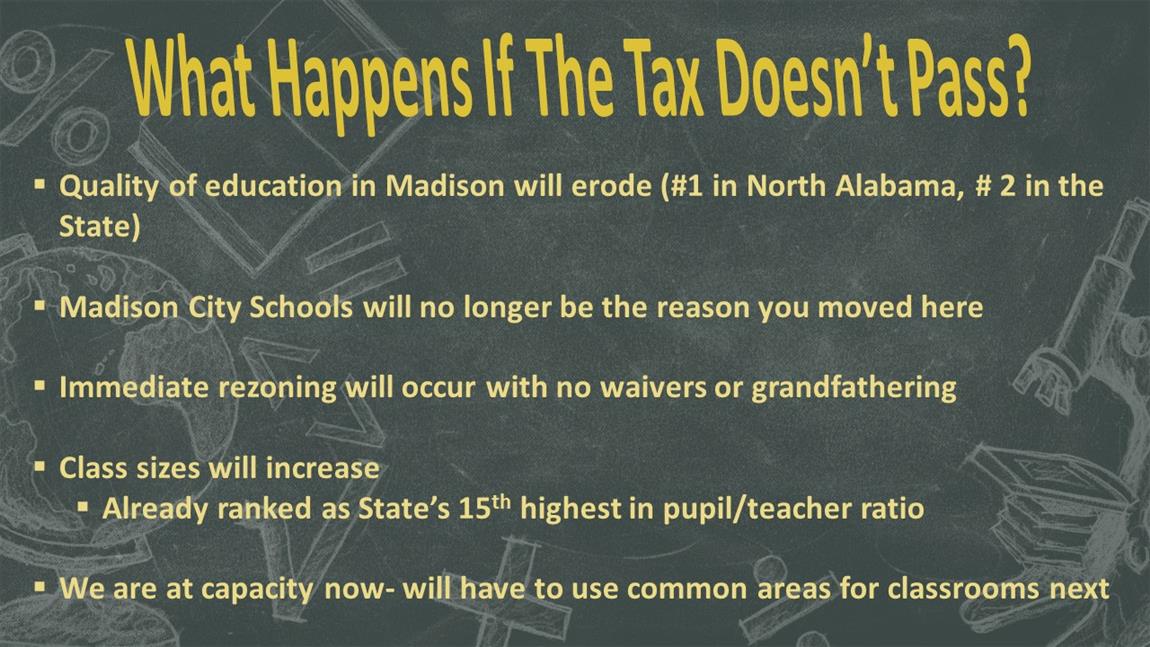 Why a property tax and not use the money from the 1/2 cent sales tax used to build James Clemens High School?
Revenue from the 1/2 sales tax passed by the City Council to build James Clemens High School continues to pay down its debt and the major renovation of Bob Jones High School.
The property tax was determined to be the best way to pay for it. The revenue is more stable and ties directly to the source - property values.

Won't all the new homes and taxes on those homes pay for growth?
Revenues from residential growth help Madison City Schools pay for current debt on existing schools, and for teachers at a level that routinely keeps MCS's pupil/teacher ratio near worst in the state (124 out of 139th in 2019). Residential development does not pay for new school construction which is now necessary due to the pace of growth in Madison.
The joint city-school Growth Impact Study took an in-depth look at the new home construction taking place and into the future. Without specific authorization from the Legislature, local governments have no authority to assess builder impact fees as some have suggested. The city continues to work to increase commercial and retail development.

Isn't Madison City Schools already one of the better funded school districts in Alabama?
The school system does much with the resources it is provided.
However, MCS remains below the state average in per-pupil expenditures, ranking 87th out of 138 public school systems.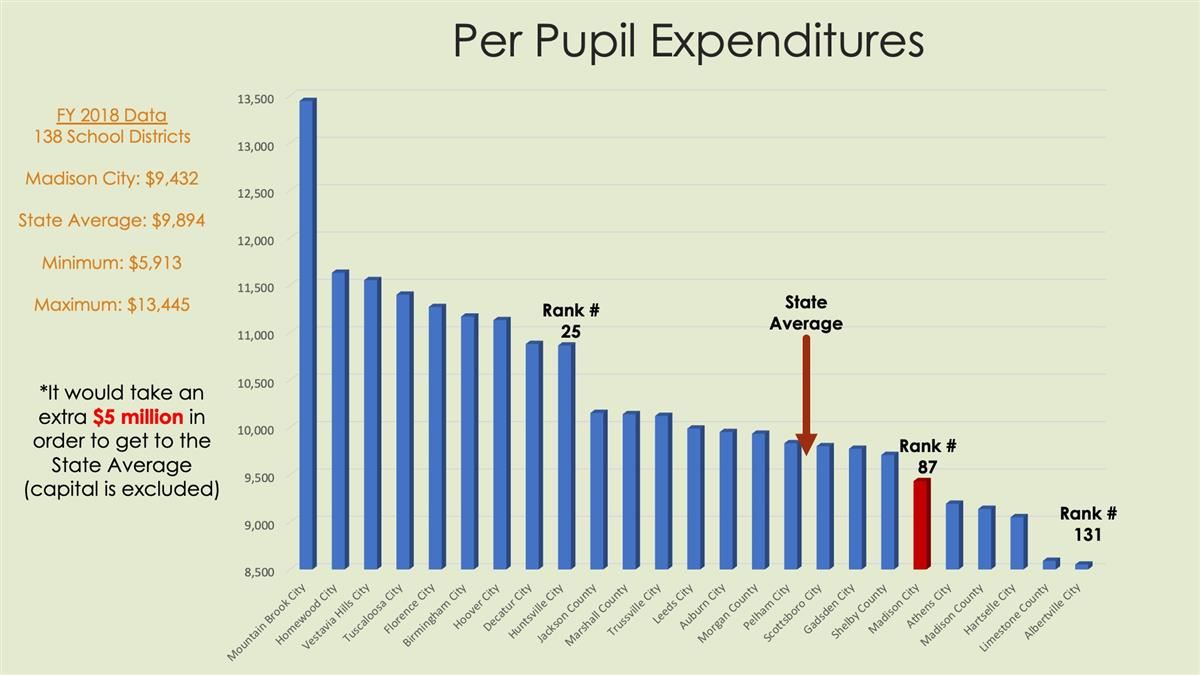 Why now? What other steps have been done to live within your budget?
The school system's growing enrollment gains is unsustainable. (3rd fastest growth of 139 Alabama school systems).
Annual enrollment growth was averaging 286 students over an eight year period in 2012 when the Board initially tried to get a property tax referendum through the Legislature. That measure hit a roadblock in the Senate and never got to the ballots. Growth is now occurring at about 600-plus students a year.
Local Boards of Education in Alabama have no taxing authority or control over city growth. When the proposed 2012 property tax increase failed, the Board subsequently began focusing attention on slowing city annexations and subdivision approvals, rezoning, shaving interest costs by refinancing, and strengthening its address verification and enforcement efforts.
The district also finalilzed the settlement in the Limestone County tax dispute, delayed filling Central Office positions, stepped up grant aapplications, created a tuition for out-of-district employees with kids enrolled in MCS, and getting legislative approval for several property tax RENEWALS. The renewals were generously approved by voters in December 2017 and a crucial step to NOT lose EXISTING funding.
Madison City school enrollment continues to grow at a more accelerated rate. with more than 1,600 students added in the past four years.
Madison City Schools is on track to add more than 700 students this coming year. That's more than the enrollment at West Madison Elementary alone, which had 448 students near the end of the school year. The additional 1,603 students from 2014-2018 is the equivalent of three average size elementary schools, two average sized middle schools or a high school.

Can't you just pay for schools out of your current budget?
The system is efficiently spending money on priorities, leaving virtually little or no extra in the budget.
A statewide education expenditures comparison shows Madison City Schools prioritizing instruction services and instructional support over administration and operations and maintenance costs. Admin and O&M expenditures are below the state average while instructional services and instructional support are above. Category Spending Comparison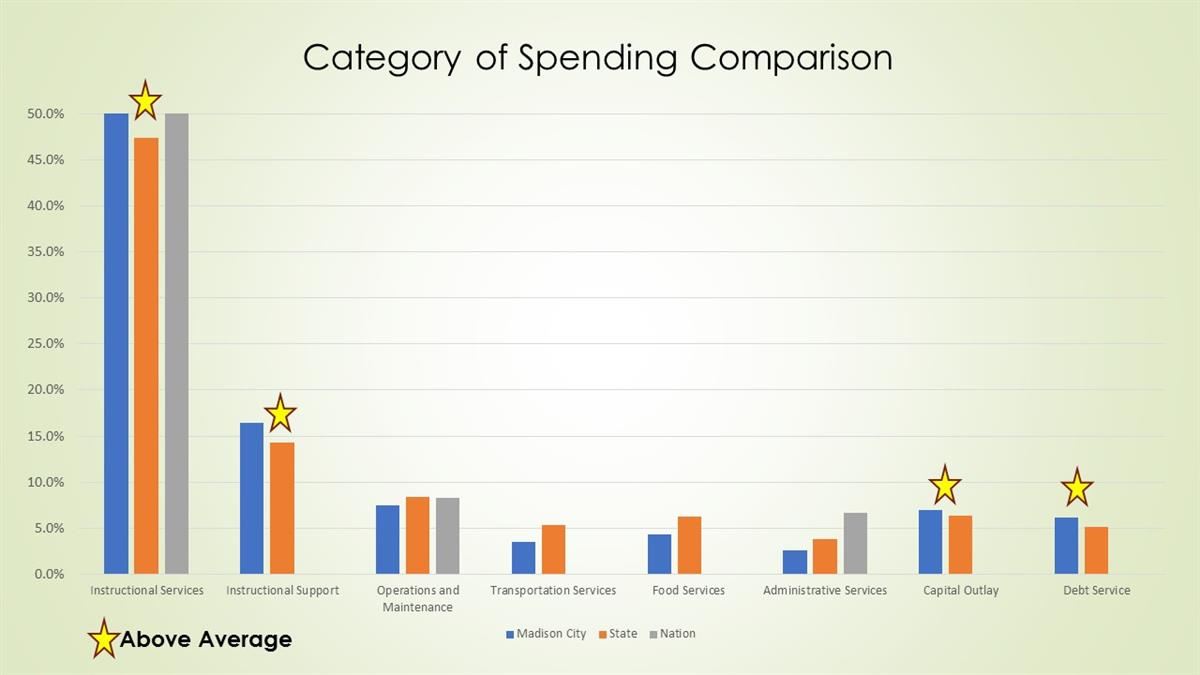 Also, because Madison City Schools is a relatively new school system, the budget is still paying for a lot of schools - $156 million-worth. So its debt is higher than the state average from those multiple mortgages. And because the state funds schools in arears, the system has to absorb teacher growth units out-of-pocket each year and won't recoup that until the following year. This is particularly burdensome on fast growing systems like MCS.
Madison City Schools is house poor and can't borrow any new money until after 2030 when it could support a $39 million bond issue.
What are the projected costs for the schools based on?
The school system's architectural firm (Nola/ VanPeursem Architects) and construction management company (Volkert Inc.) worked up the estimates using a systemwide facilities assessment report, growth projections, inflation factors and analysis of school construction in comparative school districts.

When is the earliest date that 12-mils can be implemented and when would Madison City Schools begin to get the new revenue?
Voter approval on Sept. 10 would put the new millage rate in effect starting this October, but the increase won't be due from property owners until the following year when property taxes become due beginning Oct. 2020.
However, voter passage would enable construction to start immediately, with initial payments on that debt to begin when property revenues under the new rates are collected beginning October 2020.
What about the Limestone County tax case that included tax revenues for Madison City Schools?
That case was settled in 2017. Madison City Schools is receiving its share of education taxes being collected in Madison portions of Limestone County.
The taxes that were in dispute involved countywide property taxes in Limestone County and a sales tax collected from Madison businesses in Limestone.
It is very important to know that the new 12-mil property tax would be a CITY school millage, not a county or district millage that was litigated. The new school tax would be collected in Madison City in both counties and remitted totally to Madison City Schools.
The Limestone settlement was worked out equitably in 2017 with neither side getting everything it wanted. The existing 11-mil Madison City ad valorem education tax was never an issue in that case, and the new 12-mil Madison City ad valorem education tax (if approved by voters) won't be either.
The Strategic Plan calling for new schools assumes approval of the proposed increased tax revenue for Madison City Schools. What is the fallback if the 12 mils is not approved?
The 12-mil proposal is what the superintendent, using Growth Impact Committee findings, feels is necessary to address future enrollment increases. Without the building of additional schools, continued enrollment growth would require extensive rezoning and other possible actions such as split sessions, year-round school and significant program cuts that would jeopardize the quality of the educational product offered by Madison City Schools.
School board leaders believe that doing nothing would erode the educational quality of MCS and harm students, decrease home values, and deter employers from locating here. Packing more students on existing campuses would overtax lunchrooms, gyms, hallways and other school operations. Approximately 200 kids had to be turned away from PreK this past year for lack of space. Expanding schools versus building additional ones would also worsen pupil-teacher ratios and increase traffic congestion around what would be even bigger schools.
What is the school system's debt burden?
Of 139 public school districts, Madison City Schools ranks 23rd highest in debt-to-total expenditures, according to the finance division of the Alabama State Department of Education using 2016-17 figures. The state average is 5.37 percent of debt in relation to total expenses. Madison City is at 7.66 percent. Looking at it from a debt-per-student standpoint, Madison City spends $715 per student annually toward debt compared to the state average of $515.

How can residents be sure money from the 12-mil will go only to schools?
It is clearly spelled out in the agreement with the City and in the legislation seeking the property tax election. It will be a Madison City tax limited to use for public school purposes by Madison City Schools that may be expended solely by Madison City Schools.
Will the tax increase also apply to Triana and Limestone, and if so, will Madison City Schools get 100 percent of it?
The additional millage will apply throughout Madison's city limits, including all parts of the City in Limestone County. The additional millage of city tax will be proposed for public school purposes so all of the proceeds will go to Madison City Schools.
An identical millage hike is being sought by Triana.
Triana's attendance agreement with Madison, approved at the time Madison's school system was created, includes provisions for Triana to match any increase approved in Madison within one year. As long as the attendance agreement with Triana remains in place, all proceeds from such increase in Triana must go to Madison City Schools. Superintendent Parker and Board, along with the Triana leadership, Believe that Triana will be supportive of continuing its successful partnership with Madison City Schools. Triana leaders included a provision in their 12-mil property tax proposal that would negate it if Triana's passes and Madison's 12-mil property tax fails.

The Strategic Plan presentation suggests our high student-teacher ratios are due largely to funding deficits resulting from growth. Why is this?
The state funds school systems in arrears. In other words, Madison City gets its per-pupil allocations from the Alabama Department of Education based on its previous year enrollment. MCS grew 600-plus students from the end of the 2017-18 school year to the end of this one in 2019. That creates expenses that MCS must absorb out of local funds until the funding catches up. This budget formula is burdensome for fast growing systems. The lag in this year's budget, for example, required Madison City Schools to cover $3 million from growth impact that will not be covered until next year's state funding allocations.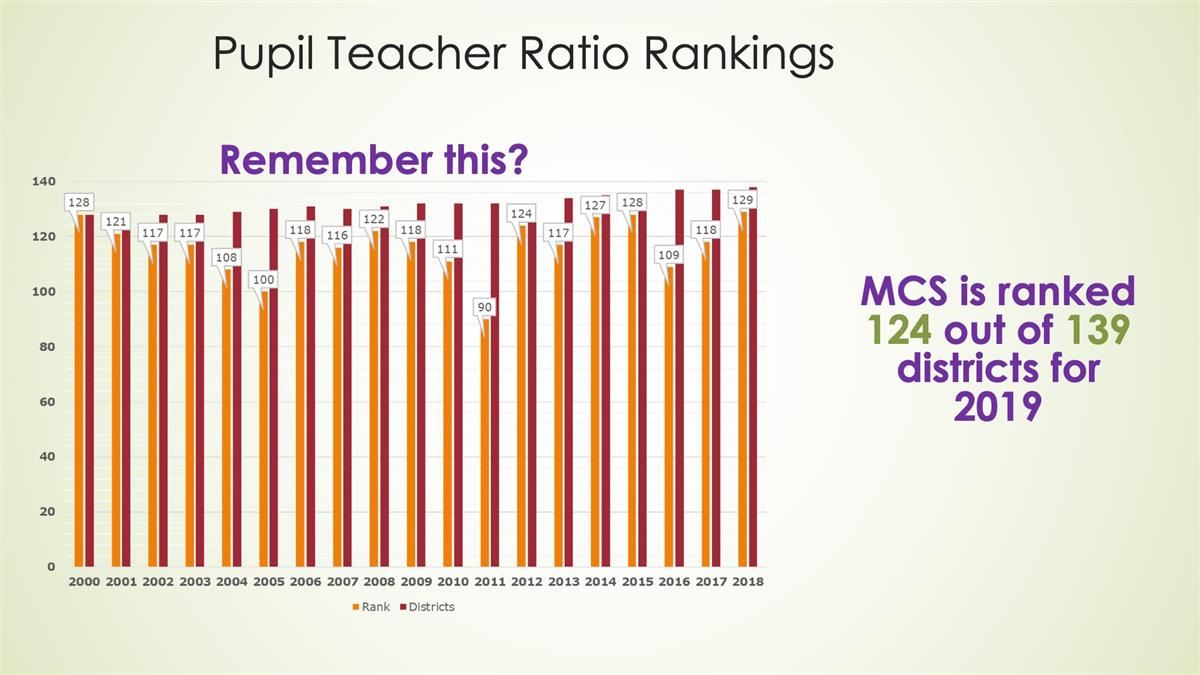 What will the ad valorem increase bring for Madison City Schools?
1 mil generates approximately $676,000 annually in the City of Madison, so 12 mils would bring in about $8 million per year. That would leverage borrowing $120 million-plus for 30 years, depending on interest rates and other variables.

Why is MCS's per-pupil revenues so low compared to other Alabama public schools?
Per-pupil revenue rankings are from several factors including the amount of local tax support, and the percent of students living at or below poverty which qualifies the district for additional federal money. Madison City Schools is "house poor" in that its exceedingly rapid growth has required it to borrow to build new schools faster than growth in revenue can occur. Consequently, MCS has disproportionately more of its money committed to paying for schools.
Madison residents also pay far less ithan other top performing school districts in Alabama. Here are the education millages in the top 5 school districts according to NICHE: (Mountain Brook, 52.9 mils; Madison City, 27; Homewood City, 37.5; Hoover City, 46.1; Vestavia Hills, 52.05). Mountain Brook is seeking a 10-mil increase this fall, which would bring its total school millage to 47. Hoover is also seeking to raise its school millage.
Although Madison residents enjoy a top ranked school system while paying only 27 mils of tax for education, the school system simply cannot continue to compete with those collecting almost as much as twice in local support for education when MCS is saddled with so much demand for new capital construction.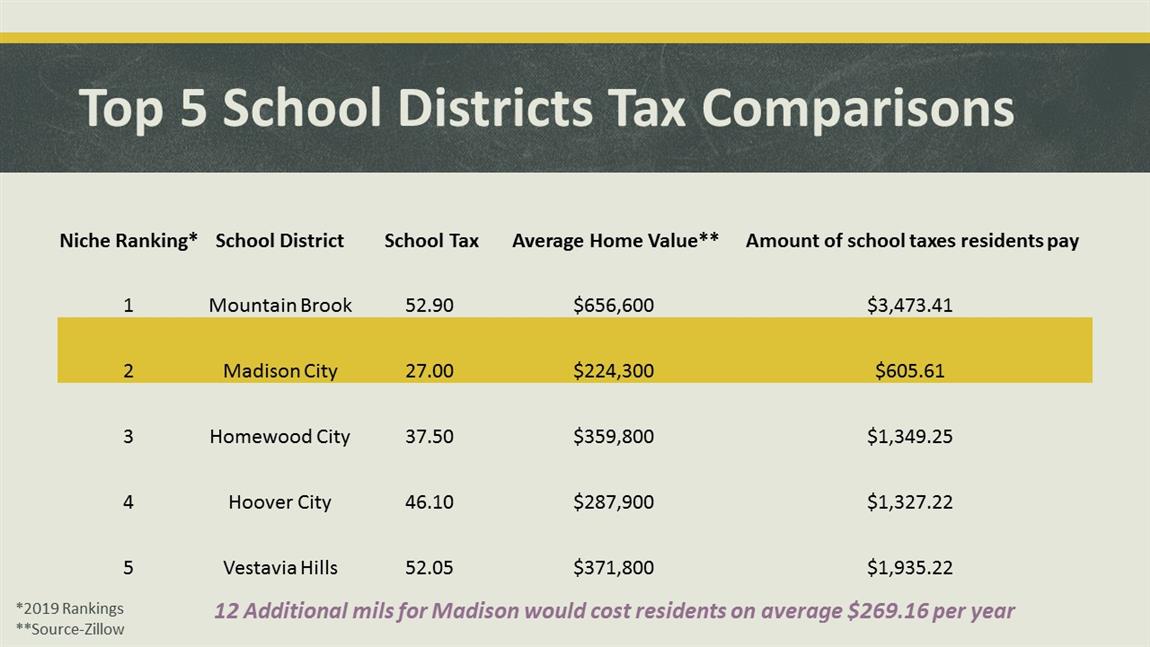 If a third high school could be needed within 10 years, why not go ahead and ask for more property tax millage now to cover it? The Strategic Plan said a third high school would require the addition of 8 mils to the 12 mils being proposed.
Superintendent Parker said the district is only asking for what will solve the immediate, known need. There are 2,000 residential lots ready for development with other undeveloped land having the potential to be developed in Madison City. Mr. Parker said the new elementary and middle schools are urgent under growth that is certain and if funding is not available for a new high school when needed 5-7 years later, additions to the existing high schools will be adequate for up to a City population of 65,000. The school district has no control over annexations or the pace of growth. That is a function of the City of Madison.

What is being done to control growth?
Madison slowed annexations put more scrutiny in approvals for residential development after Superintendent Parker and BOE members began speaking at City Council meetings in opposition. Triana began doing the same. (city growth analysis) Development approvals are solely at the discretion of the City. MCS has no authority over residential or commercial developments.
What's the new out-of-district tuition for non-Madison school employees all about?
Madison City Schools had previously allowed employees who live outside the school district to enroll their children in MCS. Because of the district's unprecedented growth in recent years and the fact he is going to the entire community with a tax increase proposal, Superintendent Parker recommended and the Board approved a modest fee for out-of-district employees to have their children attend Madison City Schools. The fee is $360 a year, or $30 monthly through payroll deduction. That cost is per household - not per child, and again, available only to out-of-district MCS employees who enroll their children in Madison schools.
Several of the top performing school districts that Madison compares itself don't allow any out-of-district student. Mr. Parker wanted to continue allowing children of out-of-district employees to attend Madison City Schools and felt that a $30 monthly fee is not unreasonable.
Other links to information:
Superintendent Parker leads BOE on bus tour July 15 through development areas:
Mr. Parker's video appeal. https://youtu.be/I7vY3nJs4JQ.
Click here for supporting slides only.
Video of 2019 State of Schools includeing proposed new school sites
Power Point of Mr.Parker's 2018 Tax proposal For New Schools.
BOE Prez Ranae Bartlett on the value of a good public school system.
2019 Niche rankings: Bob Jones/James Clemens, Discovery/Liberty in the top 5 of all Ala. high schools & middle schools; All 7 MCS elementary schoools in top 18.
Superintendent Robby Parker's Strategic Plan 2018-23 for Madison City Schools
Ms. Bartlett Op-Ed on successes of MCS and challenges ahead.
Supt. Parker's Leadership Perspectives interview on WHNT-19.
Top 50 per-pupil spending school districts in Ala. (Madison ranks 82nd)
Madison City Schools gets 2nd consecutive Straight-As Report Card rom Ala Dept. of Education
News coverage from the Madison City Council public hearing on the property tax:
Madison Record: https://www.themadisonrecord.com/2018/11/14/madison-city-council-approves-school-boards-property-tax-proposal-residents-voice-strong-support/
WAFF-48 http://www.waff.com/2018/11/14/madison-city-council-pushes-forward-property-tax-proposal-some-locals-say-it-isnt-enough/
WAAY-31 https://www.waaytv.com/content/news/Madison-City-Council-approves-property-tax-increase-500450261.html
WHNT-19 https://whnt.com/2018/11/13/madison-city-council-meets-passes-resolution-to-support-tax-increase/
WZDX Fox-54 https://www.rocketcitynow.com/video/top-video/overwhelming-support-shown-for-madison-city-schools-tax_20181114030942/1595530437