Return to Headlines
NBCT / BJ Cheer, Honored For Excellence
The Madison City Board of Education honored its latest batch of teachers earning National Board Certified Teacher (NBCT) status. Also honored were the Bob Jones High School Cheerleaders for their 1st place showing at recent state competition.
The 10 NBCTs recognized at the Feb. 3 Board of Education meeting adds to the growing ranks of MCS teachers completing the rigorous training to earn NBCT.
Learn more about the NBCT program here:
The new NBCTs for Madison City Schools are: Savanna Lyles, Sophia Hall, Dr. Lori Shrode, Judy Bagwell, Dr. Stephanie Bostick, Beth Woodard, Lauren Cecil, Susan Vest-Rader, Peggy Dupree, Lory Schieler.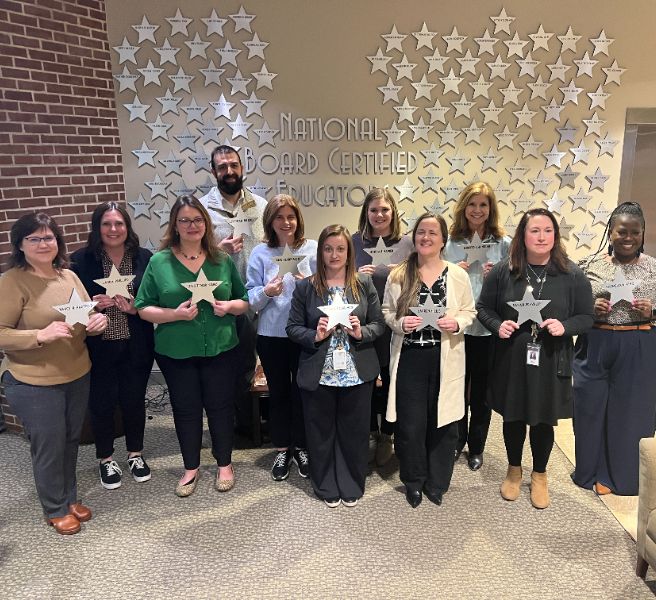 The newest NBCTs for Madison City Schools.
Bob Jones High School Competition Cheer State Champs are:
Aaliyah Washington, Daneigh Hart, Kamryn Locke, Leah Lessmann, Olivia Morgan, Sydney McDonald, Annisten Carver, Arianna Lee, Ashlyn Davenport, Bailey Jefferson, Caroline Clark.
Emma Kate Lindsey, Jenna Kay Chesser, Maxie Reyes, Ellen Barrier, Brooke Groves, Elissa Mitchell, Macy Blair Croteau, Savannah Smith.
Alternates: Brooke Stevens, Su Le, Tristen Moulton, Emma Kutche, Ari Dedeaux, Amara Wanninger, Ashlyn Hart, Kahri Odom, Paris Petty, Sarah Stern.
Both the Bob Jones and James Clemens High School cheerleading squads qualified for and will soon be competing in national competition.
Bob Jones HS state cheerleading champs


Tonight's Board meeting had mostly routine actions. One highlight that Superintendent Dr. Ed Nichols mentioned was the substitutes approval list growing appreciably from past lists. Dr. Nichols and Board members thanked members of the community willing to substitute teach and join PTAs in volunteering.
Dr. Daphne Jah, Personnel Coordinator for Madison City Schools, said the added substitute pool is a positive but the district could still use more to fill absences as needed. "It's a wonderful outpouring but I would just say please continue to apply."
Click here
for information about applying to be a substitute.
The next BOE meeting is Feb. 10.
| | |
| --- | --- |
| | |