Return to Headlines
BOE Member Recognition Month
Madison City Schools Board members are front and center of all things Madison City Schools. At Tuesday's board meeting (Jan. 25),they were formally recognized for their advocacy. Superintendent Dr. Ed Nichols began the board meeting by thanking them for their work and passion for schools.



Nichols presented them with a framed article that will appear in the Madison Living Magazine, a cap from Bob Jones sporting the BJ logo, and library books that will be donated in their honor to James Clemens High School.
Madison City Board of Education members are true public servants. You see them at Board meetings, school plays and band performances. They are at the football stadium and in bleachers at swim and dive competitions.
You might catch one reading to a class, speaking to a PTA meeting or advocating for schools at a City Council meeting.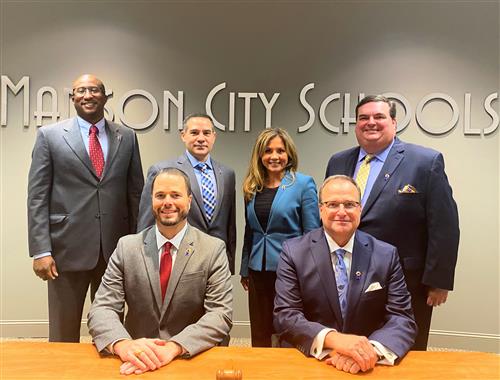 They attend graduations, school carnivals, EL summer classes and greenpower events. They meet with legislators and city leaders to discuss school issues, undergo board training and attend conferences away from their family.

They are our Board of Education members: Tim Holtcamp, Travis Cummings, Luis Ferrer, Alice Lessmann, Greg Hulsey.
We are most grateful for their leadership and selfless service - all without receiving even a dime of compensation.
Each board member is appointed to staggered five-year terms. Since the formation of the school system in 1998, our MCS Board of Education members have elected not to receive compensation so that their work is done in the true nature of public service.

The Board works with the superintendent in the overall governance of the school district, in setting the strategic plan and vision for the school system, and establishes policies as part of its governance role.

Our Board of Education is highly engaged in our school system, each member having had or currently has children attending school in Madison. Board members actively participate on numerous committees and are present at numerous school and district activities throughout the school year.
We are most grateful to recognize our board members during School Board Member Recognition Month.