Return to Headlines
State Gives MCS Top Grades
Madison City Schools earned straight-As for the third year in a row on the state report card issued by the Alabama State Department of Education.
The ALSDE assessment gave Madison a grade of 96 overall, up from 92 last year.
All 11 Madison City Schools also received an A for the third consecutive year, with numerical scores improving in all but one school, which only slid from a 99 to a 98. Only eight out of 137 school systems statewide had every school earning an A.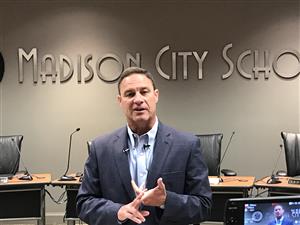 Mr. Parker discusses Madison's straight-A report card with media
"I am so proud of our kids, teachers and staff. I admit that I am biased but data continues to show that our kids rank among the best in the state and nationally. What is more outstanding than the grades is the learning that takes place in classrooms every day. Most of that credit goes to teachers, who are on the front lines. Students, parents and all the support services also play a role."

Mr. Parker said the fact that all MCS schools are so close in score highlights a very important point on rezoning - that no matter where a child lives in Madison, he or she will be zoned to a quality school. "Keeping schools socio-economically balanced has been one of the cornerstones to the success of Madison City Schools," he said.

Here are the numerical grades by school:
* Columbia Elementary, 98.
* Heritage Elementary, 99.
* Horizon Elementary, 97.
* Madison Elementary, 96.
* Mill Creek Elementary, 99.
* Rainbow Elementary, 98.
* West Madison Elementary, 98.
* Discovery Middle, 96.
* Liberty Middle, 94.
* Bob Jones High School, 95.
* James Clemens High School, 94.

Mr. Parker said, "We welcome assessments any day. But the most accurate measure of our effectiveness is how well we are preparing our kids for their future. I am in classrooms every week and see the great things that are happening in each of our schools. So we celebrate this with a commitment that we will never become complacent where we are. We will constantly seek ways to improve.
Detailed news article from al.com