Return to Headlines
Robby Parker Gets High Marks in BOE Superintendent Evaluation
The Madison City Board of Education released a positive evaluation of Superintendent Robby Parker, hired a new Transportation Coordinator, and got an update on the upcoming property tax election at its board meeting tonight.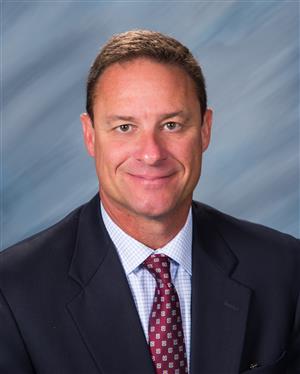 The board also reviewed a demo of the school system's new website design and heard a safety and security report from MCS Safety, Security and Emergency Management Coordinator Dr. David West.
Board President Ranae Bartlett led the report on the superintendent's evaluation, a collaborative process using an extensive new evaluation system the board used to rate Mr. Parker in a variety of management areas.

In summary, the report gave Mr. Parker high marks in:
Communication and interpersonal relations, community relations. facilities management. and financial management.
Recommended areas of improvement were in professional development and leadership, technology management.
personnel management.
The evaluation pressed him to work harder on a 2018-19 goal of establishing a Development Office to support academic programs and teacher needs by fostering donations, writing grants and building partnerships with community and alumni. That goal was later modified to be more of a longterm goal.
Board members gave him high marks for his students-first emphasis and development of his strategic plan seeking public support for a tax to build and operate new schools in the face of unprecedented growth.
"The Board of Education has great confidence in Mr. Parker as evidenced by our extending his contract this spring for three additional years," Mrs. Bartlett said. "We are glad he is here to lead us through unprecedented growth and the upcoming property tax vote. We also have confidence that he has the same high standards for his own performance that our community does in the school system's performance, and we will all endeavor to continue improving what we are doing every day."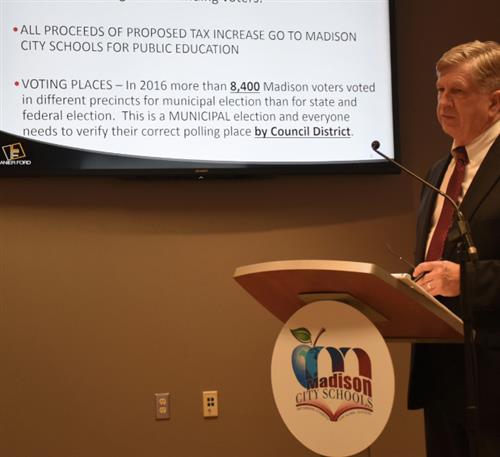 Woody Sanderson

Board Attorney Woody Sanderson gave a report laying out the timetable of the tax vote Sept. 10. He also clarified that all revenues from it will go exclusively to Madison City Schools for public education purposes.
The Board also hired John Wilson as the new Transportation Coordinator, replacing Roosevelt Carter, who is retiring. Mr. Wilson takes the wheel at a time of unprecedented growth that is putting a strain on the bus service. The department needs additional drivers as it manages new routes to accomodate all the new bus riders. The Board tonight approved a contract with a company to provide a free GPS tracking service to help parents keep tabs on bus whereabouts and arrival times. The service will take some time to get implemented but should be full operational before the end of the first semester of the upcoming school year.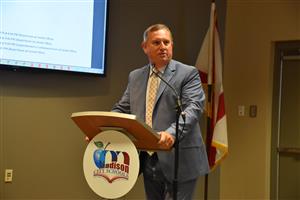 John Wilson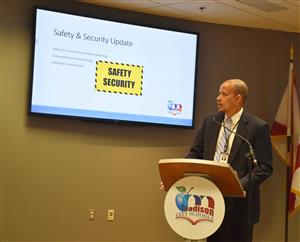 Dr. David West