Return to Headlines
New JC Principal, Heroic Teachers, Purple Star At BOE Meet
James Clemens High School has a new principal who needs no introduction.
Dr. Kerry Donaldson, interim principal at JC since December when Dr. Brian Clayton became superintendent in another district, was named principal of the JCHS Jets.
A native of Nashville now in his 18th year as an educator - five in Madison City - Dr. Donaldson is well respected at JC, the school district and community.
Superintendent Dr. Ed Nichols told the board Dr. Donaldson did a tremendous job serving as interim principal, as administrator of the RISE Academy alternative school and assistant principal before that. "He is enthusiastic and he brings vibrancy but he also is as humble as they come."
Dr. Donaldson thanked Dr. Nichols, Assistant Supt. Mr. Eric Terrell who recruited him to MCS five years ago, and board members for their confidence. He said he is excited to move into the permanent leadership role to serve the students and faculty. Here is a link to his bio: https://www.madisoncity.k12.al.us/domain/285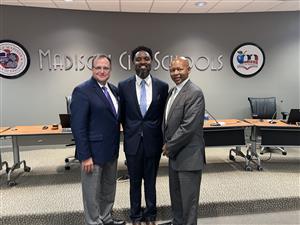 New JC Principal Dr. Kerry Donaldson, center; with Supt. Dr. Ed Nichols (left) and Assist. Supt Eric Terrell.
Tonight's Board meeting also recognized two teachers for their quick thinking in protecting a field trip of students from harm during violent weather. Ms. Elisia Jemison of James Clemens HS and Mr. Jonathan Bailey of Bob Jones HS were leaders of the Madison City Robotics Team to a competition in Tallahassee. On their return home in a bus, tornadic weather in Alabama threatened their safety. The two quickly set into action and secured a hotel out of the storm's path, negotiating a decent group rate in the process. "Both Mrs. Jemison and Mr. Bailey were exceptional leaders during the entire competition trip and when this information became available about the weather, it was evident that the safety of our children were first and foremost in their minds," wrote parent Michelle Gentil in a letter shared by Dr. Nichols. "Erring on the side of caution when these events are so unpredictable and we have had a very eventful start of the tornado season was indeed the right thing to do."
Dr. Nichols commended the teachers for their quick thinking and regard for student safety.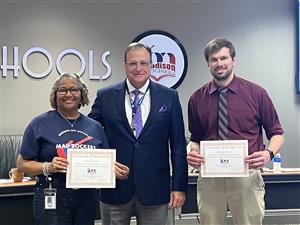 JC teacher Elesia Jemison and BJ teacher Jonathan Bailey with Dr. Nichols in center
The Board tonight also introduced teacher scholarship recipients in the Project DIAL program with UAH. The money is for pursuit of a masters' degree in differentiated instruction with a focus on ESOL which supports the growing number of EL (English Learner) students. Dr. Dr. Andrea Word from UAH and Kaetlyn Hermann with MCS presented the scholarships to L-R in photo: Candace Rose, Tiara Minor, Sunyoung Gosier and Brittany Cox. Not pictured are Mary Crouch and Emily Albert.


Kaetlyn Hermann (MCS); Dr. Andrea Word; Candace Rose, Tiara Minor; Dr. Nichols; Sunyoung Gosier, Brittany Cox
The Board also got a brief presentation on the S2S program that helps military students and all newcomer students get oriented when they are new to a school. Madison City Schools was among the state's first to have all of its schools and district quality under a statewide "Purple Star" program. The program sets criteria that must be met in support of military families.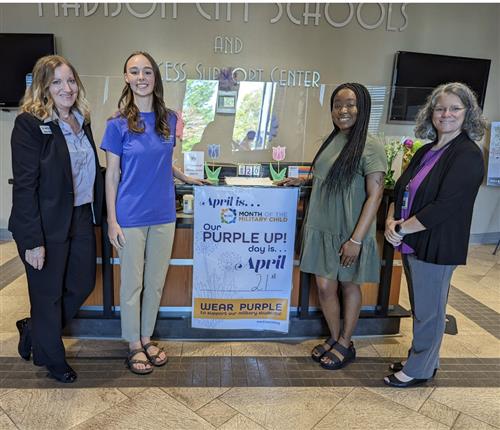 L-R: Sonya Mulack, Military Child Education Coalition; Lynndie Kirby, BJ S2S VP; Courtney Mann, BJHS S2S sponsor; Carol Bohatch, MCS federal programs specialist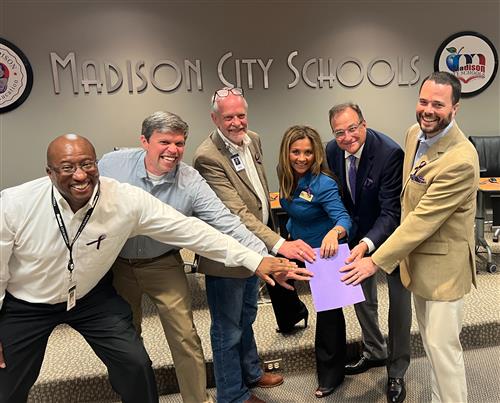 Board members circle around a purple folder promoting Friday, April 21, as "Purple Up" Day.
Several action items were also approved including a new alert system for school emergencies, stadium lighting improvements and stronger IT protections.