Return to Headlines
Turn Those Impact Aid Forms In ASAP
Madison City Superintendent Dr. Ed Nichols sent this districtwide message to all MCS stakeholders today (October 27) about the importance of returning the federal Impact Aid forms going out today. Video message and document links in this message.


Dear Madison City Schools Families,
I know you receive a lot of forms, but one of the most important forms for Madison City Schools is coming home today. It is the Federal Impact Aid form. What is Impact Aid? It is money the federal government appropriates to school systems in lieu of state and local property taxes related to increased expenditures due to the enrollment of federally connected children. One in four Madison City students come from households that qualify,, so it can mean a great deal of funding for our district.
A form must be filled out for EACH student enrolled in the district. In-person learning students will bring home a form today. We ask that you fill it out tonight then return the form to your child's school tomorrow. Virtual learning students will need to print the Impact Aid form that is attached to this email, then fax to 256-464-8291, email cvdavis@madisoncity.k12.al.us, or mail to Madison City Schools, Attention Cindy Davis at 211 Celtic Drive Madison, AL 35758. All Impact Aid forms are due back by November 4th. Please know that Madison City School registration forms that indicate military connectedness do not replace the need for the signed Impact Aid Form. Remember, we need every parent or guardian to complete and return the Federal Impact Aid form for each child with an original signature.
Federal Impact Aid has brought in nearly $4 million to Madison City Schools since 2000. We have acquired more than $10 million in related Department of Defense education grants based on the level of military-connected students qualified by Impact Aid. These funds are used to supplement instruction for all students in Madison City Schools.
Please return this Federal Impact Aid form to your child's school by November 4th in order to make a positive impact on our school district. Thank you for your continued support in making Madison City School District the #1 district in Alabama.
Brief video message regarding Impact Aid
Sincerely,
Dr. Ed Nichols
Superintentend
Madison City Schools

MCS Military Page: https://www.madisoncity.k12.al.us/domain/635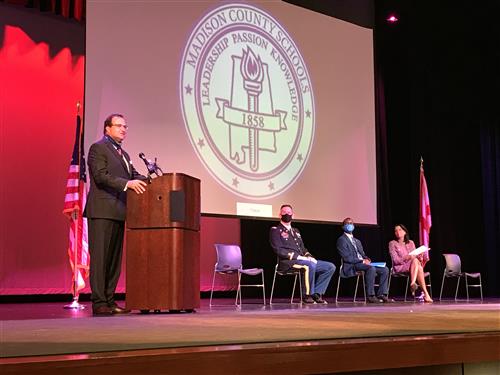 Dr. Nichols addresses the Impact Aid kickoff along with (L-R) Col. Glenn Mellor, Madison County Superintendent Allen Perkins, Huntsville Superintendent Christy Findley

MCS Military Page: https://www.madisoncity.k12.al.us/domain/635