Return to Headlines
JC/BJ National Merit Semifinalists
Bob Jones and James Clemens High School again placed tops or near best in the state in the number of National Merit Semifinalists.
James Clemens had nine and Bob Jones eight among the qualifiers released today (Sept. 9).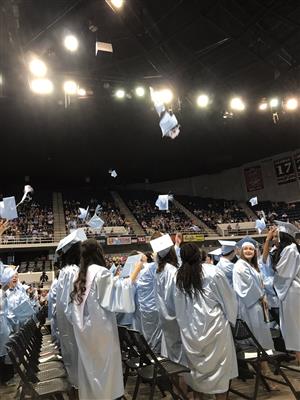 File photo of JCHS Graduation Ceremony
Madison City Schools had the second most National Merit Semifinalists of any other Alabama school district.
Over the last four years, JCHS and BJHS have had a combined 93 students achieving this high honor.
Here are the 2020-21 National Merit Semifinalists from Madison City Schools:

James Clemens High School
Caroline M. Bendickson, Elizabeth C. Congo, Logan F. Cook, Nikhita S. Mudium, Alyson Park, Samuel M. Pratt, Devika Shankar, Duke D. Yeom, Justin J. Yoon.
Bob Jones High School:
William C. Bao, Nolan J. Drummond, Olivia D. Jones, Joshua H. Lin, Isacc L. Wang, James Yoo, John Yoo, Matthias Osadcii.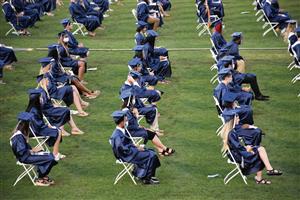 BJHS Graduation Ceremony 2020
Principals at BJ and JC commended students for their hard work in attaining National Merit Semifinalist status.
"We are very proud of this group of Jets who go far and beyond what is required of them academically as they are in the top 1% of high school students in the United States," said Dr. Brian Clayton, principal at JCHS. "Additionally, we have an outstanding teaching staff at James Clemens that assists in this endeavor. We are also very proud of the academic community which includes our elementary schools, middle schools, central office staff, board of education, and our parents that go far and beyond to assist in this achievement. This group adds to the tradition of academic excellence at James Clemens High School and Madison City Schools. Go Jets!"

Bob Jones Principal Sylvia Lambert said: "Congratulations to Bob Jones High School National Merit Semifinalists. Over 1.5 million juniors in 21,000 high schools entered the program by taking the PSAT, which served as an initial screen of program entrants. The nationwide pool of Semifinalists, represent less than 1% of U.S. high school seniors.
"These students will compete to become a Finalist, in which they will provide information about their academic record, participation in school and community activities, demonstrated leadership abilities, employment, and honors and awards received. We are so proud of our National Merit Semifinalists. Top 1% in the nation is quite an accomplishment! Game on Bob Jones!"
Ms. Lambert noted her merit semifinalists are school and community leaders who are very involved on campus with their classes and organizations. "They have worked hard to reach this advanced level and will be vying for further scholarship opportunities. We are proud of these students and appreciate the way in which they represent Bob Jones and Madison City Schools."
Alabama students are among 16,000 nationwide named as National Merit Scholarship Semifinalists who will be competing for some 7,600 National Merit Scholarships next spring. The nationwide pool of Semifinalists represent less than 1% of U.S. high school seniors.
A complete list of the Alabama winners can be found in
this al.com report:
https://www.al.com/news/2020/09/national-merit-scholarship-semifinalists-2021-list-of-alabama-students.html