Return to Headlines
12/10/2019
The Board approved the architect agreement for the new middle school on Celtic Drive at its Dec. 10, 2019 meeting.
The agreement with Nola VanPeursem Architects sets 90 days for final drawings.
The middle school site is behind (south and west) of the Central Office off Celtic Drive. The agreement sets the stage for bids for site preparation and the eventual construction of the middle school.

Site preparation for the elementary school is well under way with construction expected to begin in early spring and opening planned for August 2021. Work on the middle school could also begin in spring for a projected opening of August 2022.
Voter approval of the 12-mil tax on September 10 will also help pay for districtwide safety improvements, operational expenses of the new schools and future expansions of the high schools.

Construction should begin in spring. Construction on the new middle school should soon follow along with renovation of West Madison Elementary into a districtwide PreK

The Board has approved Mr. Parker's recommendation to name the pre-K as "West Madison PreK" so the historic WMES name remains with the building. A public survey has been launched for recommendations on what to name the elementary and middle school.
The elementary school is targeted for opening in August 2021 and the middle school the following school year. The expansion of the two high schools will come in a couple of years.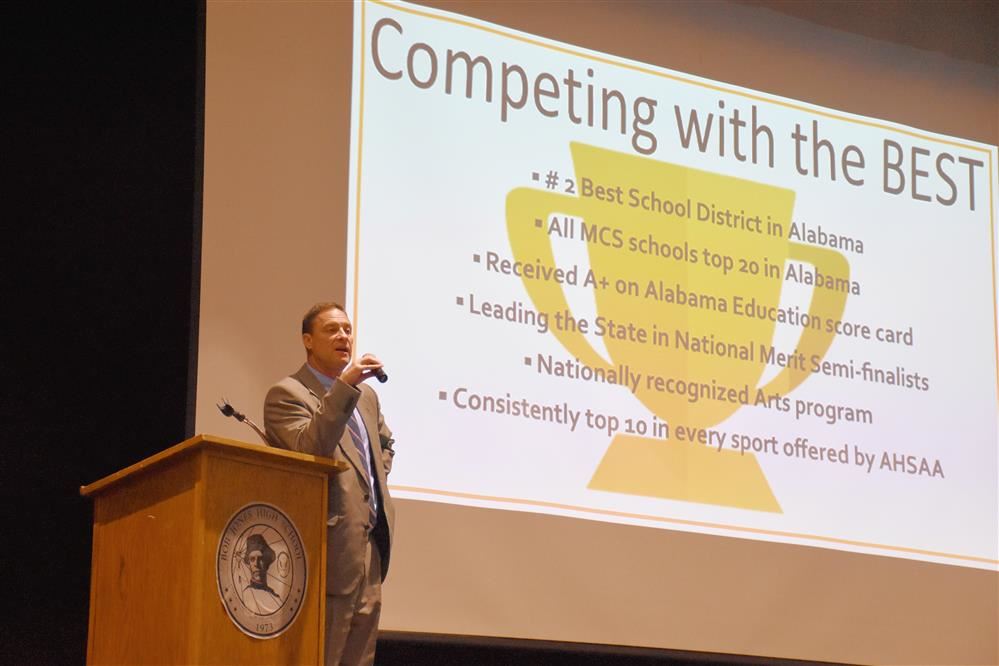 What was the vote tally on the referendum?
Madison and Triana voters approved the 12-mil property tax to build new schools and improve safety and security at all of its campuses. News links here from election coverage: WAAY-31 WAFF-48 WHNT-19. Madison voters approved the referendum by a 70 percent vote margin and Triana by 86 percent.
How did my council district vote?
All voting precincts voted in favor of the property tax increase. Here's the unofficial vote total breakdown:
City Council District 1, Maura Wroblewski, Faith Lutheran Church, 660 Gillespie Road. 793-310
District 2, Steve Smith (Madison County), Madison Baptist Church, 840 Balch Road. 652-184
District 2. Steve Smith (Limestone County), Lamb of God Lutheran Church, 11716 County Line Road. 936-296
District 3, Teddy Powell, Madison Mission Seventh Day Adventist, 183 Shelton Road. 395-221
District 4, Greg Shaw (Madison County), Madison City Hall, 100 Hughes Road. 504-224
District 4, Greg Shaw (Limestone County), Lamb of God Lutheran Church, 11716 County Line Road. 332-78
District 5, Tommy Overcash, St. John the Baptist Catholic School, 1057 Hughes Road. 783-482
District 6, Gerald Clark, Madison Church of Christ, 556 Hughes Road. 683-395
District 7, John Seifert, Restoration Church, 5810 Wall Triana Hwy. 1,100 - 491
Triana Town Hall, 272-43
Absentee ballots: 125-48





How will this be paid for?
The 12-mil property tax will generate no less than $8 million annually to be used as leverage for school construction bonds for over $100 million. Mr. Parker explains it iall n this WHNT-19 Leadership Perspectives story that aired Sept. 1 See news story here:

When will the tax take effect?
The new rates go into effect this year but will not be reflected on property tax bills until October 2020. That's because property taxes in Alabama are collected in arears. Approval, however, authorizes the school system to borrow the money and begin construction, with payments starting when the additional revenue comes in.
How much will 12-mils add in property tax on my home?
It is the equivalent of approximately $120 more annually per $100,000 value of home, or $10 per month. So a $200,000 home would see a $240 per yr. (or $20 monthly) increase and so forth. The charts in this link give a simple breakdown. It is important to remember when figuring property tax that "assessed" value in the case of a personal home is 10 percent of appraised (or actual) value that is assigned by county tax assessor's office. The mlllage rates are multiplied against assessed value to determine the amount owed.

Here is another slide that breaks down the cost per individual homeowner.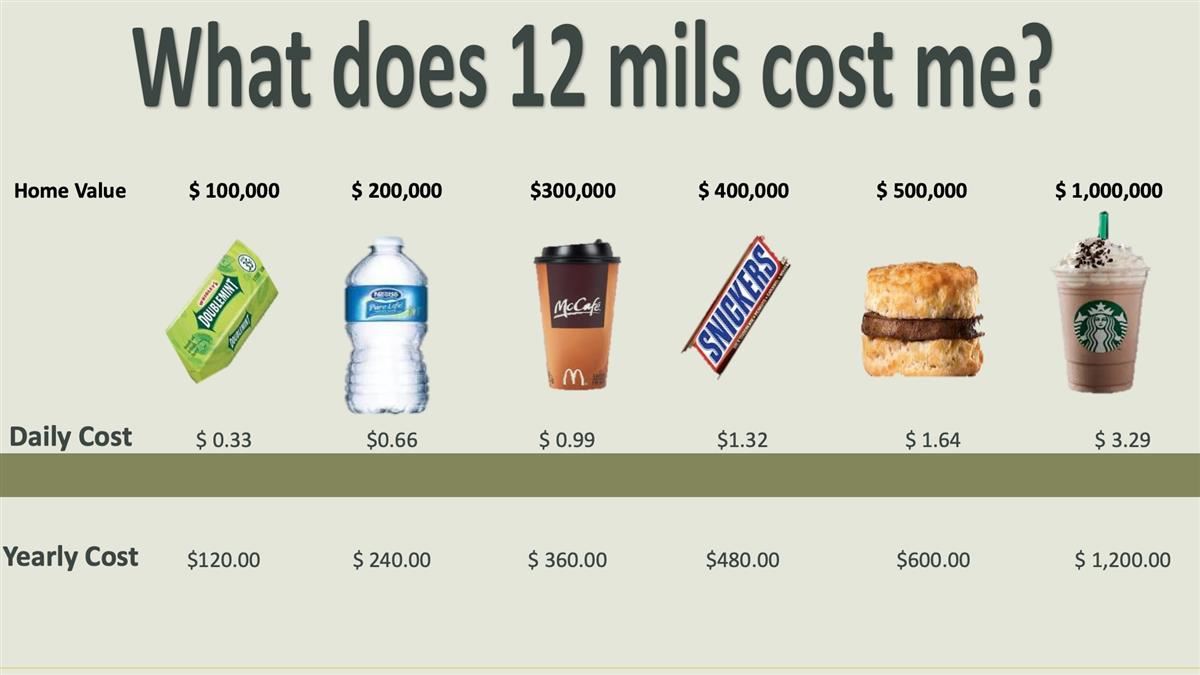 Won't all the new homes and taxes on that new development pay for growth?
Revenues from residential growth help Madison City Schools pay for debt on existing schools and for teachers but not enough to keep MCS's pupil/teacher ratio near worst in the state ranking (124 out of 139th in 2019) from significantly improving. Residential development does not pay for new school construction which is now necessary due to the pace of growth in Madison.
The joint city-school Growth Impact Study took an in-depth look at the new home construction taking place and into the future. The city continues to work to increase commercial and retail development and recently announced a study that will look at development impact fees.

Isn't Madison City Schools already one of the better funded school districts in Alabama?
The school system does much with the resources it is provided.
However, MCS remains below the state average in per-pupil expenditures, ranking 87th out of 138 public school systems. The new tax will pay for new schools instead of diverting it from instruction and other areas.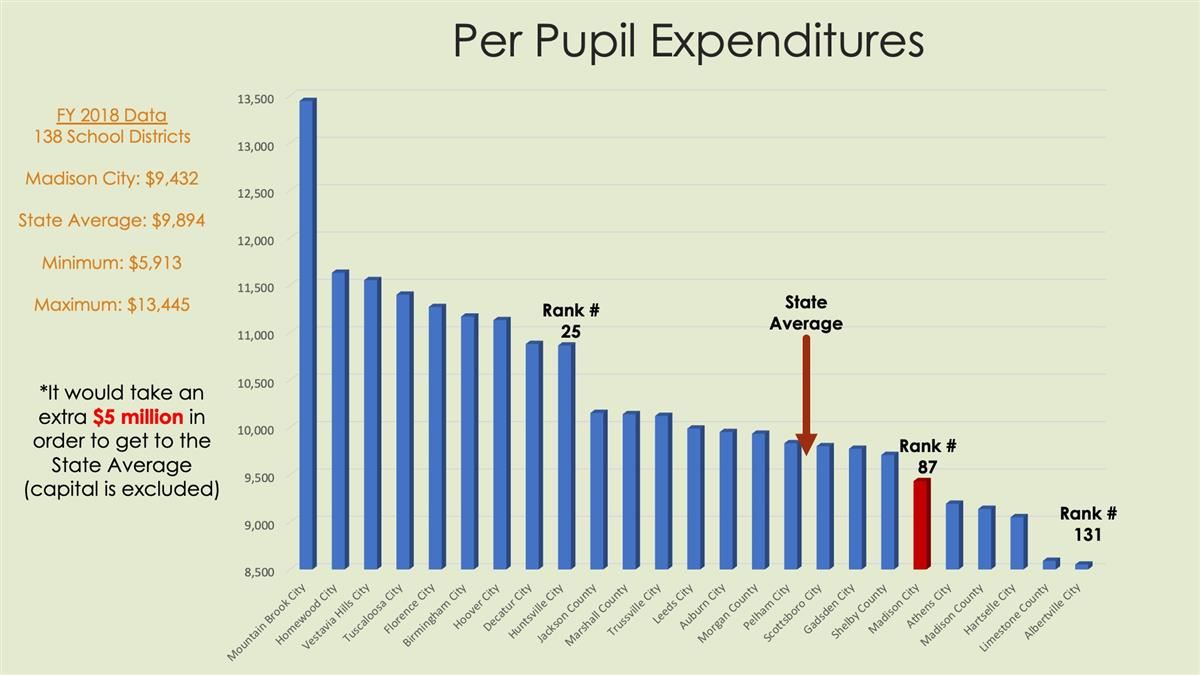 Before the property tax was sought, what other steps have been done to live within your budget?
The school system's growing enrollment gains is unsustainable. (3rd fastest growth of 139 Alabama school systems).
The Board tried to get a property tax referendum through the Legislature starting in 2012. That measure hit a roadblock in the Senate and never got to the ballots. Growth is now occurring at about 600-plus students a year.
When the 2012 effort failed, the Board subsequently began focusing attention on: slowing city annexations and subdivision approvals, rezoning, shaving interest costs by refinancing, and strengthening its address verification and enforcement efforts.
The district also finalilzed the settlement in the Limestone County tax dispute, delayed filling Central Office positions, stepped up grant appplications, created a tuition for out-of-district employees with kids enrolled in MCS, and getting legislative approval for several property tax RENEWALS. The renewals were generously approved by voters in December 2017 and a crucial step to NOT lose EXISTING funding.
Madison City school enrollment continues to grow at a more accelerated rate. with more than 1,600 students added in the past four years and 600 or more expected to be added this year.
The system is efficiently spending money on priorities, leaving virtually little or no extra in the budget.
A statewide education expenditures comparison shows Madison City Schools prioritizing instruction services and instructional support over administration and operations and maintenance costs. Admin and O&M expenditures are below the state average while instructional services and instructional support are above. Category Spending Comparison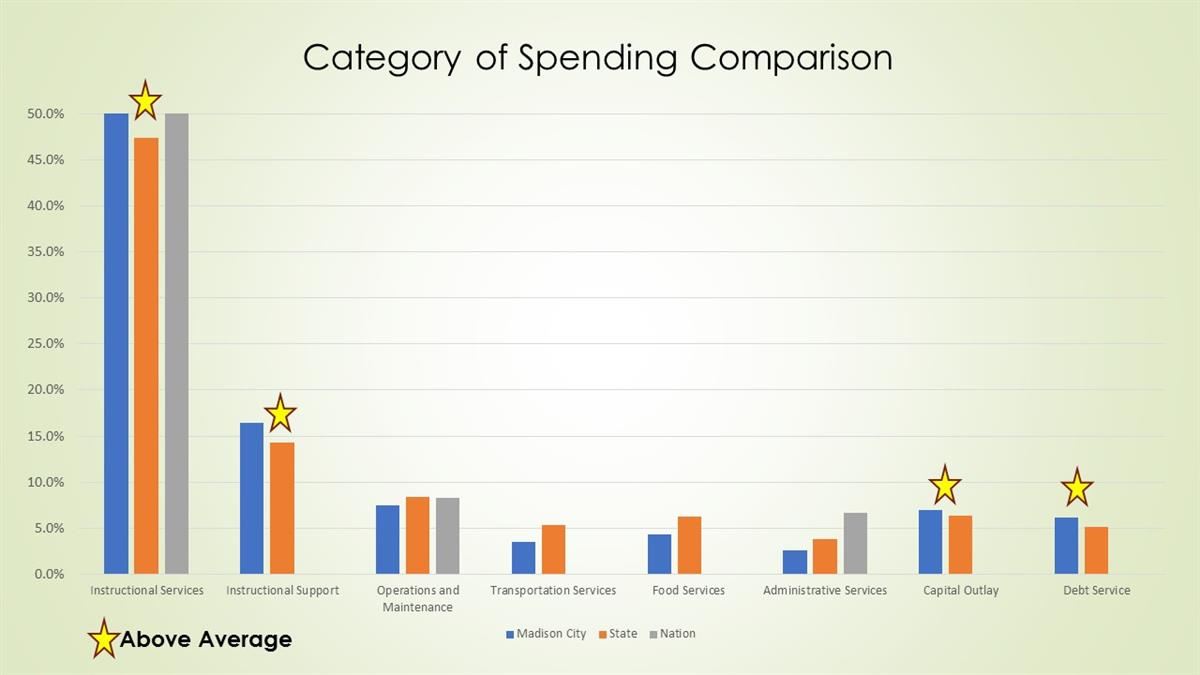 What about the Limestone County tax case that included tax revenues for Madison City Schools?
That case was settled in 2017. Madison City Schools is receiving its share of education taxes being collected in Madison portions of Limestone County.
The taxes that were in dispute in that case were countywide property taxes in Limestone County and a sales tax collected from Madison businesses in Limestone.
It is very important to know that the new 12-mil property tax is a CITY school millage, not a county or district millage that was litigated. The new school tax will be collected in Madison City in both counties and remitted totally to Madison City Schools.
The Limestone settlement was worked out equitably in 2017 with neither side getting everything it wanted. The existing 11-mil Madison City ad valorem education tax was never an issue in that case, and the new 12-mil Madison City ad valorem education tax won't be either.
What was the fallback if the 12 mils was not approved?
Extensive rezoning with no grandfathering, larger class sizes, cut programs, and other major changes such as split sessions, year-round schools, reductions to PreK. Portables were not an option because they require storm shelters. Expanding schools versus building additional ones would also worsen pupil-teacher ratios and increase traffic congestion around what would be even bigger schools.
What is the school system's debt burden?
Of 139 public school districts, Madison City Schools ranks 23rd highest in debt-to-total expenditures, according to the finance division of the Alabama State Department of Education using 2016-17 figures. The state average is 5.37 percent of debt in relation to total expenses. Madison City is at 7.66 percent. Looking at it from a debt-per-student standpoint, Madison City spends $715 per student annually toward debt compared to the state average of $515.

How can residents be sure money from the 12-mil will go only to schools?
It is clearly spelled out in the agreement with the City and in the property tax legislation. It is a Madison City tax limited to use for public school purposes by Madison City Schools that may be expended solely by Madison City Schools.
The Strategic Plan presentation suggests our high student-teacher ratios are due largely to funding deficits resulting from growth. Why is this?
The state funds school systems in arrears. In other words, Madison City gets its per-pupil allocations from the Alabama Department of Education based on its previous year enrollment. MCS grew 600-plus students in the 2018-19 school year and is expected to grow that much or more this year. That creates expenses that MCS must absorb out of local funds until the funding catches up. MCS had to front $3 million, for example, last school year because of this lag in state allocations.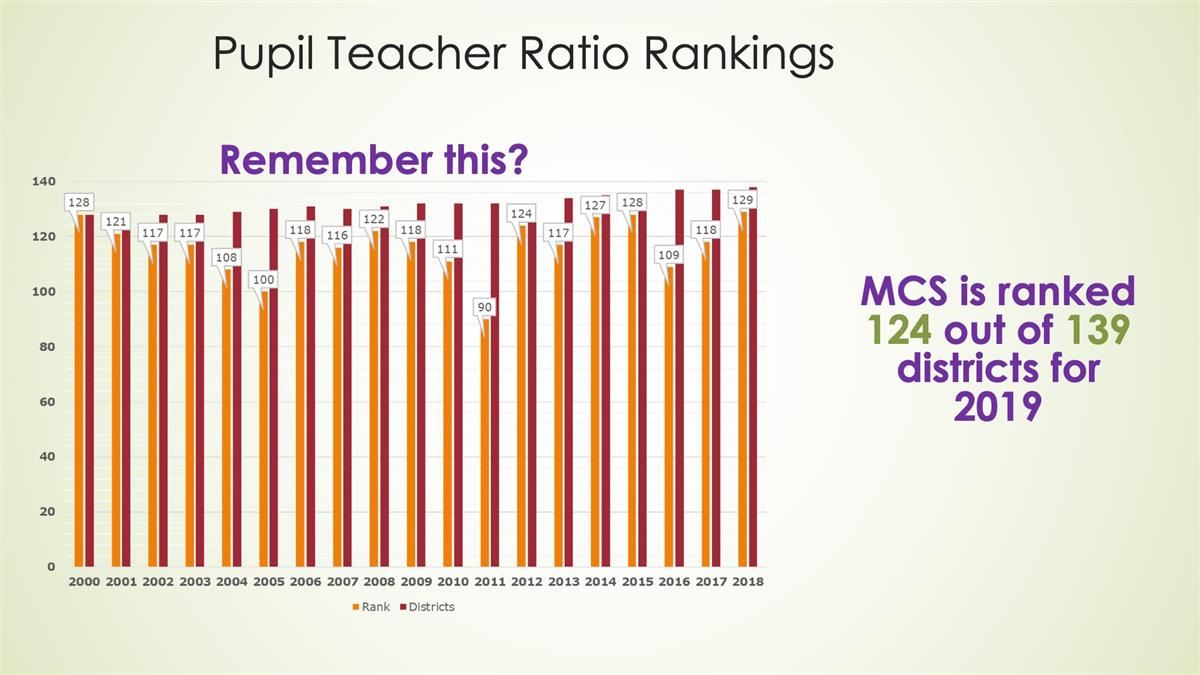 Why is MCS's per-pupil revenues so low compared to other Alabama public schools?
Per-pupil revenue rankings are from several factors including the amount of local tax support, and the percent of students living at or below poverty which qualifies the district for additional federal money. Madison City Schools is "house poor" in that its exceedingly rapid growth has required it to borrow to build new schools faster than growth in revenue can occur. Consequently, MCS has disproportionately more of its money committed to paying for schools.
Madison residents also pay far less ithan other top performing school districts in Alabama. Here are the education millages in the top 5 school districts according to NICHE: (Mountain Brook, 52.9 mils; Madison City, 27 but increasing to 39 after recent passage of the 12-mil; Homewood City, 37.5; Hoover City, 46.1; Vestavia Hills, 52.05). Mountain Brook just passed a 10-mil increase in its property tax for education, bringing its total education millage to 62.9. Hoover is also seeking to raise its school millage.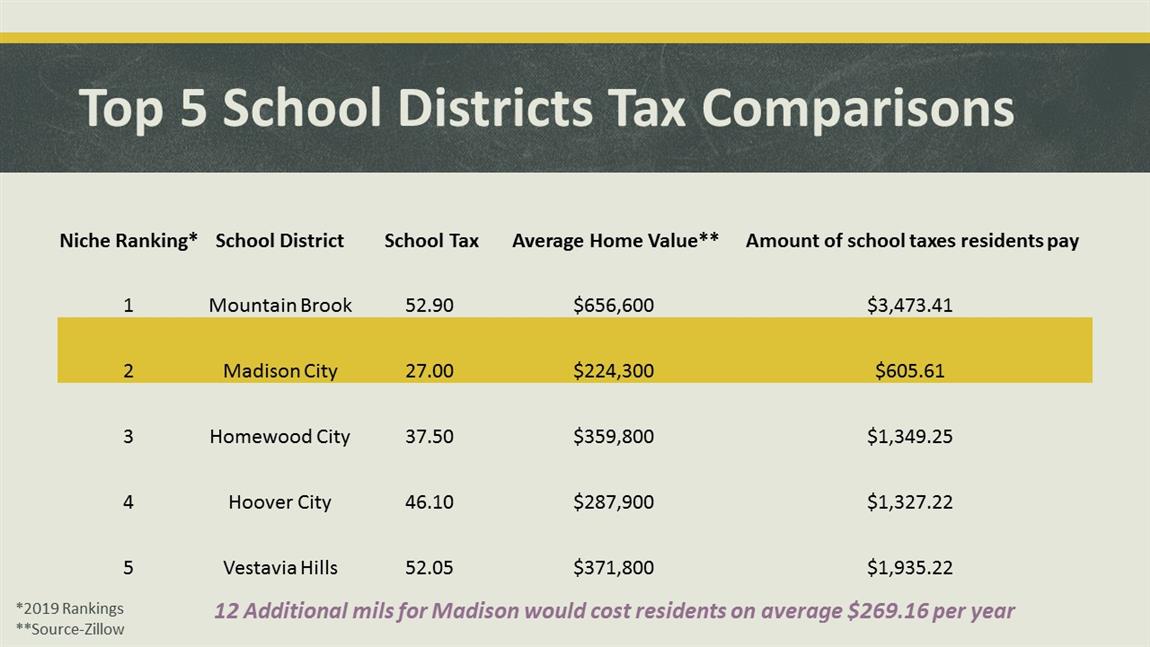 Other links to information:
Superintendent Parker leads BOE on bus tour July 15 through development areas:
Mr. Parker's video appeal. https://youtu.be/I7vY3nJs4JQ.
Click here for supporting slides only.
Video of 2019 State of Schools includeing proposed new school sites
Power Point of Mr.Parker's 2018 Tax proposal For New Schools.
BOE Prez Ranae Bartlett on the value of a good public school system.
2020 Niche Rankings Bob Jones/James Clemens, Discovery/Liberty in the top 6 of all Ala. high schools & middle schools; All 7 MCS elementary schoools in top 14, including the numbers 1, 2,4, 5 and 8 spots.
Superintendent Robby Parker's Strategic Plan 2018-23 for Madison City Schools
Ms. Bartlett Op-Ed on successes of MCS and challenges ahead.
Top 50 per-pupil spending school districts in Ala. (Madison ranks 82nd)
Madison City Schools gets 2nd consecutive Straight-As Report Card rom Ala Dept. of Education
News coverage from the Madison City Council public hearing on the property tax:
Madison Record: https://www.themadisonrecord.com/2018/11/14/madison-city-council-approves-school-boards-property-tax-proposal-residents-voice-strong-support/
WAFF-48 http://www.waff.com/2018/11/14/madison-city-council-pushes-forward-property-tax-proposal-some-locals-say-it-isnt-enough/
WAAY-31 https://www.waaytv.com/content/news/Madison-City-Council-approves-property-tax-increase-500450261.html
WHNT-19 https://whnt.com/2018/11/13/madison-city-council-meets-passes-resolution-to-support-tax-increase/
WZDX Fox-54 https://www.rocketcitynow.com/video/top-video/overwhelming-support-shown-for-madison-city-schools-tax_20181114030942/1595530437