Return to Headlines
State PTA Taps Nichols/Local PTAs With Top Awards
4/24/2022
The Alabama PTA organization held a virtual awards ceremony today to announce top local PTA chapters in various categories, best superintendent, and student PTA Reflections winners.
Madison City Schools Superintendent Dr. Ed Nichols was named Outstanding Superintendent for Alabama.
Midtown Elementary PTA won the Family School Partnership awards for the National PTA Standards of "Welcoming All Families" and "Sharing Power.".
The James Clemens High School PTSA earned the Family-School Partnership award for the National PTA Standard of "Community Collaboration."
Madison Elementary PTSA won the Sally Mitchell Reading Scholarship ($500.00) for their school library.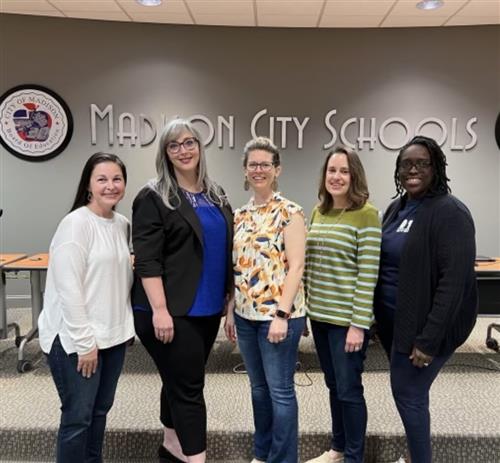 Madison City Council of PTAs Officers
The Madison City Council of PTAs held a "watch" party today at James Clemens High School for the award announcements. Superintendent Nichols attended to support MCS PTAs and was surprised at being named top superintendent by the Alabama PTA.
Best superintendent nominations centered support and involvement with local PTAs, advocacy for students, engagement with local leaders, civic involvement in the community, and other aspects. "Our PTAs, employees, students and parents are more deserving of this honor than I for the success of Madison City Schools. So I humbly accept this in partnership with them," Dr. Nichols said.

Midtown's PTA officers are: Staci Sellers (President), Jenay Plott (VP of Membership), Michelle Epling (VP of Programs), Jan Anderson (VP of Volunteers), Melissa Davidson (Secretary), Kaitlin Tennille (Treasurer).
James Clemens PTA officers are: Toni Apse (President), Patricia Batchelor (VP of Membership), Denise Swaine (VP of Volunteers), Jodi Meder (VP of Communication), Heather Gjesvold (Treasurer), Ashley Brown (Secretary) and Michelle Wimberley (Member-at-Large).
Madison Elementary PTA officers are: Michael McKay (President), Brooke Shields (Treasurer), Amber Kanzelmeyer (VP of Membership), Emily McKay (VP of Volunteers).

The Madison City Council of PTAs, representing all individual MCS school PTAs, won the "Outstanding PTA Council" Award for their efforts to expand relationships with key administrators within Madison City Schools and engagement with the Madison City community to further the PTA mission.
Madison City Council of PTAs officers are: Patricia Batchelor (President), Terrie Regensburger (Co-VP), Stephenie Walker (Co-VP), Heather Gjesvold (Treasurer) and Sarita Edwards (Secretary).

Click here for the Reflections winners. All 1st place entries (highlighted in yellow) advance on to the National PTA level for judging.
Arush Sharma, from Discovery Middle School was also recognized for winning 1st place in the 6th-8th grade division of the Alabama PTA Diversity Writing Contest.