Return to Headlines
Alice Lessmann Seated on Madison City BOE
Alice Lessmann was sworn in tonight as the newest member of the Madison City Board of Education.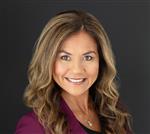 Alice Lessmann
She replaces Ranae Bartlett, who resigned near the end of her second five-year term to take the Madison City Council seat she won election to this fall.
Madison County Circuit Judge Claude Hundley administered the oath as Ms. Lessmann's husband and family looked on.
"I am grateful for this opportunity to serve Madison City Schools," Ms. Lessmann said beforehand. "As a parent and business owner, I recognize the value an outstanding school system brings to the community. I look forward to helping with the continued growth and development of Madison City Schools to ensure our students, teachers, and community continue to thrive and prosper."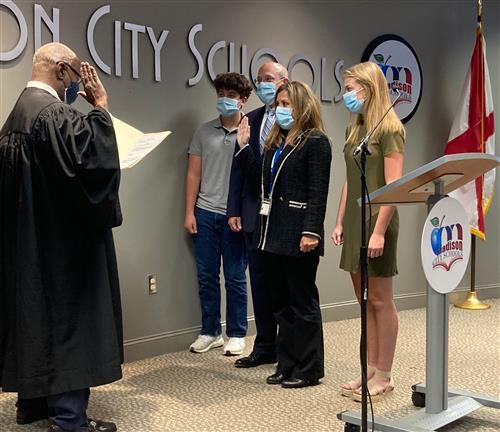 Judge Claude Hundley, Alice & Steve Lessmann with son, Ben; daughter Leah.

A native of Huntsville, Ms. Lessmann is an active community volunteer, PTA member, and prior PTA president. She is the Chief Executive Officer of Signalink Inc., a small business that she and her husband own, which was named the 2020 Huntsville Madison County Chamber's Government Contracting Technology Business of the Year and the 2019 Madison Chamber's Best Business of the Year and Best Professional Services Business of the Year.

Ms. Lessmann served 21 years in the US Army National Guard and retired as an officer. She earned her bachelor's and master's degree from the University of Alabama in Huntsville. She and her husband, Steve, have two children, Leah and Ben, both of whom attend Bob Jones High School.

Ms. Lessmann currently serves as the Vice Chair for the Women's Business Council (WBC), is an active member of the Women's Economic Development Council (WEDC) and Women in Defense (WID) along with various other organizations and causes. She is a graduate of the Leadership Greater Huntsville (LGH) Flagship Class 32 and currently serves on the Steering Committee for LGH. Ms. Lessmann received the 2020 Madison City Chamber's Executive Leadership and Service Award. Her family was honored to be named the 2020 Madison Family of the Year for their community involvement.
Ms. Bartlett was honored at her last board meeting Oct. 29 with a state Senate proclamation from Sens. Arthur Orr and Tom Butler and parting compliments from officials including Rep. Mike Ball, former MCS BOE President Dr. Terri Johnson. Superintendent Dr. Ed Nichols and fellow board members. (video tribute:
https://youtu.be/GQwKvmioeYg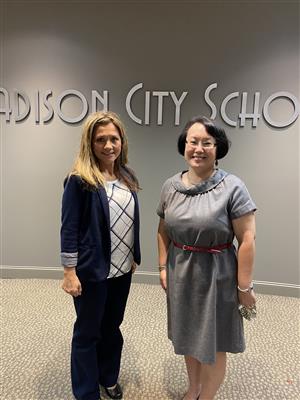 (file pic) New BOE member Alice Lessmann, former BOE member Ranae Bartlett.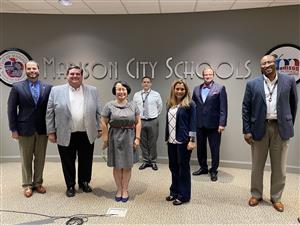 (File pic) BOE and new member Alice Lessmann hold their breaths long enough for this maskless photo