Return to Headlines
Parker Rallies Employees in All-Hands Assembly
Superintendent Robby Parker and Madison City Board of Education members led a spirited assembly of all MCS employees today.
It's the annual Institute Day where MCS leaders recognize the district Teacher and Staff members of the Year, present years of service awards, and hear advice-laden speeches from last year's top teachers.
Board President Ranae Bartlett and Superintendent Parker bookended the assembly with remarks about expectations and the legacy of excellence of Madison City Schools.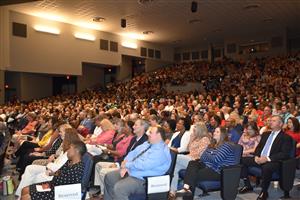 Teachers and other Madison City Schools employees in the Bob
Jones HS auditorium for Institute Day

Ms. Bartlett welcomed new teachers by saying they are joining the best community of educators to teach the best students.
Invoking John Kennedy's famous 1962 speech on why America should pursue landing man on the moon, she said Madison City Schools excels because decisions are not guided by what it easy but what is hard.
The 2018-19 teacher and staff members of the year were announced by the previous year's winners.
Rachel Gibbs, gifted specialist at Heritage Elementary, is the MCS Elementary Teacher of the Year. She was introduced by last year's elementary TOTY winner Pamela Weaver from Horizon Elementary.
The Secondary Teacher of the Year award goes to Jennifer Merritt, band director at Discovery Middle. She was announced by last year's secondary TOTY recipient Leah McRae from James Clemens High School.
The MCS Staff Member of the Year winner is Yesy Gonzalez, custodian at James Clemens High School.
The outgoing TOTY winners gave motivational speeches or put on humorous skits.
Superintendent Robby Parker closed out the meeting stressing the importance of character, working hard to bring out the best in their students, and loving them.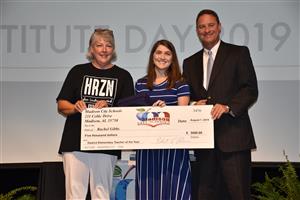 Elem TOTY Rachel Gibbs (center), with last year's TOTY Pam
Weaver, Superintendent Robby Parker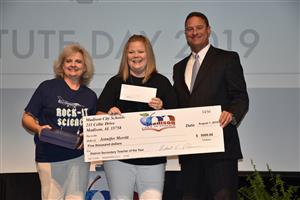 Secondary TOTY Jennifer Merritt (center), with last year's TOTY
Leah McRae, Superintendent Robby Parker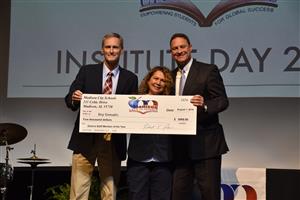 SMOTY winner Yesy Gozalez, with MCS Operations Coordinator
Michael Gunner and Supt. Robby Parker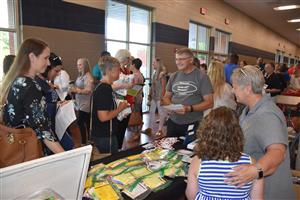 Employees filing past vendor booths by BJ auditorium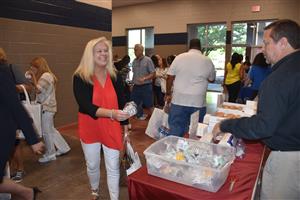 JCHS Counselor Lana Meskunas at Institute Day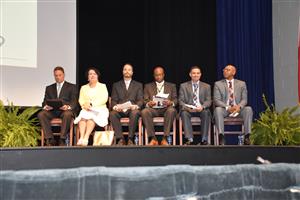 BOE, Supt. Robby Parker and Assistant Superintendent Eric Terrell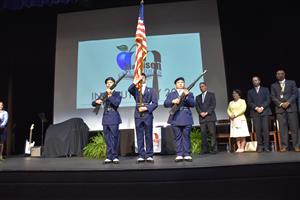 JCHS Color Guard in opening ceremonies of of Institute Day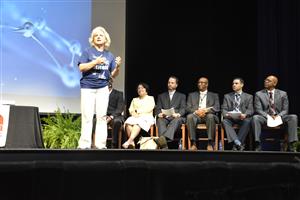 Leah McRae in a Teaching Lesson as Board members watch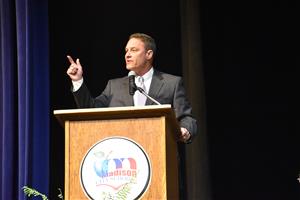 Schools Superintendent Robby Parker at Institute Day