Return to Headlines
Midtown Elementary Groundbreaking
City leaders joined Madison City Schools officials today in a ceremonial groundbreaking of Midtown Elementary. ( Brief video here: https://youtu.be/PjiK_RI_Cdw )

The 128,000-square-foot, 900-student capacity school is off Wall Triana Highway just north of the Kroger development. Area legislators, chamber reps and Triana leaders also attended.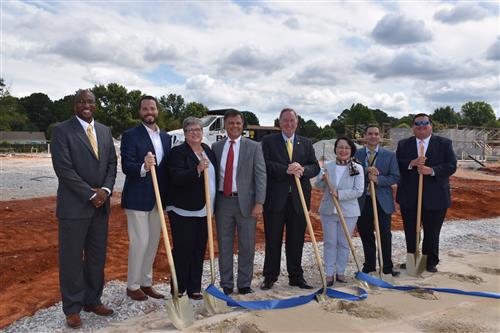 Travis Cummings, Tim Holtcamp, Connie Spears, Arthur Orr, Tom Butler, Ranae Bartlett, Luis Ferrer, Greg Hulsey

Madison City Schools Superintendent Dr. Ed Nichols commended the Board of Education, MCS Leadership team and community leaders for leading the effort to build new schools.
"Their foresight, and the generous support of citizens in the property tax vote, demonstrates why Madison City Schools is such a leader in education," Dr. Nichols said. Nichols thanked former Superintendent Robby Parker and Assistant Superintendent Eric Terrell for their leadership roles in the school system.



Madison City Schools Supt Dr. Ed Nichols

Madison City Board of Education President Tim Holtcamp said growth is in the DNA of Madison City, with average 250-student increases for many years and up to 500 or so in recent years. Because of continual community support, "we stand here today ushering in the next 20 years of the Madison City School District with a new elementary school for its children, Midtown Elementary."



Madison City BOE President Tim Holtcamp

Madison Mayor Paul Finley said: "The City of Madison holds immense pride for our school system. Breaking ground on Midtown Elementary is another step towards positive growth in our community, serving parents, children and teachers with a learning space suited for the high education standards held for our area." Mayor Finley thanked the community for entrusting school and city leaders in steps to manage growth.

Midtown's mascot will be the Wildcats, a carryover from West Madison Elementary. West Madison will be repurposed as West Madison PreK Center when Midtown Elementary opens in fall 2021.
Stanley Construction Co. did the site preparation work and Bailey-Harris Construction is the prime building contractor.
Construction on the new middle school in Madison will get under way in the coming months. That school, which has yet to be named, will be built off Celtic Drive adjacent the Central Office. WAFF-48 coverage; WHNT-19 report

6/17/2020