Return to Headlines
Journey Middle Opening Delayed Till 2023
Journey Middle School will not open this August as planned due to construction delays that will push completion into late fall.
The Madison City Board of Education agreed at its Feb. 24th meeting to reschedule the opening to the 2023-2024 school year. The decision comes after a survey of Journey-zoned parents representing grades 6-8 overwhelmingly showed a preference to wait for the next full school year rather than try a mid-year opening.

"The parent survey was a good tool that said to us that it would be better for teachers, students and staff to wait so everyone could have the full middle school experience," said Board President Tim Holtcamp. He was referring to logistical difficulties in athletics, elective and curricular offerings with partial occupancy and delayed move-in..

Construction on the 1,200-student, 170,000 square foot middle school began in early 2021 with a targeted completion date this July. Progress has been disrupted by supply chain and labor issues related to COVID and also bad weather. In January, the school district's construction management team reported a revised completion date of Sept. 2, which has now been moved to mid October.

Superintendent Dr. Ed Nichols sent a survey to parents who were rezoned to Journey, laying out opening options if moving in months after the school start.
The parent survey resoundingly spoke in favor of a full opening even if that meant waiting until the next school year. That opinion was shared across all grade levels: 63 percent of parents of rising 6th graders, 80 percent of rising 7th grader parents, 68 percent of rising 8 grader parents.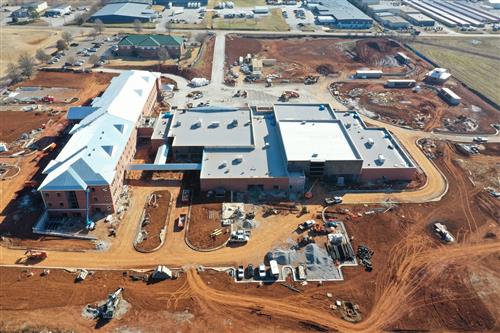 The district will now proceed with middle school course registration for the 2022-2023 school year. Information will be released from middle schools in the coming days about registration information, student visits, and parent meetings.
"While I regret this delay, I look forward to the day when our students are enjoying this wonderful new school," said Dr. Nichols. "I am also thankful for the citizens of Madison that supported the tax increase that enabled us to meet the growth of our community with Midtown Elementary and Journey Middle School.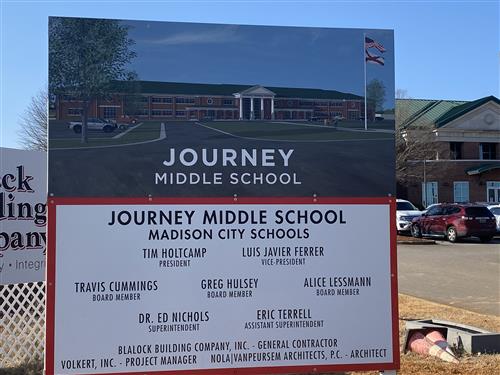 .