Return to Headlines
MCS Joins Area School Systems in All Virtual Start
Madison City Schools is modifying its school reentry plan to have an all virtual school start, delaying in-school learning for at least a month until the community's COVID-19 infection status is reevaluated for a safe return to class. (Details, including a video message from Dr. Nichols, on the MCS website https://www.madisoncity.k12.al.us/domain/2087

Madison City's current reentry plan offers the option of school-based or Virtual Academy. Under the modified start, school-based learners will start remote with Virtual Academy learners and transition to in school instruction if COVID-19 rates drop to safer levels.

Madison City Schools Superintendent Dr. Ed Nichols joined Huntsville and Madison County superintendents today to jointly announce that the three districts are going to an all virtual school start.
"Every school district across the nation is grappling with how to reopen safely with the least disruption to learning as possible," Dr. Nichols said. "I assure you we want to get our students back in classrooms. But we need to make sure we do this right, both for their safety and the safety of our staffs and families."

The change comes as Madison County continues its climb as a COVID-19 red zone in Alabama. Rising COVID-19 cases, increased hospitalizations and dual mask orders by the governor and Madison County Health Officer prompted school leaders to reassess school-based instruction.
The all virtual school start will help instruction planners organize course offerings and assign teachers. It will also give more time to strengthen COVID-19 mitigation protocols and ready school buildings for students to return.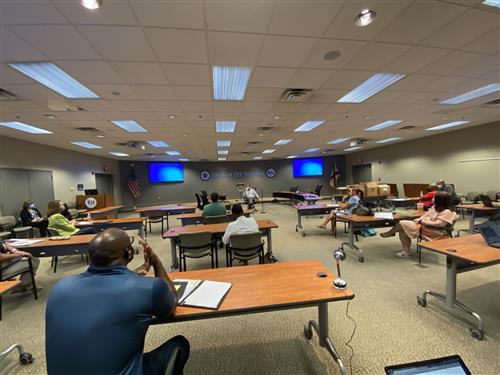 Madison City Schools task force working on the school reentry plan.

The official school start for all students will be Aug. 12. The previously established staggered start will not occur in the initial school start but likely will be when students return to classrooms.
All teachers and staffs will report to schools daily and build their lesson plans from there.

As of this time, there will be no extended day until further notice.
Additional electronic devices and portable WiFi hotspots will be distributed from a central location to accommodate families who indicated need in their student's registration or reenrollment applications.

Alabama had 39 confirmed COVID-19 cases when Gov. Kay Ivey announced the statewide school closure order in March. Madison and Limestone counties had one confirmed case each at that time.
Today, there have been more than 69,000 confirmed COVID-19 cases in Alabama, including nearly 3,600 in Madison County.
Officials hope mask requirements and broader social distancing practices will slow the alarmingly high gains in COVID-19 cases.