Return to Headlines
BJHS/Blue Origin, Build Space Mail System
Bob Jones High School partnered with Blue Origin and the U.S. Space and Rocket Center in an out-of-this-world project involving postcards to space.


The school's Construction Academy, under Mr. Stephen Lanford, designed and built a six-foot tall, space ship shaped postbox under the guidance of local Blue Origin engineers. The card can contain short messages, is rocketed into space, and then returned to sender with a postmark authenticating its travel into space aboard a Blue Origin rocket.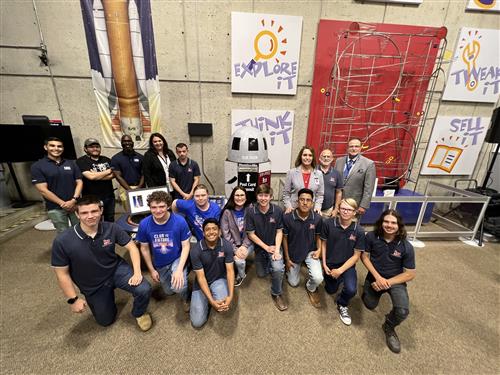 Postcards to Space is a program of Club for The Future at the US. Space and Rocket Center's Spark!Lab, While at the Space and Rocket Center, visitors can pen inspiring messages or their thoughts on space and its relationship with Earth, drop it in the postbox and Blue Origin will fly it on a future New Shepard mission. Club for The Future will stamp the postcards "Flown to Space" and return them to the creators.

The new BJHS postbox is only the second one for the program. The first is in Van Horn, Texas near Blue Origin's Launch Site One. The program aims to send more than a million postcards to space this year.
Leading today's announcement were U.S. Space and Rocket Center Director Dr. Kimberly Robinson and USSRC Education Director Dr. Kay Taylor; Blue Origin's Nathan Harris (senior director of the engine facility; Madison City Schools Supt. Dr. Ed Nichols.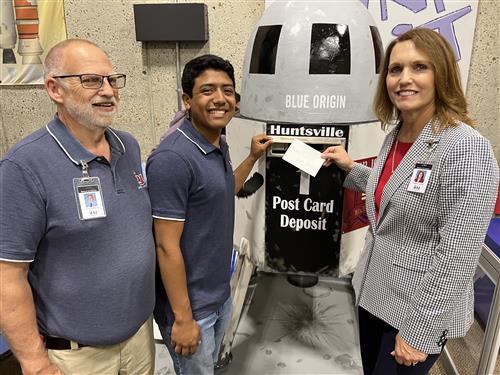 Sylvia Lambert's postcard reads: Game On Bob Jones. W/ Mr. Lanford and Student Benny Miller Jr.

Standing among Mr. Lanford's construction academy students was a 2010 BJHS graduate, Dr. Alex Roman, who now works for Blue Origin's Los Angeles plant as a research engineer in the Advanced Development Program.
This collaboration serves as an example of how educational institutions and the aerospace industry work together to inspire students to pursue STEM careers. Each organization is committed to fostering a spirit of education and exploration.
The postbox program gave students hands-on experience in design, engineering, mathematics and construction while giving Rocket Center visitors a personal connection to space through the Postcards to Space program.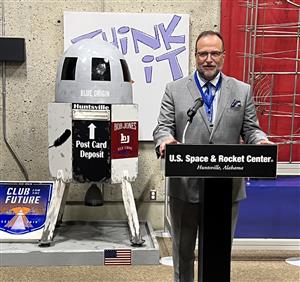 MCS Superintendent Dr. Ed Nichols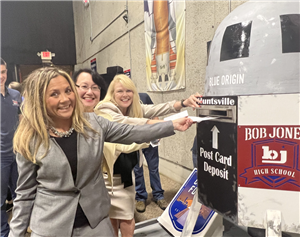 MCS Board Member Alice Lessmann,
Madison Councilwoman Ranae Bartlett
USSRC CEO Dr. Kimberly Robinson.