Return to Headlines
NBCT "Stars" Continue To Grow in MCS
New stars are being added to the honor wall at the Madison City Schools Central Office.
The stars represent the 14 MCS teachers who just became National Board Certified Teachers (NBCT) and two that attained the required renewals every five years.
The latest installment raises to 87 the number of NBCTs in Madison City Schools - among the highest in the state.

The NBCTs recognized tonight are: Keith Anderson (renewed), Maria Adams, Sarah Baker, Sandy Brand, Bria Waller, Karen Clayton, Kimberly Cox, Crystal Davy, Paige Green, Laura Hester, Michelle Mitchell, Erin Nauman (renewed), Laura Roberson, Loren Springer, Cyrus Swearingen, Clint Woodfin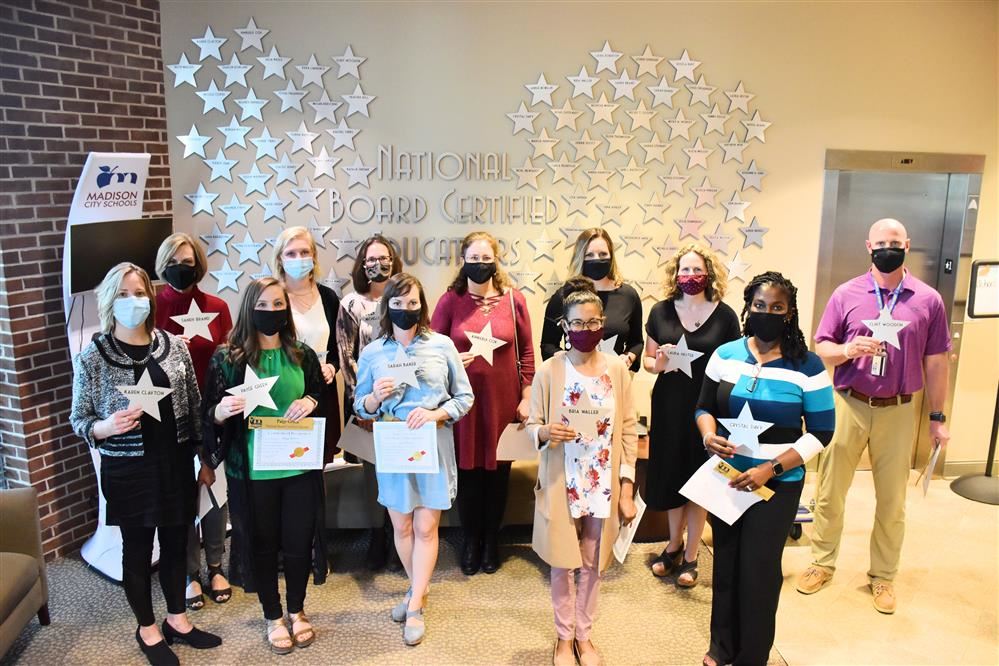 Dr. Heather Donaldson, chief academic officer for Madison City Schools, announced the NBCT results at tonight's Board of Education meeting.
"We all know that this past year has been an experience," she said. "Despite these challenges, Madison City had 14 teachers attain National Board Certification and two teachers who renewed Board certification. This is only possible because of the countless hours spent by our dedicated teachers in addition to a phenomenol support network."
Dr. Donaldson noted monetary support the district now provides teachers, assisted by help from the Committee of 100 and the Schools Foundation, along with DoDEA grants. The system also helps NBCT prospects through teacher mentors.
Superintendent Dr. Ed Nichols congratulated the new NBCTs, saying they represent the "best of the best" in Madison City Schools. "It is a rigorous, challenging and component-filled process that takes dedication and time. We are proud of you for your dedication."
More than a decade of research from across the country demonstrates the positive impact that National Board Certified teachers have on student achievement. Studies show that students taught by Board certified teachers gain an extra 1-2 months of learning each school year, with the positive impact even greater for low-income students.
The National Board Certification process propels teachers to move through rigorous professional analysis, reflection, and intentionality with regard to their instructional practices.