Return to Headlines
BOE Okays Principal, 5 Assistant Principals
The new year will also bring leadership changes at several Madison Schools.
The Madison City Board of Education today approved a new principal for Columbia Elementary and assistant principals for Columbia, Rainbow, Heritage, Madison and Horizon elementary schools.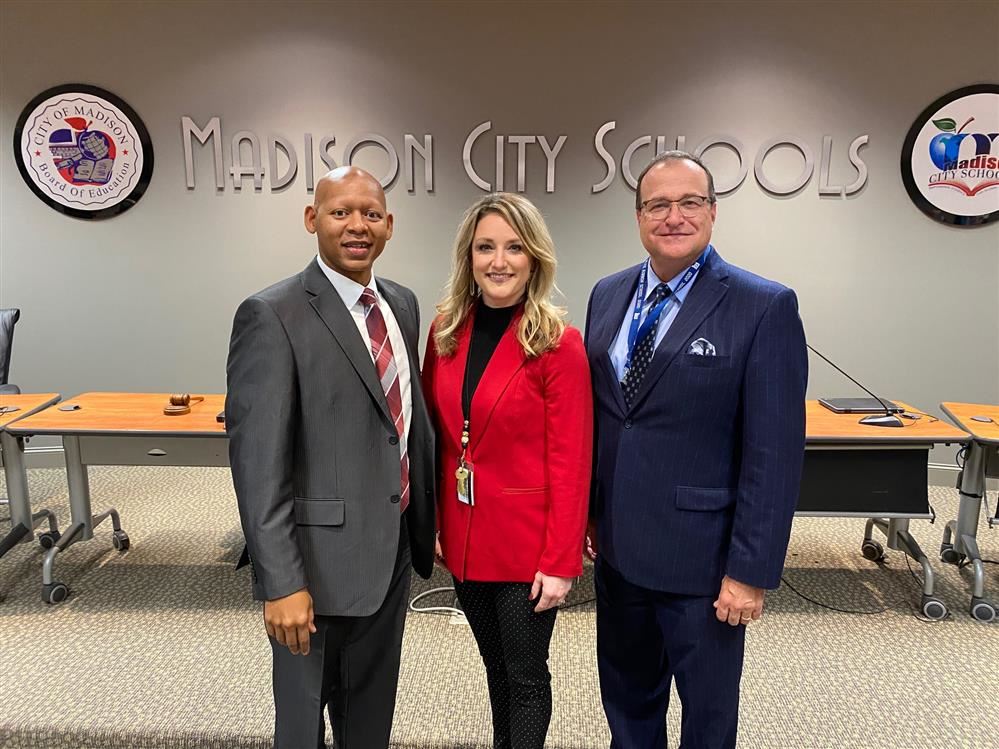 New Columbia Elementary Principal Miranda Bolden, flanked by Assistant Supt. Eric Terrell and Supt. Dr. Ed Nichols.

The promotions are new for the position but not new to Madison City Schools. All come from within the district and are mostly transferring schools.
Mid-year retirements of several principals began the domino-like effect of changes.

In today's special called meeting of the Board, Miranda Bolden was named principal of Columbia Elementary.

Ms. Bolden began her teaching at Columbia so has come full circle in becoming principal there. She comes from Assistant Principal at Rainbow Elementary where she had also been in the Madison Aspiring Administrators Program (MAAP) assigned to Rainbow.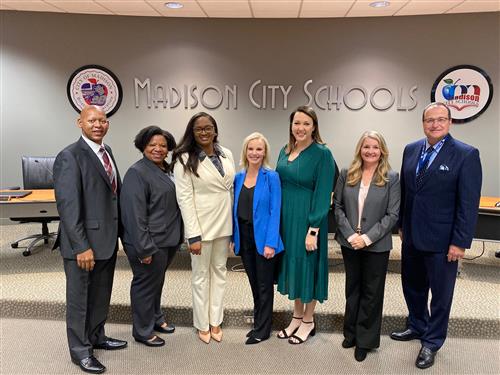 Assistant principals (L-R) between Mr. Terrell and Dr. Nichols: Nedjra Russell, Kimberly Massey, Wendy Pharo, Kristen Kolenich, Tammy Jones
The following asistant principals were approved today by the Board:
Nedjra Russell, Rainbow Elementary. Ms. Russell was MAAP at Rainbow and taught before today's promotion to RES assistant principal to replace Ms. Bolden.
Kimberly Massey, Columbia Elementary to replace Laura Minor, who just retired. Ms. Massey is currently the MAAP at Columbia.
Kristen Kolenich, Heritage Elementary. She replaces Nathan Wilson, who recently was promoted to principal at Mill Creek Elementary. Ms. Kolenich is currently reading coach at Heritage.
Tammy Jones, Madison Elementary. Ms. Jones was assistant principal at Horizon and transfers to MES to replace Demetria Freeman, who was recently named principal at Horizon.

Wendy Pharo, Horizon Elementary. Ms. Pharo is elementary instruction specialist at the Central Office. She will fill the AP job left by Tammy Jones who is transferring to assistant principal at Madison Elementary.
Ms. Pharo taught and was a reading coach at Heritage prior to moving to the district elementary instruction specialist position.