Return to Headlines
Fernandez Named Rainbow Principal
Karl Fernandez, assistant principal for Mill Creek Elementary, is the new principal for Rainbow Elementary.

The Madison City Board of Education approved the appointment at its July 15 meeting. He replaces Brian Givens, who accepted a middle school job in another district.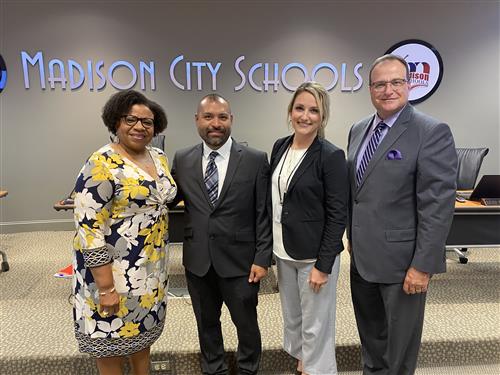 Karl Fernandez with Rainbow admin Nedjra Russell (left), Assistant Principal Miranda Bolden, and Supt. Dr. Ed Nichols

Mr. Fernandez pledged to work with faculty and staff in creating a positive culture. He promised to dedicate himself to leading students to be "involved active learners who work hard, think critically and creatively and communicate effectively."
In recommending him for RES Principal,
Superintendent Dr. Ed Nichols said Fernandez "never missed a beat" when he took on the school's leadership while the principal was away handling some major health issues for her aging parents.
"He stepped right in to taking care of the Mill Creek family. He is dedicated to the kids in the school and he did an excellent job" demonstrating his leadership abilities.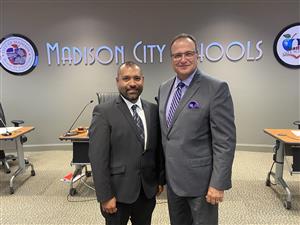 Here is the bio of Mr. Fernandez from the Mill Creek website:
Karl Fernandez, originally from the Pacific Island of Guam, took up residence here in the Huntsville area back in 1999 as his father was in the U.S. Army. His passion for education was realized at a very young age and was pursued through his undergraduate attendance to Calhoun Community College and Athens State University, followed by his graduate attendance at the University of West Alabama, Samford University, and now the University of Alabama, where he is currently working on his doctorate degree in Instructional Leadership.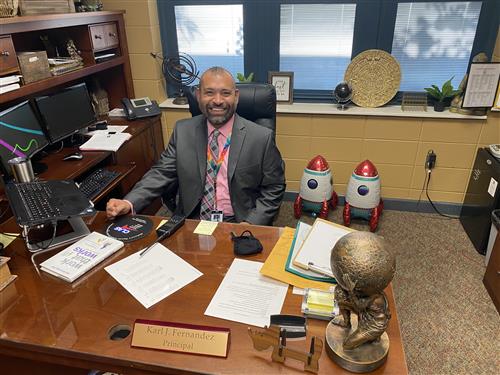 Mr. Fernandez began his career in education in 2008 as a science teacher at Sparkman High in Madison County, teaching Marine Science, Project Lead the Way's Human Body Systems, Forensic Science, Honors Anatomy & Physiology, and AP Biology. He joined the Mill Creek family in 2016, where he is excited to serve as Assistant Principal. He has a dog: a great dane named Reina, and raises backyard chickens! He enjoys traveling, kayaking, and going to the beach.