Return to Headlines
New MCS school to be named Midtown Elementary
The Madison City Board of Education named the new Madison elementary school tonight, approved a Development Office Coordinator to head philanthropic and other big donor giving, and passed a resolution opposing a state mandated school calendar.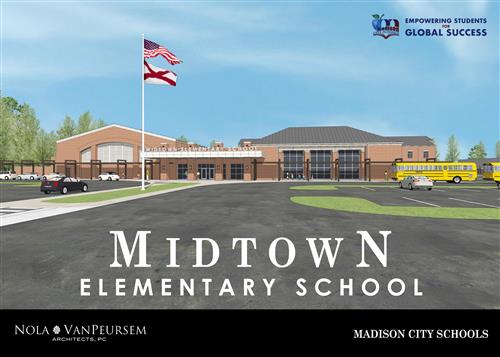 "Tonight, I am excited to announce that Midtown Elementary will be the name of our new elementary school being built off Wall Triana by the Kroger development," Superintendent Robby Parker said. "I am also pleased to report the mascot will be the Wildcats, a carryover from West Madison Elementary. That is an appropriate way to honor West Madison's history.
West Madison Elementary will be repurposed as West Madison PreK Center when the new school opens in August 2021.
Mr. Parker said the Midtown name is fitting because it marks the approximate middle of Madison between east-west and north-south boundaries. The east-west perimeters can't expand because Madison is essentially landlocked on both sides by Huntsville.
Mr. Parker' said Midtown was a common recommendation in the hundreds of submissions received from an online survey. That survey remains open for the naming of the middle school.

The resolution opposing a state mandated school calendar comes as the Alabama Legislature may consider legislation this session that sets start and stop dates for schools statewide. Board members and Superintendent Parker want calendar decisions to be left up to local school districts. Local school boards are charged with making decisions that are in the best interest of their students and are ultimately held accountable for student performance. Therefore, decisions about the academic calendar should be kept local, board members said.
Board President Ranae Bartlett said the Board is confident our local legislative delegation will support us as they have in the past in leaving school calendar decisions up to local school boards.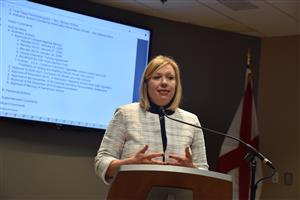 Lee Shaw accepting her hiring at the Feb. 6 BOE meeting

Lee Shaw, director of Business Development for the local non-profit Hospice Family Care, was hired as the school district's new Development Office Coordinator. She and her husband, Paul, are longtime residents of Madison and are raising their family here. She has a long list of involvment in other volunteer, non-profit and service-oriented positions.

The Board also recognized Stefanie Cook, counselor at Madison Elementary, for winning a RAVE award by the Alabama School Counselors Association. Mr. Parker praised the work of Madison City School counselors and called Ms. Cook "one of the bright stars in our system."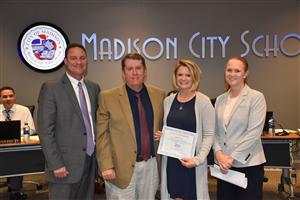 Stefanie Cook, 2nd from right, with Supt. Parker. MES Principal Jamie Golliver and Elementary Instruction Coordinator Melissa Mims.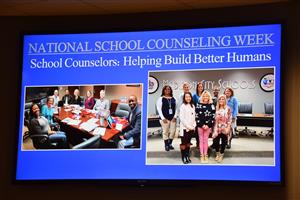 Secondary and Elementary Counselors for Madison City Schools.
.