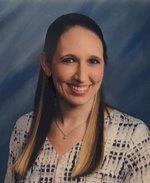 Phone:
Email:
Degrees and Certifications:
RN, BSN Master's Secondary Education
Mrs.

Rachael Henson

My name is Rachael (Conway) Henson. I was raised in Madison, Alabama. I am the oldest of three, with one brother that is two years younger and one sister that is five years younger than me. We all attended Bob Jones High School. I participated in gymnastics while I was growing up, and eventually competed up to level eight. In addition, I participated in basketball cheerleading and then diving. After a shoulder injury, I quit participating in gymnastics and I started coaching. I always enjoyed my coaching experiences, but at that point I did not know that I wanted to be a teacher.

I then decided that I wanted to go to UAB to obtain my undergraduate degree. Throughout college, I started coaching in another gymnastics facility. After recovering from a shoulder surgery, I wanted to get back into the cheerleading world. I decided to tryout for UAB Cheerleading, which was a wonderful experience. I eventually decided on a nursing degree, so after the cheerleading season was over, I started nursing school. I was so happy to obtain my BSN degree. After nursing school, I started my first nursing job at St. Vincent's in the OrthoSports operating room. This was such a wonderful experience where I learned a tremendous amount. It was also during this time that I met my husband. After getting married, I started working in the UAB Highlands operating room. I then started coaching cheerleading at John Carroll Catholic High School. Once I started coaching, I decided that I wanted to become a high school science teacher. After making the decision to switch from nursing to teaching, I started working as a Teaching Assistant for UAB Teach Step One, Step Two, and Knowing and Learning classes. I received my Master's in Secondary Education for general science and had a wonderful experience teaching at St. Bernard Preparatory School prior to coming to James Clemens. I'm so excited to be a Jet!

In May, 2016, I had my first child. In December, 2019, I had my second child. They are at such a fun age! They are into everything these day and so curious. I love just watching them explore and investigate everything. In our free time, we love water activities and hanging out with family.