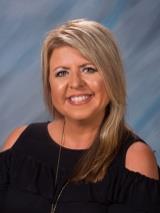 Phone: 256-774-4690 (Mill Creek Front Office)
Email:
Degrees and Certifications:
Graduate of University of Phoenix with a Master's Degree in Curriculum and Instructional Design •Graduate of Athens State University with a Bachelor's Degree and double certification in Early Childhood and Elementary Education (N-6)
Mrs.

Heather Rogers Chaffin

Biography: I was born in Limestone County and have lived here my entire life. I attended Piney Chapel Elementary/Jr. High School and Elkmont High School. After college, I got married and moved to Madison. I have been married since 1997 to Brian Chaffin, who is a retired Captain of the Madison County Sheriff's Department. I am a very proud police wife! Now that he is retired, we have recently bought our retirement home on Lake Guntersville in Scottsboro, and it has been a lot of fun living the lake life! We are also extremely proud parents of two amazing and beautiful daughters. Laura-Lin is 23 and recently graduated from Jacksonville State University with her degree as a certified exercise physiology. Matti is currently at Jacksonville State for her senior year in nursing school. Empty nest life is weird, but it's fun, and it gives me even more time to devote to my kiddos at school! I do have my other three "little girls" at home- my sweet dogs. Thelma Lou (my husband is a big Andy Griffith fan!) Abbi, my chihuhua-pomeranian rescue doggie, is 14, and Olive, my chihuhua rescue doggie, is 11. Rescuing senior dogs or dogs with special needs is a passion of mine! I volunteer with Friends of Rescue (FOR) when I am able. I enjoy sports, boating, fishing, BEACH TIME, river/lake time with the family, movies, decorating and refurbishing antiques, cooking and shopping. I love sparkly anything and animal printed anything and pineapple anything! Teaching children has been a true blessing for the past 25 years, and this is actually my retirement year! I'm so happy to share this final year with your kids!

Professional Biography: My teaching experience began in Limestone County (where I grew up) as an enrichment teacher for grades 2-12. I thoroughly enjoyed this position and getting to work with students of all ages. My classes were specialized by interests, and I was able to teach classes such as Ecology, Drama, and High School Advanced Literature. After that wonderful experience, I became a Kindergarten teacher at a small school in Limestone County, Reid Elementary School. Following my first year as a Kindergarten there, I was able to follow my class to First Grade. I taught First Grade for a year at my school when the opportunity came for me to move to Madison City Schools at Heritage Elementary School. It was 1999, and Heritage was opening its doors for the first time. It was a very exciting time and a great experience to be able to be a part of a new school and a new faculty- as well as making my debut with Madison City Schools. I learned a great deal from the experience. Opening a new school is tough! However, because of that experience, I feel a great attachment to Heritage. I've seen a lot of people come and go since that first year, and I have made countless friends and memories. Many friends have moved with new elementary schools opening after Heritage, but it was my home for 18 years. In 1999 when I came to Heritage, my oldest daughter was nine months old. In 2000, I had my second daughter. They both grew up at Heritage and moved on through Liberty Middle School and James Clemens High School. In the years since 1999 at Heritage, I taught Kindergarten, First Grade, Second Grade, and 6th grade ELA and Science. I loved them all, and I love the excitement I get every time I start a new year and a new adventure. It never gets old for me to do something new and to try new things and learn new grade levels, even after 20 years! So after my 20th year at Heritage with two grown up daughters, I decided to make a huge jump again (probably my biggest so far)! I sadly left my "family" there to pursue my career as a 4th grade math teacher here at Mill Creek Elementary School! I took that leap of faith for the 2017-18 school year, and again, it was yet another great blessing! Not many people welcome yet even more change in a 21 year career, but I absolutely love it! Many do not know this, but Mill Creek, as a new school, took many of the Heritage faculty when it opened. So I had to say goodbye to some of my best friends who moved here. However, this new experience I took on at "The Mill" did give me a wonderful opportunity to reconnect with my teacher friends who had left Heritage. It was automatically a familiar environment for me with so many familiar faces! So here I am! It's my 25th year of teaching, and I love being the math teacher! Now as a teacher, I find that I really connect with my students when I can tell them it wasn't my favorite subject. I also feel that it has made me a stronger math teacher because I remember what it was like for me as a child to learn new mathematical concepts. So to say that I am excited about teaching math is a HUGE understatement! I absolutely love it!! Best job ever! I can't wait to start this year off with a bang. As always, it's going to be amazing to work with my students!! So welcome to 4th grade math at Mill Creek! Go mavericks!!